Products
💨 streamline wind turbine development
ENERCON uses Teamcenter Product Configurator
The wind industry is characterized by its dynamic market conditions, accelerated pace of technological advancements, and increasing demands for customization. To stay competitive in this space, companies need effective ways to manage their highly complex product line, meet customer demands for customization, and reduce lead times from order to quotation.
ENERCON has been in the wind turbines industry for over 35 years developing, producing, installing, and maintaining wind turbines. To further streamline its operations and enhance variability management, ENERCON partnered with Siemens Digital Industries Software to adopt Teamcenter® software and specifically Teamcenter Product Configurator.
Teamcenter is part of the Siemens Xcelerator business platform of software, hardware and services.
A modern approach to variability management
ENERCON embarked on a search for a solution that would integrate a common product configuration definition across its design BOM (DBOM), engineering BOM (EBOM), and manufacturing BOM (MBOM), serving as a reliable source of truth for its entire value chain. Implementing Teamcenter Product Configurator allowed ENERCON to bring together variability data from their BOMs and consider the holistic value chain perspective.
With Product Configurator in production, they are now achieving significant improvements in process efficiency, collaboration and time-to-market, while also aligning their bill-of-materials (BOM) management and expanding their capabilities for future growth.
Leveraging variability management in next generation turbines
Teamcenter Product Configurator provided ENERCON with valid and buildable product configurations. ENERCON leveraged these capabilities to configure its products early in the development process, eliminating the need for downstream configuration changes in its enterprise resource planning (ERP) system. With access to valuable data within Teamcenter, ENERCON's engineers can easily validate the feasibility of different configurations of wind turbines, ensuring that all combinations were valid and buildable.
This effort coincides with ENERCON's latest project, the development of the E-175 EP5 wind turbine. This turbine has one of the largest rotor diameters for onshore turbines right now. ENERCON plans to continue applying this variability management approach in the development of the new evolution of their turbine, the E-175 EP5 E2, which will be available in 2026.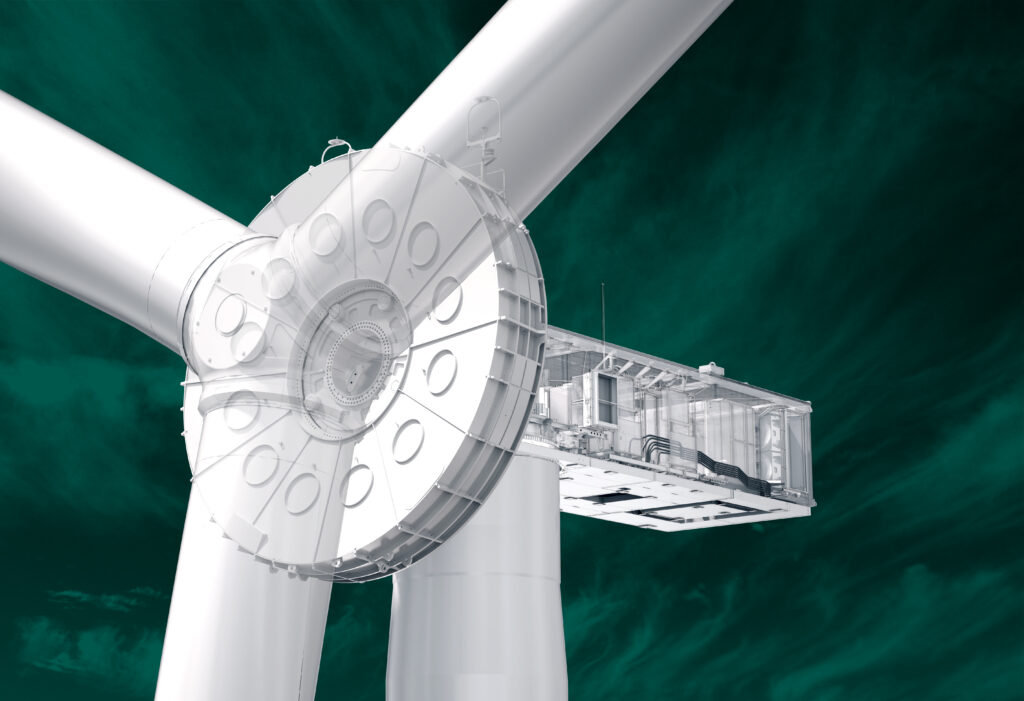 Single source of variability enables a revamped operating model
Configuration management will be integral to improving the company's engineering change management processes. ENERCON plans to convert their operating model from a made-to-stock and engineer-to-order approach to a CTO+E approach. This model incorporates more repeatability and reuse into the business model while still supporting client customization. This will allow ENERCON to better control fast-track changes such as health and safety execution (HSE) topics, supplier discontinuity, part obsolescence and missing part topics. By implementing a CTO+E approach, changes would be able to be applied to any product variant at any time between revision packages.
Using this engineering change management process with a common variability backbone, ENERCON will have the ability to adapt their BOMs and manufacturing processes quickly without jeopardizing the supply chain management processes in their plants.
"The Teamcenter Product Configurator is an important part of our global PLM strategy. By leveraging a single source of truth for multi-disciplinary product configuration data across the entire product lifecycle, ENERCON is positioned to remain at the forefront of technological advancements in the wind energy industry."

Sebastian Heinzel, ENERCON, R&D Center of Excellence, Product Owner, Senior Consultant PLM
Looking forward – improving the manufacturing process
ENERCON plans to further leverage Siemens solutions for MBOM, SBOM and digital manufacturing. By expanding its use of Siemens solutions, ENERCON is aiming to enhance its manufacturing processes, improve serviceability, and stay at the forefront of technological advancements in the wind energy industry.
ENERCON is in the concept phase of a PLM program that will bring both Engineering BOM and Manufacturing BOM configuration management into Teamcenter. This will enable them to deploy highly sophisticated discrete manufacturing processes. With the help of Teamcenter, ENERCON's goal is to perform pre-planning up to 36 months in advance of manufacturing and work with scheduling agreements showing early demands to the suppliers. This will allow them to make changes to product variants holistically across all platforms, plants, systems, and processes, including pre-planning. An integrated PLM configuration management solution also helps ensure stable high-volume production without line stops while avoiding the use of obsolete materials or high numbers of part stocks.
Learn how you can utilize integrated BOM management capabilities to configure, manage and re-use different design options and variants.
Are you ready for cloud PLM?
---
No matter how you choose to deploy Teamcenter,
you get the same proven solutions designed to help you innovate faster.
---
This article first appeared on the Siemens Digital Industries Software blog at https://blogs.sw.siemens.com/teamcenter/wind-turbine-plm/