Products
What's new in Teamcenter Quality 6.3?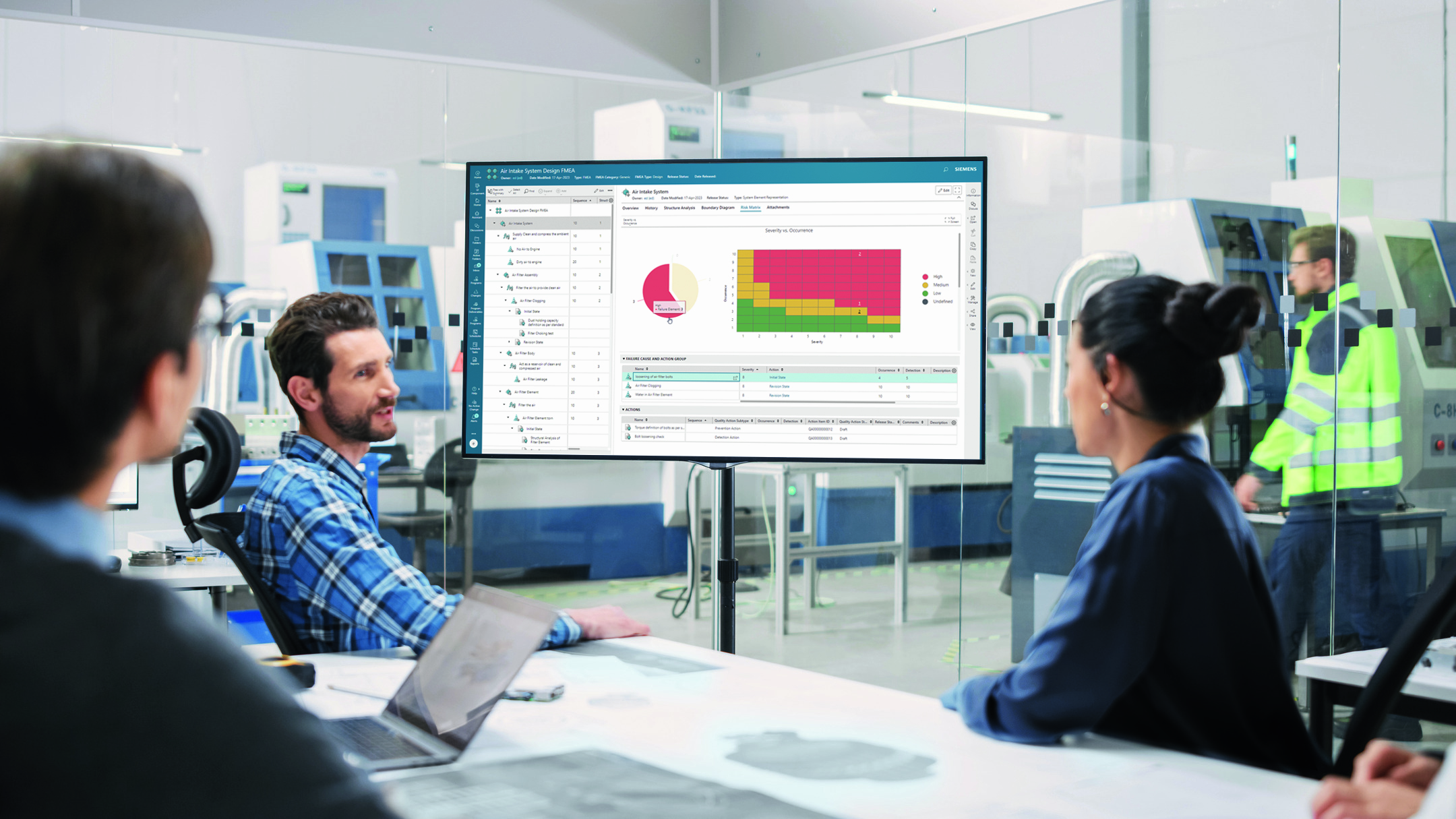 ---
We are thrilled to announce the release of the latest version of Teamcenter Quality software!
---
Accelerating consumer-driven innovation while applying quality management best practices
Teamcenter Quality software supports a closed-loop quality approach from design to manufacturing. Built on top of the Teamcenter software product lifecycle management (PLM) backbone, Teamcenter Quality helps you leverage product and process information, as well as share cross-departmental workflows so you can streamline the core quality management processes.
Teamcenter Quality works in the Active Workspace client (AWC) for Teamcenter. Active Workspace is an innovative web-based client platform that simplifies PLM for all users involved in product lifecycle, accelerating user adoption and shortening time-to-value by providing an intuitive experience anytime, anywhere, on any device.
Teamcenter Quality, which is part of the Siemens Xcelerator business platform of software, hardware and services , helps you support all of the quality-relevant processes required in the overall product lifecycle.
Discover the latest version
The latest version (AWC 6.3) delivers new enhancements to improve the application's capabilities and usability. Our expanded set of supported quality core processes offers you access to the most up-to-date set of technologies to streamline your quality management system. Learn more about the complete list of enhancements and features in the software release notes.
Key new features
Use enhanced quality checklists with empowered calculation methods, evaluation and threshold rules. Manage efficiently the quality checklists for better assessment is crucial. We already introduced the quality checklists in the previous releases. However, these have been significantly expanded in version 6.3.
Improve usability for searching and standardized quality checklist for quality project management. Teamcenter Quality 6.3 now allows you to streamline more of these tasks with improved capabilities to track quality projects such as advanced product quality planning (APQP) or supplier PPAP projects.
Leverage the new FMEA risk matrix and improvements for usability and industry guideline support. Failure mode and effects analysis (FMEA) is a methodology that allows companies to assess risks associated with possible product failure. The Teamcenter Quality FMEA module helps you avoid defects by allowing you to evaluate the effects caused by potential problems early in the planning phase. The FMEA module supports several standards and guidelines. The latest version contains new elements and enhancement, mainly boosting the usability and industry guideline support. Among the many improvements, a new important element is the FMEA risk matrix, which should be used as an evaluation tool for the priorities for the design or process FMEA.
Access the improved usability and ballooning functionality based on 2D/3D PMIs. You can use Teamcenter Quality Control and Inspection Planning to improve product quality, customer relations and satisfaction while decreasing development time. The integrated solution offers process and design-oriented inspection planning combined with control plan management to prevent rework and reduce costs.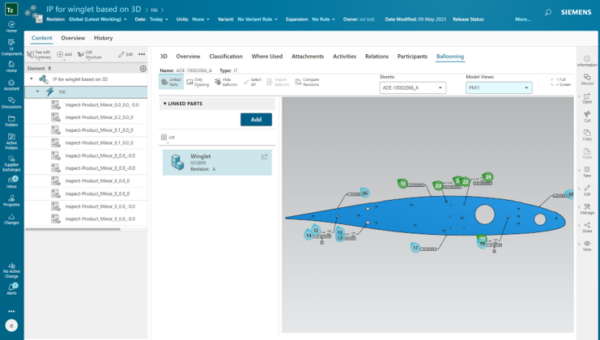 Leverage enhancements in root cause analysis for Ishikawa diagrams and the 5 Whys method. he Teamcenter Quality Problem Solving module comes with additional updates in version 6.3 to include valuable enrichments such as the expansions in Ishikawa diagrams and 5 Why methodology.
Create enhanced defects based on visual markups and use the RCA browser. Another enhancement is the root cause analysis browser that can simplify the overall problem-solving process. Now, users can take the root cause analysis browser everywhere in Teamcenter.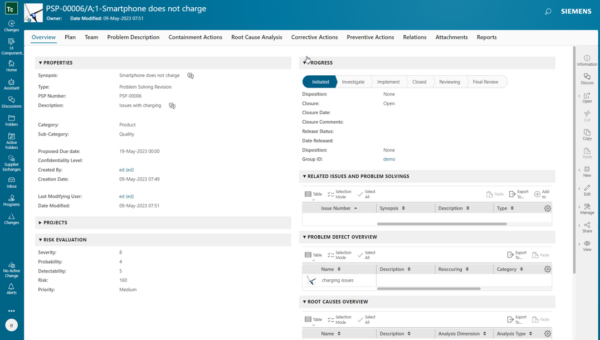 Benefits of our quality management solution
Efficiently manage the quality checklists for better assessment
Simplify tasks on quality project management best practices to manage quality gates/quality project milestones
Deliver enhanced FMEA tool
Optimize planning quality inspection leveraging drawings and models
Provide greater defect descriptions to facilitate problem solving
Close the loop in your root cause analysis with a deeper evaluation
Experience the advantages of the closed-loop quality and start your digital journey with Siemens today!
Would you like to get a general overview of our offerings of quality management software?
Take a few minutes to look into our new Teamcenter Quality 6.3 fact sheet, or learn how to experience the benefits of closed-loop quality for best-in-class products with our videos experience.
---
Are you interested in more details on our quality management software solution components?
---
Take a deep dive into five of them by reading these fact sheets:
---
No matter how you choose to deploy Teamcenter,
you get the same proven solutions designed to help you innovate faster.
---
This article first appeared on the Siemens Digital Industries Software blog at https://blogs.sw.siemens.com/teamcenter/whats-new-in-teamcenter-quality/