Teamcenter Active Workspace Strategy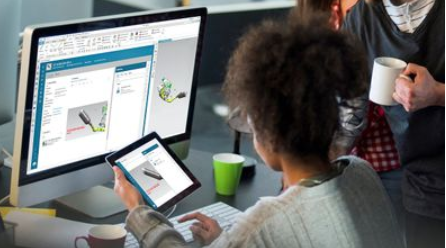 "Whats your Active Workspace Strategy?"
We get a lot of questions from customers about Teamcenter using Active Workspace … from installation to architecture, to our general strategy. Our Teamcenter community provides the forum for these discussions, and we hope this article can give you insight from Teamcenter product development and other customers to help guide your future plans.
Interested in experiencing Active Workspace for yourself? See how easy it is to access and use cloud PLM software-as-a-service by taking the Teamcenter X free trial!
All-in on Active Workspace
Active Workspace is the place to look for the latest and greatest from Teamcenter. From introducing new applications like Program Planning, to improving existing applications like Integrated Material Management and Schedule Manager, or even just making the basics so much better, Active Workspace is where it's at.

Joe Bohman, Senior Vice President, Lifecycle Collaboration Software
With each release of Teamcenter, there are more and more capabilities exclusively available on Active Workspace. The path forward with Teamcenter is to adopt and extend Active Workspace. You can reach more users, across more business processes, with a higher level of efficiency and lower cost-of-ownership.
Take a guided tour to see the new look of Teamcenter using Active Workspace, and read other blogs on new Teamcenter capabilities using our Active Workspace strategy.
Zero install, cloud-ready client
"Active Workspace is at the leading edge of technology today, using HTML5 and supporting users' mobile devices. We will have 2,000 users, all using Active Workspace from a web browser. Adding to that, several external customers and surveyors."

– Vitor Plath, Head of Competence Center, Product Lifecycle Management, DNV GL
With zero client-side installation, Active Workspace reduces the total cost of Teamcenter ownership. Our new Deployment Center demonstrates our commitment to making it easier and easier to centrally manage one or more Teamcenter environments, including Active Workspace.
Many customers are considering whether to deploy Teamcenter on the cloud. Because Active Workspace eliminates the need for client installations, it is the preferred client for any cloud deployment.
Intuitive user experience drives user adoption
We're talking about groups like manufacturing, purchasing, quality, account management. They've never used PLM before, and now they're in every single day of the week.

Mark Halbish, Global PLM Director, TI Automotive
Recent customer case studies from TI Automotive, America Makes, Briggs & Stratton, and DNV GL demonstrate the value of Active Workspace's easy, intuitive user experience to increase user adoption and acceptance of Teamcenter. From design engineers using Teamcenter inside their MCAD system of choice to consumers that enjoy the simple, powerful search functionality, to new users across departments and domains … customers describe the adoption of Teamcenter as "going viral" with Active Workspace because it's as easy as sharing the URL to bring new users in.
Configurable and extensible
It has been easy to configure and extend Active Workspace to make the information not just available, but consumable.

Joe Veranese, Business Systems Manager, America Makes – NCDMM
For customers who have extensive client-side customizations, it's worth taking a look at how much easier it is to tailor and extend Active Workspace to user and company preferences. Declarative configuration instead of customization makes it easier to upgrade Teamcenter and keep up with the latest release. You will see many community discussions about Active Workspace installation and architecture, beginning with the three-part blog series on declarative configuration. You can also engage in discussions in the User Forum and Administrators Forum, using the label "Active Workspace" to search for and participate in Active Workspace discussions relevant to your implementations.
To learn more about Active Workspace product development and hear from other customers successfully leveraging the new web client, join us at Realize Live June 10-13 in Detroit, MI.
This article first appeared on the Siemens Digital Industries Software blog at https://blogs.sw.siemens.com/teamcenter/teamcenter-active-workspace-strategy/