Products
SaaS PLM for Machine Builders
Since the onset of COVID-19, a paradigm shift has overtaken the industrial machinery workspace. Supply chain disruptions, remote working to onshoring and "The Great Resignation" of the baby boomer generation, to name a few. All these issues have emerged and converged in novel ways, posing new challenges for today's machine builders.
New challenges for machine builders
Product complexity
In 2019, demand for industrial machinery was at an all-time high and the global manufacturing industry flourished.
Many machine builders found themselves at or nearing capacity for taking on projects – but many projects came with the drawback of complexity.
More and more manufacturers required flexible, agile, multi-functional machines, challenging machine builders to create the perfect machine under compressed timelines, all while juggling changing customer requirements.
Since then, this trend has only accelerated and worsened amid the pandemic's production, mobility and staffing issues.
Global competition and staffing
Over the past several years, competition within the industrial machinery space has ramped up significantly and once COVID hit, these pressures only grew exponentially.
In response to shortages and surges across machine-reliant industries, many businesses tried capitalizing on evolving market needs. Unfortunately, this led to an adjacent issue: staffing dilemmas.
Coronavirus accelerated the early retirement for many baby boomers. It changed the nature of remote work and allowed many people to have greater mobility in switching jobs.
To account for these staffing shortages, many machine builders utilize contractors and international engineering teams to support their domestic operations.
Profitability
Machine builders need orders to turn a profit. When orders cannot be satisfied or captured, an organization's future is threatened.
While outdated processes are often attributed to order mishaps (I.e., bottlenecks between the departments create delays, which can result in missed deadlines), pandemic trends have also introduced significant disruptions in the orders process.
From travel restrictions forcing companies to adopt a virtual commissioning and remote servicing process, to supply chain disruptions delaying the incorporation of materials in a machine's build, many machine builders are being forced to rethink their business models to account for these profitability obstacles.
Digitalization is the answer
Take advantage of cost-effective, cloud-based digitalization of your product and project information with our solution – Siemens PLM for Machine Builders. A relatively small investment in digitalization can lead to a giant leap for the business. It can help you address the complexity and profitability of machine projects.
PLM for Machine Builders – built on Teamcenter X – enables the business to reuse information from past projects. Reuse machine designs to save time, increase quality and reduce costs.
Read more about our digital offering:
Blended ETO/CTO
Machine builders can easily deploy and use a templatized system to immediately begin digitalizing their business processes, transitioning to building modular machines against changing customer requirements.
A blended Engineered-To-Order and Configure-To-Order approach allow machine builders to sift through product complexity, as they can store, sort, locate and reuse project data in one, cloud-based system.
This means machine builders can more easily respond to needs for commissioning and servicing equipment, since they can leverage their cloud platform to conduct changes at any time, from anywhere, using a shared project view.
Furthermore, reusing project data allows machine builders to streamline builds, automate repetitive tasks and engineer predictable machines. This helps businesses satisfy more orders and bring products to market faster – enhancing their profitability.
Project management
Integrating cloud-based project management tools with your engineering applications transforms your quote to delivery process.
Project management tools provide real-time dashboards, reports and analytic functions, helping machine builders complete project milestones.
Through these tools, organizations gain an extra layer of transparency into projects' progress, while simultaneously gaining deeper traceability.
Perhaps, the greatest benefit of project management tools are their integration capabilities – by integrating with other systems such as Computer Aided Design (CAD) software. It can help find project data easily, share and scale across the organization, leading to greater remote collaboration.
This means organizations can source staff from across the globe, filling in gaps to support domestic operations.
Machine configuration
Machine builders must often complete several orders at a time, juggling many customer requirements and data files across disparate systems.
By leveraging a cloud-based, design management capability that integrates with project management tools, a greater harmony can be achieved in the organizational ecosystem.
Machine builders can take control of product configuration, store and reuse information all in one location.
They can concurrently capture and incorporate design feedback from numerous internal and external stakeholders.
It helps create the most effective machines possible while standardizing on component and modules, saving time and money.
By incorporating feedback earlier into the design process, machine builders can also account for supply chain issues and can source materials from other vendors as needed.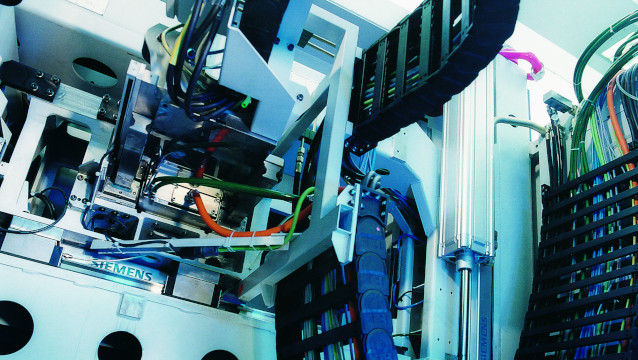 Managing customer requirements
Complex projects are driven by complex customer requirements. As a project matures, those requirements can evolve, impacting the project scope and cost – creating challenges for project management and costing.
Putting a layer of change management over your requirements, and linking them to the project deliverables (3D CAD, Specification documents, etc) allows you to understand, communicate and justify the impact of change at each stage of the project.
Ensure that everybody in your organization is working to the latest approved project requirements using a single system that is integrated with project execution and design.
Overcoming the challenges machine builders
All in all, today's machine builders face a plethora of challenges. However, we can meet these challenges in the moment by adopting a change management mindset. This will help us overcome traditional bottlenecks, in addition to capitalizing on digital tools that provide greater workplace efficiency.
Now Available!
The machines of tomorrow begin with the machine builders of today. Learn more about the digital solutions available to your organization here.
This article first appeared on the Siemens Digital Industries Software blog at https://blogs.sw.siemens.com/teamcenter/plm-for-machine-builders/