New BOM Management Capabilities in Active Workspace 4.3

We have made significant enhancements to our assembly-based BOM management capabilities in Active Workspace 4.3. We have added features and improved usability so that Active Workspace can be the tool of choice for any user:
for consumers looking for BOM information quickly
for analysts looking for additional insights into their products
and for authors needing increased productivity.
Let's briefly look at some of the new features below.
Feature completeness in Active Workspace
Active Workspace 4.3 provides additional enhancements in assembly management. Many features that were previously available only in the Rich Client are now also available in Active Workspace. Active Workspace can now be considered as the primary interface for managing product assemblies for many users.
Configuring an Assembly
You now have increased flexibility when configuring an assembly in Active Workspace. An assembly can be configured by a user-defined revision rule in addition to the admin-defined rules. Active Workspace now supports variant rules defined by classic options and variants in addition to those defined by Product Configurator. You can further refine the view of an assembly by setting an active arrangement or a BOM view.
Assembly Editing Capabilities
Also, in Active Workspace 4.3 there are more efficient assembly editing capabilities. An interactive duplicate now provides more precise control by allowing the removal and replacement of individual occurrences of an item.
The multi-structure view now allows you to switch to a different assembly on either side. Secondary tabs, such as "Overview", "Where Used", and "Relations" can now be shown for both assemblies.
In-context overrides are supported in Active Workspace. You can view overrides that have been defined, and you can set an assembly in context and make any edits to the assembly in that context.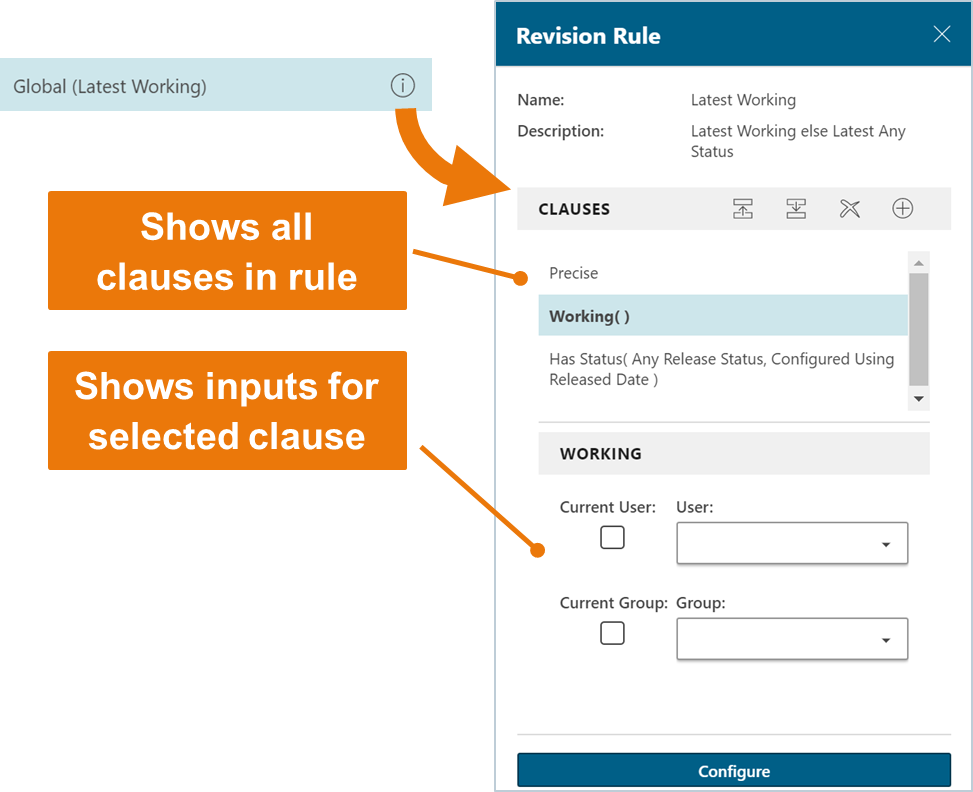 BOM Markups and Redlines
In prior releases, you've been able to make proposed edits to an assembly using markup. In this release, you can now view markups in a formal change. All markups are automatically tracked within the change. When the change is approved, the markups can get automatically applied as edits to the assembly.
When you view an assembly that is in an active change, the system automatically displays the assembly in redline mode. Redline mode is where any edit to the current working revision and assembly is shown with font treatments such as strikethrough and color change. Redlined edits include occurrence properties such as quantity, sequence, variant condition. And they also include assembly edits such as additions, removals, or replacements.
Change scoped markups provides the ability to effectively collaborate by proposing markups on a released BOM where you may not have write access. You can propose changes via BOM markups in the context of a change and submit for the review process. On successful review and approval, all of the proposals can be auto-incorporated as solutions by the system performing the necessary BOM operations. You can take advantage of the workflow template delivered out-of-the-box and tailor it to suit your business process.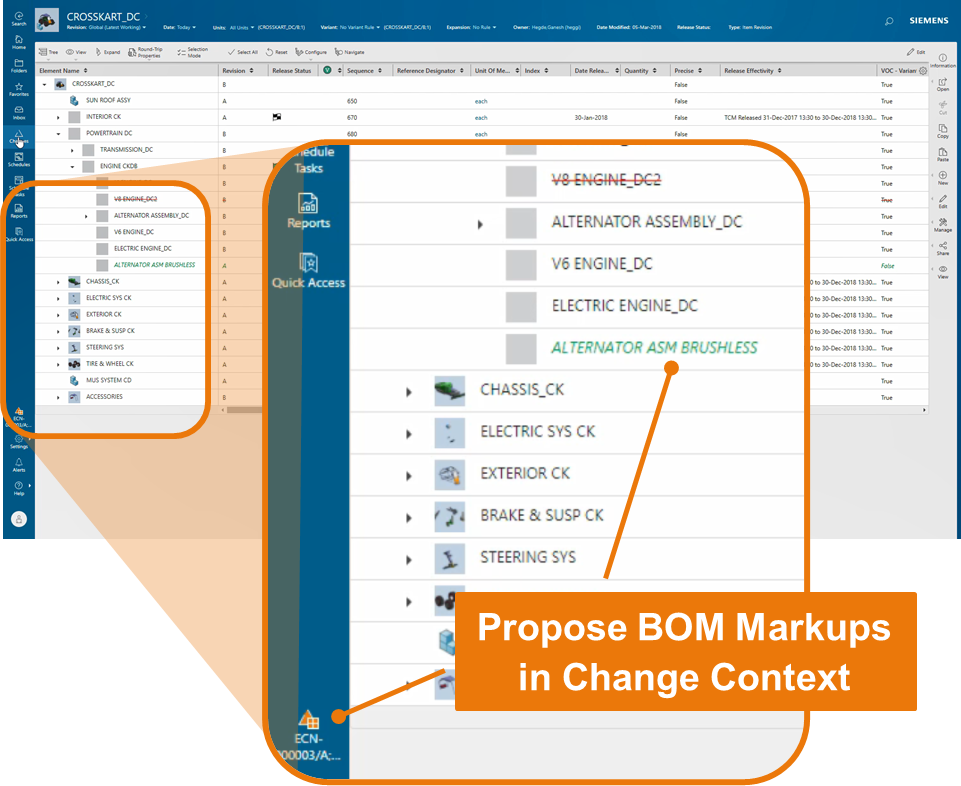 Usability
We have continued to improve the usability of the assembly tree table in Active Workspace.
Now the table is more visual. Visual indicators make it easier to understand the state of the assembly. Several indicators are provided out-of-the-box. You can hover over the indicators to see smart tooltips, which provide more information and access to relevant commands.
We have improved the responsiveness of assembly configuration. When you change the configuration of an assembly, it dynamically updates without reloading the full assembly.
You can specify how the tree is expanded by applying expansion rules, also known as closure rules. For example, you can set a rule to skip the components of a purchased assembly. We have also made it easier to expand an assembly by allowing you to specify the number of levels to auto-expand.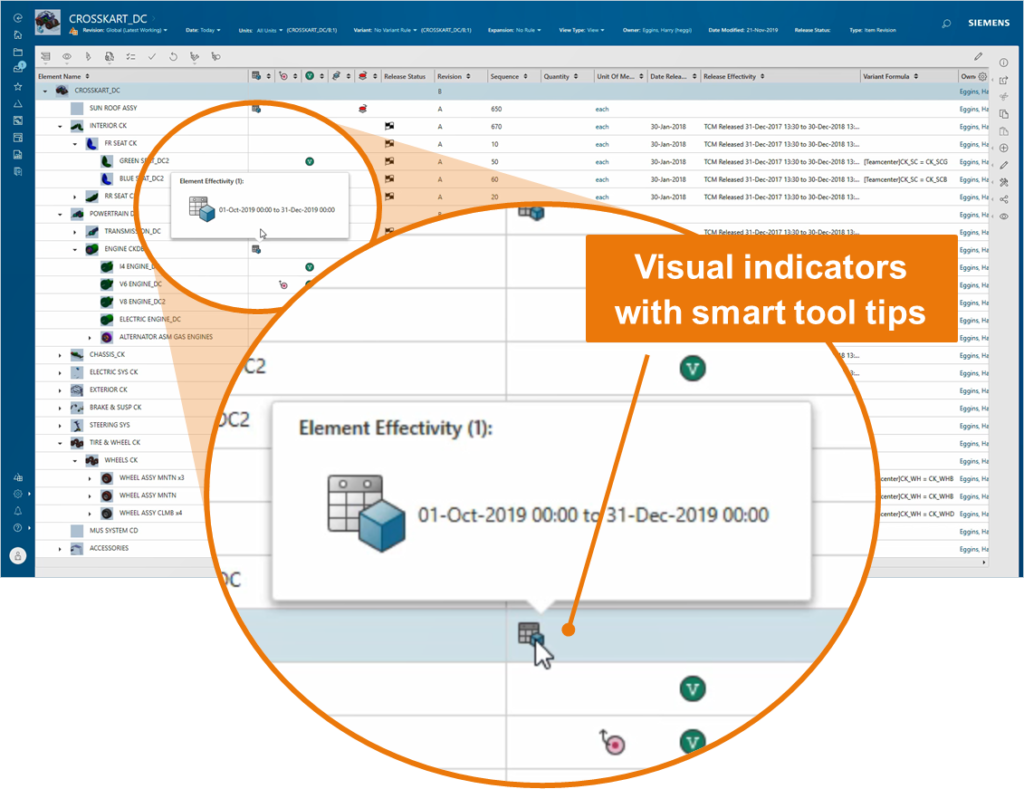 As always with Teamcenter, we continue to adapt and advance releasing more capabilities in every release. If you and your company were not aware of Active Workspace or were watching and waiting – we are ready for you and look forward to sharing more of what we have to offer. Active Workspace 4.3 has added many valuable capabilities, and we believe it can be the primary BOM management tool for many users. Reach out to your account representative to learn more about Active Workspace 4.3 intuitive BOM management capabilities. Stay tuned for additional information about BOM management in Active Workspace.
This article first appeared on the Siemens Digital Industries Software blog at https://blogs.sw.siemens.com/teamcenter/new-bom-management-capabilities-in-active-workspace-4-3/