Women in Engineering Day Spotlight: Interview with Yossra Gherairi from DigiCAD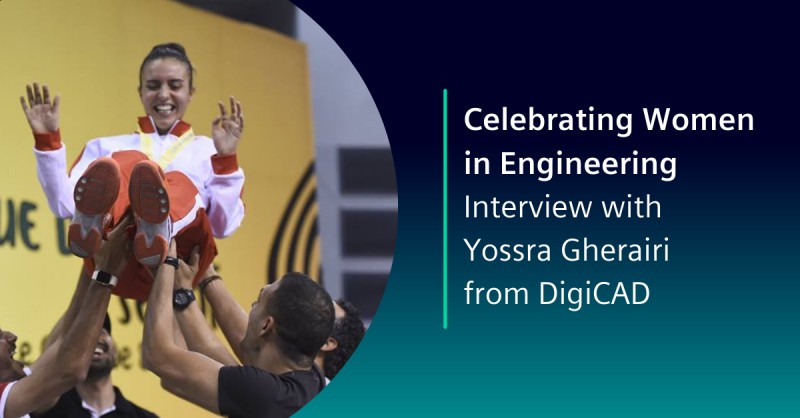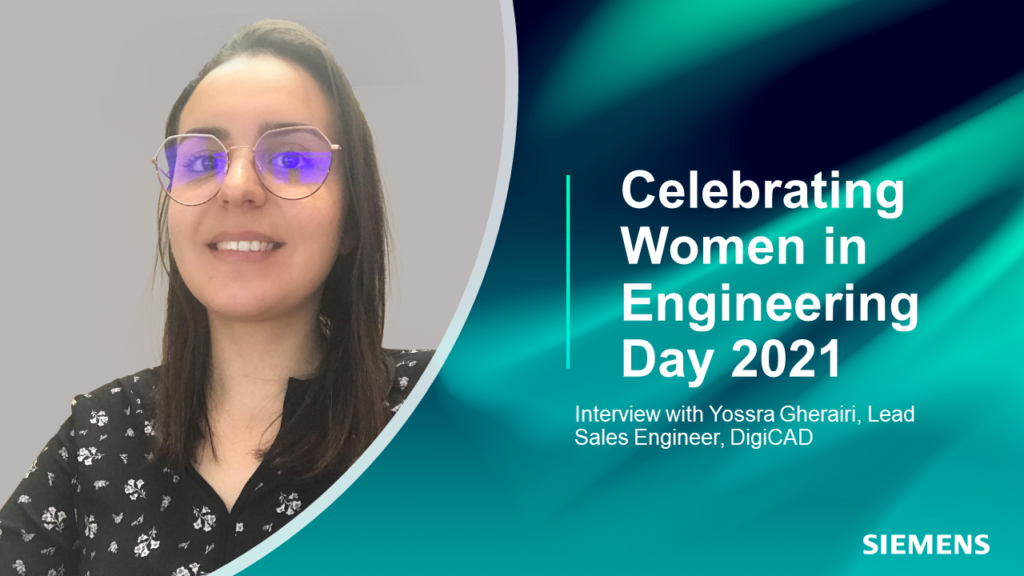 It's no secret: Engineering is a male-dominated profession. Perceptions – along with demographics – are finally shifting, and here at Siemens we are proud to be a part of the movement to raise the profile of women in engineering. In doing so, we recognize the invaluable contributions of women around the world to technology, business and society, and hopefully inspire future generations of women and girls to step into engineering careers.
This year, we chose to celebrate Women in Engineering Day by highlighting women who are instrumental to the success of our industry-leading Solid Edge software portfolio. In this interview, we meet Yossra Gherairi, who is Head of the Office at DigiCAD and a standout Olympic fencing athlete. You'll see in our exchange with Yossra below that her career is a major part of her life. But she also shared with us her interesting perspective on what it's like to be an engineer who is also a professional athlete, and how she manages to balance the two.
Our Conversation with Yossra Gherairi
Can you tell us a little bit about yourself and what you're working on at DigiCAD?
Yossra: "I'm the head of the office at DigiCAD here in France. We're a Siemens partner. I started my career in sales engineering after graduating from university in 2019, and I'm now the head of our technical team. Our main objective as an organization is to promote and provide access to software products such as the Siemens Solid Edge portfolio to customers throughout France. We also manage the products they're connected to and provide useful support and training."
What led you to join DigiCAD? What were you doing before that?
Yossra: "I attended engineering school in my home country, Tunisia, where I studied Mechanical Engineering. After 5 years of higher education in Tunis, I had earned a diploma in Mechanical Engineering, so I moved to France to continue my education in St. Étienne, where I earned a M.S. in Material and Process Mechanics. After that, the first job I accepted right out of school was at DigiCAD, and I've been working here ever since."
What sparked your interest in CAD? Was it a specific experience? Something you studied?
Yossra: "As an engineering student, I learned about a lot engineering fields and disciplines, especially CAD, simulation, and other engineering fields like what I do here at DigiCAD. I think what really drew me to engineering was the impact that I knew engineers can have on society. The role of engineers in the world, simply put, is to solve problems. I've always been interested in moving a concept from idea to reality, and solving complex problems, so it's a good fit here at DigiCAD because we focus on helping engineers convert ideas to products.
"During my time in school, I had the opportunity to do a few internships where I could explore first-hand different engineering fields and disciplines that I might want to work in, such as the automotive and aeronautics industries. The option to do this at DigiCAD was attractive and really helped me make my decision about where I wanted to work after graduation. My background as a mechanical engineering also helps me know the value and application of products, so it's a natural fit for me to be a sales engineer helping other engineers get access to and the most out of the software they use on a daily basis. Working as a sales engineer comes with many challenges to solve, which I enjoy. I've always been a problem solver. My job requires me to learn about problems facing others in the industry and find solutions to help them, by providing them with the right tools to do their job effectively."
How did you balance being both a student and a professional athlete?
Yossra: "It can be hard, but it's not impossible. And I really enjoy it. I started fencing when I was just 10 years old and it's been a passion of mine ever since. I love the sport. It combines the physical and mental, and requires skillful techniques and tactics, making it a "complete" sport. I started participating in national competitions at the age of 12 and won titles across Tunisia, but I found myself wanting to do more. I excelled in school at the same time, so I desperately wanted to do both, so I did. I joined the Tunisian National Fencing Team at the age of 15. In order to do this and still balance school, I attended what is called "Sport School" in Tunisia, where you're allowed to put some of your hours throughout the day towards fencing as part of your schooling. This also allowed me to participate in international competitions without sacrificing the ability to do well in school. At 15, I was definitely the youngest member of the Tunisian national team at the time. I competed at both the senior level and my own age level.
In 2011, things really started to take off. That year, I went on to win the Pan-Arabic Games with the senior team. In 2012, I won my first individual title by winning the gold medal in the Arab Championships and a silver medal shortly thereafter. After that, I continued to participate in international competitions. At this level, I was the champion in Tunisia, so I was able to be a part of both teams and compete as an individual on behalf of my country."
It was definitely hard at times to maintain a balance between school and sports. I went chose a math-heavy curriculum in Sport School, so my schedule was definitely a lot busier for that reason also. At the same time, I had my sporting career and was determined to do both things well. Sometimes you have to make choices and set priorities; I'd modify my training schedule to make it work with school, and I went on to earn my bachelor with high marks anyways, which allowed me to enter the top engineering school in Tunisia.
Even as an engineering student, I continued my sporting career. In 2017, I won the silver medal in the African Fencing Championship at the senior level and achieved a global ranking as #41 worldwide."
How do you balance your current role at DigiCAD with your professional athletic career?
Yossra: "Since I moved to France to study and start my career, it's been hard to balance at times. But I'm determined to make it work. Recently, I participated with the Tunisian national team again, where I qualified for the 2020 Games in Tokyo. This was at the same time as I was starting my professional career with DigiCAD. Due to some issues, I'll unfortunately not be participating in the Tokyo Olympics. But I'm very proud that I contributed to the qualification of the team and my country for this important event. Fencing has been a very good thing in my life; it has taught me many good things. Maybe most important of all, it taught me that nothing is impossible. If you want something, you can reach it. You just have to believe in yourself. You certainly have to be ready to make hard decisions and sacrifices, but then you can be even more happy with results and have confidence in yourself once you've reached your goal.
Certainly, coupling a professional life with a high-level sporting life is an uphill battle, but it is still possible. Like I said, there are sacrifices to be made. I often have to sacrifice my rest time to train and my holidays for competitions, but it's worth it. The support of my family and friends, my colleagues and my manager has helped a lot as well. It gives me the boost I need to go even further."
What advice would you give to other women pursuing a career in engineering?
Yossra: "Engineering needs to be seen like any other field. The questions we ask ourselves as women need to be ones like: What do I really want to do? What kind of person do I want to be in the future? What do I love to do? What contribution do I want to have on the world and as a human being?" We need to start by knowing ourselves and what we want to be, and our teachers and mentors at a young age need to encourage this sort of thinking. If you ask yourself those questions, and you find that you want to go into engineering, medicine, art, tech, or whatever other job or profession you think of, you should really consider doing it.
Being an engineer has never been a gender-based choice for me. I know there are more men than women in engineering, but there's no reason why women shouldn't do it. Yes, the job can be hard, and it requires a lot of studying in school, but it's not impossible. If you want to do it, you can. Women in engineering are also a very powerful force for good. We want to contribute our ideas and make the world a better place, just like anyone else.
In my experience, I did two things at the same time and was still able to make it a reality. We also need to see more visibility for those women working in the engineering fields to inspire other girls worldwide to know they can do it too, if they want to. We need only to believe in ourselves, believe in our choice, and be able to see the choices that are in front of us. Some might say engineering is 'difficult', but that's all relative; medicine is hard, literature is hard too. If you believe in your ability and in your choices, you can do amazing things."
If you could solve any engineering problem in the world, what would it be?
Yossra: "I really enjoy all STEM topics, but my favorite is renewable energy. We're currently seeing and experiencing the disastrously effects of global climate change and pollution. This makes the race to new renewable energy sources and technology one of the most important challenges for humanity as a whole – not just engineers. But we as engineers have to contribute and commit significant time and effort to try to solve this very serious problem. If we don't give it the level of importance and urgency it requires, it will soon be the primary concern of all countries."
Where do you see yourself in the next 5-10 years?
Yossra: I started at DigiCAD in a sales engineering role. And now I'm also the head of the office. This is one of the many reasons why I'm grateful for the opportunity to work with DigiCAD; I'm able to see my future dream job as a real possibility, and to work towards that goal. I'm going to keep giving it my best to make it.
---
Help us inspire
Help us to inspire on #WomeninEngineeringDay (and every day) by sharing content from the Solid Edge Blog on Facebook, Twitter and LinkedIn! To learn more about Solid Edge, visit our website.
This article first appeared on the Siemens Digital Industries Software blog at https://blogs.sw.siemens.com/solidedge/women-in-engineering-day-spotlight-interview-with-yossra-gherairi-from-digicad/