Webinar replays: Reusing designs and designing structural frames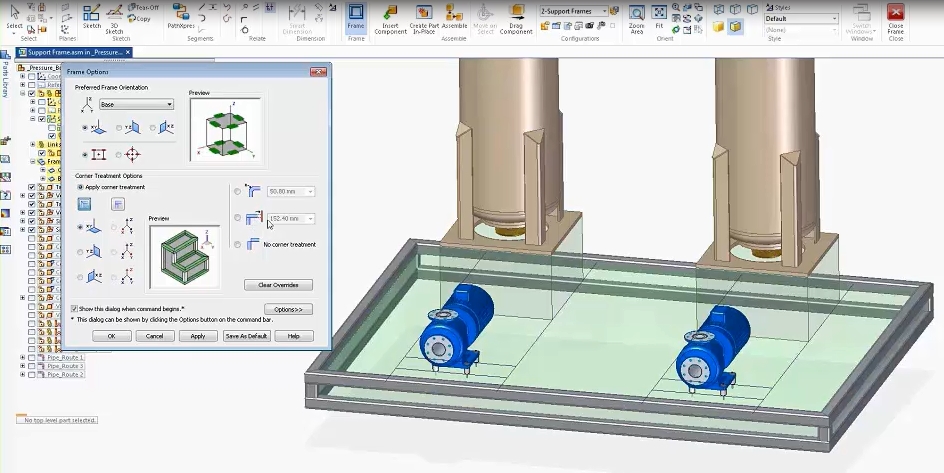 Two new webinars in our Solid Edge Portfolio – Digital Transformation Webinar Series are now available for replay. The first covers the ability to capture and re-use design intent, and reusing proven components in new design projects. The second covers designing structural frames and weldments. In each of these webinars a short introduction discusses how Siemens and more specifically the Solid Edge Portfolio can help SMB manufacturers create digital twins of their products and move towards a digital enterprise. (You can skip to around 5 minutes if you want to skip this part and get straight to the technical content).
In the design re-use webinar Ilya Nazarenko focuses on how synchronous technology enables designers to capture and preserve design intent in their design projects, and how this can be applied to 3D models from other CAD software as well as those created in Solid Edge. Ilya also shows how you can copy geometry from one part to another part, saving significant time in the design process and also minimizing the possibilities of errors.
Copying complex features from an existing design to a new design can save a lot of time in the design processIn the structures design webinar Kevin Grayson shows how the Solid Edge Frame environment can be used to quickly design structural frames using standard sections. Frames can be derived from solids or from sketches and the resulting design is easily modified to use a different frame section or by changing key dimensions. Kevin also showed how to model welds and add weld specifications, and finally how to create 2D drawings of the final frame with a parts list and a cut list that ensures that your manufacturing department knows exactly what materials are required and minimizes material waste.
The Solid Edge Frames command speeds the design of structural frames
I found these to be excellent, concise demonstrations of Solid Edge and recommend you watch these webinars if you want to find out more about these capabilities. You can register for the complete webinar series and access replays of those recorded so far here.
This article first appeared on the Siemens Digital Industries Software blog at https://blogs.sw.siemens.com/solidedge/webinar-replays-reusing-designs-and-designing-structural-frames/