Products
Video Recording and Uploading to YouTube in Solid Edge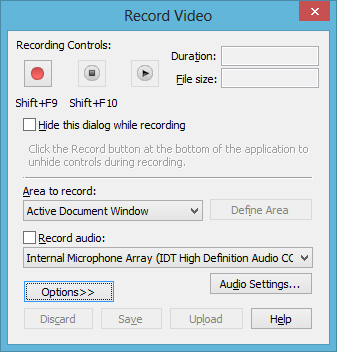 In ST6 we introduced new functionality that added the ability to record videos directly in Solid Edge, eliminating the need for third party software tools for this task. In addition, Solid Edge now interfaces directly with YouTube so that you can upload your videos directly to this popular video-sharing web site to share your CAD expertise and designs with your customers. It's also a great way to build and showcase the Solid Edge community!
Recording
The recording functionality can be easily accessed by clicking the red button at the bottom right-hand corner of the Solid Edge window:
This will bring up the Record Video dialog:
By default, the record area will be the Active Document Window – the graphics workspace in the active Solid Edge document. A yellow border will appear showing the area to be recorded. You can change this through the drop-down window to also record the entire Solid Edge application, or a custom area on the screen.
Once you are satisfied with the recording area, clicking the red Record button will start recording video and, if selected on the dialog, audio. You can pause and resume recording, and you can stop the recording. Once you stop recording, your recorded video will begin playing with your default media player for you to review.
You can then save the video locally as an .avi file by clicking the Save button, or you can upload your video to YouTube by clicking on the Upload button.
Uploading
Clicking on the Upload button from the Record dialog or from the bottom right-hand corner of Solid Edge will bring up the Upload to YouTube dialog:
There are several fields that are required to be filled in or checked before the Upload button becomes active, including signing into YouTube using a Google account, and selecting a file name to upload. If you have come to this dialog from the Upload button on the Record Video dialog after recording a video, the File Name field is already populated for you with the video you just recorded. The Title field is also a required input for your video and you must acknowledge that your videos will be viewable to other users. You can also add a description and select tags to add to help classify and describe your video, and you can control how privacy will be enforced on YouTube for your uploaded video.
Solid Edge will automatically tag the uploaded video as a Solid Edge video, along with the version of Solid Edge used to upload it.
As a result of these tags and descriptions, you can create Solid Edge-related content that can be easily found and used by the Solid Edge community, or you can restrict your video only to specific YouTube users. You could create tutorials on how to execute Solid Edge commands to help other users in the community. You could create product demos to embed on your company's web site or share the URL with customers to review to gain sales. You could create videos that show how your products are assembled for internal assembly or training purposes. Or you could create operational videos for owners of your product to use to learn how to operate it. You can even record and upload videos of problems you are having to share on the Solid Edge Forum or to include a link when filing a PR with GTAC or your VAR. And since the hosting effort is handled by YouTube, you do not have web site authoring or bandwidth concerns to contend with. You simply share the URL to the video hosted on YouTube with whoever you want to be able to watch the video, or embed the URL or video on your own web site or documents.
Of course, in order to use the Upload to YouTube functionality you must be able to access the YouTube web site from your computer. If your company blocks YouTube this functionality will not work for you.
A word on Privacy and Security
It's important to realize that any time you upload data to a third party there are naturally going to be security concerns. YouTube has three levels of "privacy" that you can assign to your videos. They can be marked as "public", which means that they will show up in searches on YouTube and anyone who finds the video can watch it. They can be "unlisted", which means that the video will not show up in searches, but anyone who has the URL to the video can watch it. And they can be "private", which means that only YouTube accounts that you designate can watch the video. For full details on this you will want to carefully read YouTube's Terms and Conditions.
But even if you upload your videos with the most stringent privacy setting (private), there are always risks with sharing your data through third parties. Third parties can and do get "hacked". User accounts can and do get compromised. And nothing stops someone you trusted from using video recording software on their system to re-record your recording and then share it with others. Careful consideration should be given to the kinds of videos you will be uploading.
Solid Edge administrators can disable access to both the Record and Upload functionality via SEAdmin.
Finally, if you are using Solid Edge pre-release software, such as a Beta customer, a Siemens employee, or a development or channel partner, then obviously you will not want to use this tool in such a way that it might reveal the Solid Edge product before its official release.
This article first appeared on the Siemens Digital Industries Software blog at https://blogs.sw.siemens.com/solidedge/video-recording-and-uploading-to-youtube-in-solid-edge/