Products
Tiny Home, Big Idea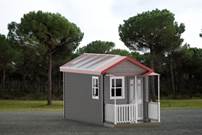 Tiny homes are very popular these days, that siren call urging us to shrug off the trappings of life that tie us down in upkeep. But for some people, a tiny home represents UP-sizing, not down-sizing. For the homeless, 150 square feet and a roof is a mansion. Taylor Reed, an engineering student at the University of Alabama in Huntsville, has a long history of advocating for the homeless, many of whom are veterans in our community.
A recent shutdown by our city of the local tent dwellings displaced many of our homeless. Never one to sit back and let others solve the hard problems, Taylor engaged social media and his fraternity, Phi Kappa Psi, to bring together a diverse community of engineers, design specialists, homeless advocates, leaders in education, and others. Using Solid Edge to design a 150-square foot home, Taylor worked with his team and Mind Gear Labs to fabricate a 1/12th scale model of his home, complete with furniture and landscaping.
With this model, and with the support of Foundations for Tomorrow and their network of contacts, Taylor and his team have funded and built 3 homes. Their challenge has now moved on to city permits – finding a place to create the village – a collection of tiny homes for transitional shelter with shared amenities – a place to stay that offers privacy, hard shelter, and a community where people can stay temporarily as they transition to more full-service shelters.
Good luck with your project, Taylor! I'm sure you're up to the task of cutting through the red tape to make a truly inspiring change to the Huntsville community.
Learn more about the tiny home movement for the homeless at these links:
http://foundationsfortomorrowal.com/
http://whnt.com/2014/11/06/fraternity-trying-to-create-tiny-home-village-for-homeless-vets/
http://www.waff.com/story/27328962/uah-student-helps-homeless-vets-with-tiny-homes
http://www.littlethings.com/tiny-house-frat/
http://www.huffingtonpost.com/2014/11/07/tiny-homes-homeless-veterans_n_6122362.html
http://nationswell.com/phi-kappa-phi-frat-brothers-build-tiny-homes/
This article first appeared on the Siemens Digital Industries Software blog at https://blogs.sw.siemens.com/solidedge/tiny-home-big-idea/