Products
Solid Edge History – V6 to V10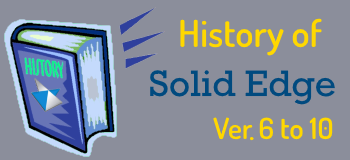 …continued from previous part V1 to V5
Version 6
Released in December 1998 and using Parasolid 10.0, this version added ability to create add-ins which were external program that Solid Edge automatically starts during initialization. The add-in could create an interface within the Solid Edge environment and react to events from within Solid Edge. This was more related to programming using the Solid Edge API.
The new features were:
Multipart cutout in assembly where the cutout features could be stored in the part.
Cut-away view to create a display-only cut-away view of the assembly. This did not create actual face objects that could be used for sketching, etc.
Drag and drop part placement in assembly.
Subassemblies could be exploded as a unit.
Divide part was introduced which allowed using construction surfaces to cut part then save the results in separate part files.
Lip/groove feature.
Web network.
Replace face.
Embossed text.
Feature library was introduced that allowed creation of a library to store part and sheet metal features and subsequently use in other part and sheetmetal documents.
Multiple closed profiles were now allowed in protrusions and cutouts.
Louver, dimple and drawn cutout features in sheetmetal.
Tracking dimension changes was introduced for easy identification and investigation of the changes.
Real-time hidden line rotation.
Also, Active X controls for Draft and Assembly were added which were used by programmers to display Solid Edge documents on a WinForm.
In 1999 UGS had initiated a marketing program called Solid Edge Origin under which it had distributed 900,000 copies of a stripped down version of Solid Edge. 120,000 recipients took the time to register to use this software and I clearly remember I was one of them. And though I have lost my registration key now, here's a photo of my Origin CD:
And here's another one where though the text is in German, the support number seems to be from the Netherlands.
When inserted in the drive, a multimedia screen appeared that displayed the Solid Edge logo and text all glittering as seen below:
Version 7
Solid Edge 7 was released in July 1999  with Parasolid version 11.0. The big new addition to this version was the XpresRoute module.
The other new features were:
The Pattern Part command allowed to use a pattern profile drawn in Assembly Layout to define the pattern of parts.
A Change Source option on the Links dialog box was added allowing to specify a new folder location or document name when a part in an assembly was moved or renamed.
The Tangent assembly relationship was added.
Assembly relationships could be replaced without deleting them first.
Re-attaching failed dimension were made possible.
Hole Table was introduced in this version.
Dimensions placed in the model could be retrieved in the Draft beginning V7.
Thicken command was introduced.
Mirroring a Part was now possible.
Keypoint Curve could be created.
A new user defined Coordinate System could be created.
Inquire command was introduced which is now found on the Inspect tab on the ribbon.
Normal Cutout, Bead and Save As Flat commands were new commands in sheetmetal.
Save As JT.
In V7 a Recognize Features option on the Parasolid Import Options dialog box facilitated recognizing the features and also added them to the feature tree. This was discontinued with the arrival of Synchronous Technology when features became history; no pun intended!
Multimedia training was Solid Edge's special feature for several releases. There used to be many tutorials that simulated opening sample parts in Solid Edge. Those who have used any of the first 7 versions of Solid Edge will remember this trainer leaning against the Solid Edge logo who became popular with the distribution of Origin CDs in thousands globally.
Fig: The Solid Edge Tutor
and new users would typically start learning the Part environment commands modeling this bucket of a front-loader.
Version 8
Released in May 2000 this version of Solid Edge based on Parasolid 11.1 offered more than 350 enhancements, most of which were customer-driven requests.
The user interface now featured an EdgeBar window which could be docked to a side of the screen. The EdgeBar was a top-level interface under which several other interfaces were consolidated. Depending on the environment like part, assembly, or draft, the EdgeBar combined dialog boxes and tools in the same area. For example, in the Part environment, the EdgeBar incorporated the Feature PathFinder and Part Library along with the Design Assistant Sensor or simply Sensors which was the star enhancement in Solid Edge V8.
Fig: Floating window PathFinders before the introduction of EdgeBar which clubbed them together
The variable sensor allowed designers to input variables into a table that monitored dimensions and sent an alert when a change was made to the design that would extend the part size beyond the allowable parameters. Similar to this was the minimum distance sensor, which, like its name, kept a watch on the specified distances between parts. In the sheetmetal parts it could be set to check minimum distance of deformation features from the edge of a part. This made Solid Edge the undisputed leader in sheetmetal modeling by complimenting its already existing rich set of sheetmetal features.
The InterPart Copy command was also introduced allowing to associatively copy faces from peer parts into an inplace-activated part. Inter-part copy added peer-to-peer associativity to the established Solid Edge top-down modeling approach.
But the the hottest feature was Cognitive Assembly Design, a new technology designed to improve and simplify how assemblies were created. Solid Edge by now had established reputation for its assembly design and management functionality which had no competition.
Cognitive Assembly Design was a set of tools that simplified and accelerated assembly design by letting users embed assembly placement intelligence within part models. This dramatically reduced the amount of input needed to position parts in the assembly model. Solid Edge captured information about part alignment and mating conditions as parts are placed, using a "teach-and-repeat" technique. This assembly intelligence was used in subsequent part placements.
Bottom line? Users could place parts and establish assembly relationships faster, with significantly fewer commands and mouse clicks.
In the Draft environment a new Copy to Symbol Library command allowed to store selected geometry as a symbol in a library. Also introduced was SmartSelect which let users select by color, width, line type, layer, etc. and the Stretch command for 2D objects.
The DWG/DXF translation wizard was added in V8.
V8 also introduced SimplyMotion in the assembly environment where users could quickly and accurately simulate complex movement, detect interferences and create animations of the full range of assembly motion.
Within only 4 years of its release, Solid Edge via its Voyager program included more than 150 engineering software applications in such disciplines as finite-element analysis, manufacturing, kinematics and dynamics, electro-mechanical, rapid prototyping, standard parts, product data management, translation, view/redline/animation and hardware solutions.
Version 9
Released in January 2001 Solid Edge V9 based on Parasolid 12.0 introduced some cool new features like simplified parts and assemblies besides dynamic collision detection.
Fig: The fronnt cover of either the box pack or manual of Solid Edge V9
An entire new environment was added for weldments with its own file type and this simplified the creation of welded components. The specific workflow-oriented tools in the weldment environment supported the creation of weldments from a collection of parts. After creating a weldment document, users could add surface preparation features, weld bead features, and post-weld machining operations.
Version 9 added two powerful new sensors: a surface area sensor to monitor the surface area of a part (or negative surface areas, such as cutouts) and custom sensors that users could create to monitor values of numerical results calculated by custom programs.
Purchased add-on were made available in V9 which later became integral part of Solid Edge. Examples include Engineering Handbook by MechSoft, Web Publisher by Immersive Design and Xpand3D by MCS which later became the Create 3D command.
Version 10
Released in July 2001 Solid Edge V10 used Parasolid 13.0 and had new features like family of assemblies, alternate-position assemblies, drawing view tracker, color options for part, features and assembly components and a collaborative Web portal called Edge eXchange.
Version 10 shipped with a built-in Parasolid-to-ACIS bidirectional translator to aid in data transfer among CAD/CAM/CAE tools and included new healing technology that automatically found and corrected inconsistencies in imported 3-D data. In addition, Solid Edge could now directly open multibody Unigraphics files that remained dynamically associative with the Unigraphics model.
Beginning V10, users could construct a curve using point coordinate data from an Excel spreadsheet, and had the ability to stitch together multiple construction features with a new stitched-surface command. Visual improvements have arrived in the form of a new Color Manager command that provided better control over the model's color.
Here's an infographic again that summarizes the history of Solid Edge from V1 to V10
Tushar is a Solid Edge blogger and programmer for 23 yrs and manages his single-person consultancy by the name CADVertex Solutions that offers custom solution development using the Solid Edge API.
Do you want to automate any repetitive Solid Edge tasks at work?
Tushar creates good quality apps at affordable rates.
Write to him at Tushar.Suradkar@Gmail.com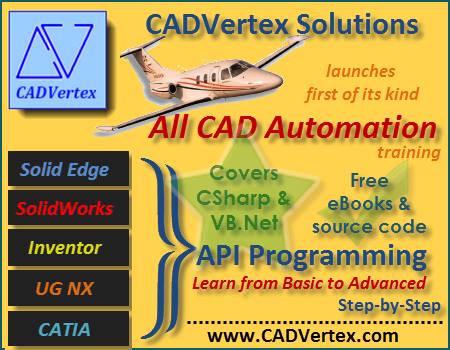 ---
The next parts in the Solid Edge history series will cover versions 11 to 15 and so on…
This article first appeared on the Siemens Digital Industries Software blog at https://blogs.sw.siemens.com/solidedge/solid-edge-history-v6-to-v10/