Solid Edge "Digital Transformation" Webinar Series – All are Welcome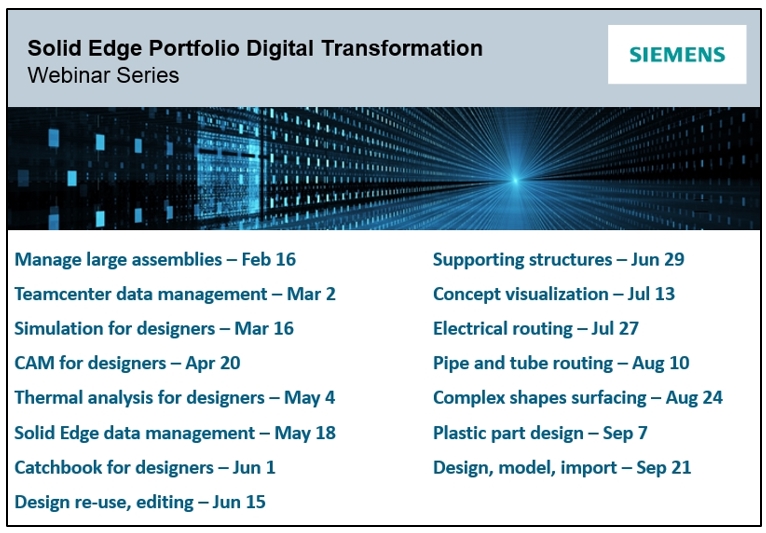 We have just started running a 15 part webinar series that covers many aspects of product development that are supported by the Solid Edge Portfolio. From managing large assemblies, to design reuse, to electrical routing – the list of topics we will be covering is diverse and is sure to be of interest to our existing Solid Edge customers and to prospective users.Note that these webinars are in addition to the longer, more detailed webinars supported by Engineering.com that Matt Lombard outlined in his recent blog post
We have completed the first 2 webinars – the first focused on large assemblies and I think this included some great tips and examples on how to work more efficiently with assemblies with 1,000s of components. The second focused on how you can manage Solid Edge files and other technical data using Teamcenter and contained some great content on how the extensive capabilities of Teamcenter can be accessed without leaving the Solid Edge environment. These webinars are both available now as replays.
The first webinar focuses on how to work better with large assemblies and uses this 12,000 part assembly to offer some valuable tips
The webinars are just 30 minutes long and start with a 5 minute introduction on how you can embark on a "digital transformation" to speed your product development, and then quickly move on to the specific aspect of product development that is the focus of the webinar. You can sign up here to receive invitations for the upcoming webinars and to access replays of the webinars we have captured so far.
Let us know what you think of these webinars, the list of topics we are covering, and any additional topics you would like to see in the future.
A wide variety of topics are covered in the Solid Edge "Digital Transformation" webinar series
This article first appeared on the Siemens Digital Industries Software blog at https://blogs.sw.siemens.com/solidedge/solid-edge-digital-transformation-webinar-series-all-are-welcome/