Solid Edge Augmented Reality debuts at Realize Live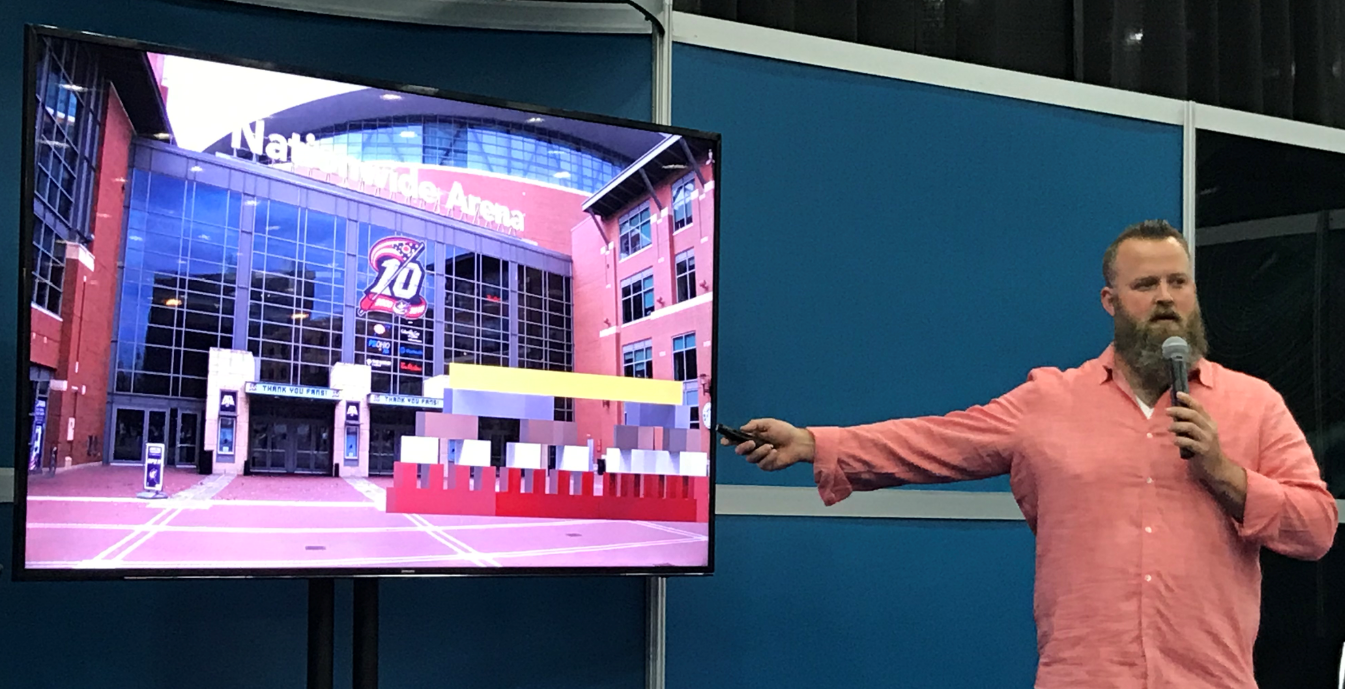 New augmented reality capabilites in Solid Edge made their debut at Realize Live this week. Our users were able to try out the capabilities for themselves and discuss their requirements and potential use cases with the Solid Edge development team. In addition to demonstrations and a hands-on experience in our booth, Oliver Duncan presented our strategy for supporting virtual reality and augmented reality in Solid Edge.
So what are virtual reality (VR) and augmented reality (AR) and how are they different? Oliver presented the slide below that clarifies that virtual reality uses a completely computer generated environment to simulate a real world environment, because of this goggles are typically used to immerse the user in this virtual environment. Augmented reality places computer generated models into a real world environment, typically using a tablet to capture and display the combined environment. There is also mixed reality, where real and digital objects co-exist in real-time.

Oliver explained that from a Solid Edge point of view these applications are seen as part of the next generation design capabilities of Solid Edge. One of the common themes of these capabilities (that also include reverse engineering, generative design and additive manufacturing) is the use of mesh data. An example of extending this approach to AR/VR is that Solid Edge 2020 has the capability to create files in the mesh based .OBJ file format for use in third party virtual reality applications, for example IrisVR.
So how does Solid Edge support augmented reality? Our development team has come up with an innovative solution making use of both the Solid Edge Portal and the Solid Edge Viewer as you can see in the graphic below. The first step is to upload your CAD models to the Solid Edge Portal (a free application) where a new command will generate a QR code for the model. The QR code is stored in the project on the Portal and an email sent to invite suppliers and customers to collaborate, they will then have secured access to specific data for AR projects. Users can then utilize the Solid Edge Viewer (another free application!) and a camera on a phone or tablet to look at the QR code sitting in a real world environment. The 3D model appears in the real world environment and you can move around it, zoom in and out, and even look through it. Note that these enhancements to the Portal and Viewer will be available later in the summer of 2019.
Oliver also presented a nice summary of the Solid Edge approach to augmented reality:
Easy access to next generation visualization – it's free, just grab a tablet
Experience true-to-scale 3D models in real-world settings
Communicate design intent in intended physical environment
Collaborate securely and share AR experiences via the cloud
Having read this far you may be thinking "Well this is all very nice but how would I use this?" I came across a great example when demoing Solid Edge Augmented Reality to Matt Barton from Hero Lab (check out this great video on Matt and the Hero Lab here).
Matt gave an inspiring talk about his approach to engineering, art and life at Realize Live and one of the design projects he presented was a large scale sculpture he had designed for the NCAAW final four event. The image below shows his sculpture overlayed on the event venue. When using AR Matt commented, "I wish I had this when I was working on the NCAAW project! I could have showed my customer my designs in their environment before we manufactured them and made some final changes to exceed their expectations. We could have worked together to determine the optimum postion to locate the sculptures as well."
So just one example of an application of AR. We're interested to hear from you how you see augmented reality being used in your industry.
This article first appeared on the Siemens Digital Industries Software blog at https://blogs.sw.siemens.com/solidedge/solid-edge-augmented-reality-debuts-at-realize-live/