See the latest in cloud-based BOM management at SEU16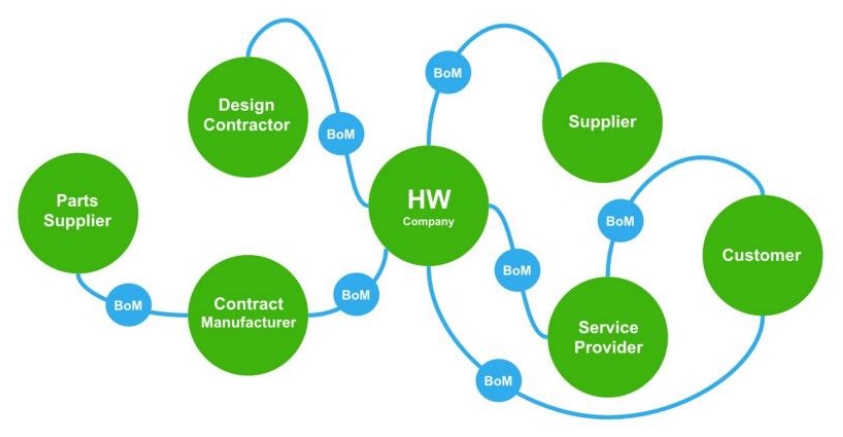 A new exhibitor at Solid Edge University 2016 will be openBoM, a start-up software company that is focused on "thinking of new ways to innovate how engineers and manufacturing companies collaborate across team, organizational, and geographic boundaries"
According to OpenBoM founder Oleg Shilovitsky, design and manufacturing is getting more and more distributed with engineers and other team members often spread across multiple locations. Suppliers and contractors are also typically located across multiple geographies. All this leads to a growing demand for distributed product development and the means to improve data sharing and collaboration. The vision of openBom is to connect together manufacturing companies, contractors, and suppliers into a "manufacturing network" giving them the ability to manage Bill of Materials more effectively.
openBoM connects designers, manufacturers, suppliers and customers
At SEU16 Oleg will be demonstrating how openBoM gives engineers the ability to easily extract their BOMs from Solid Edge and share them with others in their organization, and with external contractors and partners. openBoM uses cloud-based technology that complements the new cloud-enabled design capabilities of Solid Edge ST9to support distributed product development across distributed environments.
I recommend you stop by the openBoM booth at SEU16 and chat with Oleg about your current methods and challenges for managing BOMs internally and externally, and see if cloud-based BOM management may help. Oleg is a also a prolific blogger in the PLM industry with Beyond PLM and has many interesting insights on how cloud technologies are being applied by manufacturers worldwide. You can also watch this short video of how openBoM works with Solid Edge.
This article first appeared on the Siemens Digital Industries Software blog at https://blogs.sw.siemens.com/solidedge/see-the-latest-in-cloud-based-bom-management-at-seu16/