Products
Startup Spotlight: Momentum Vans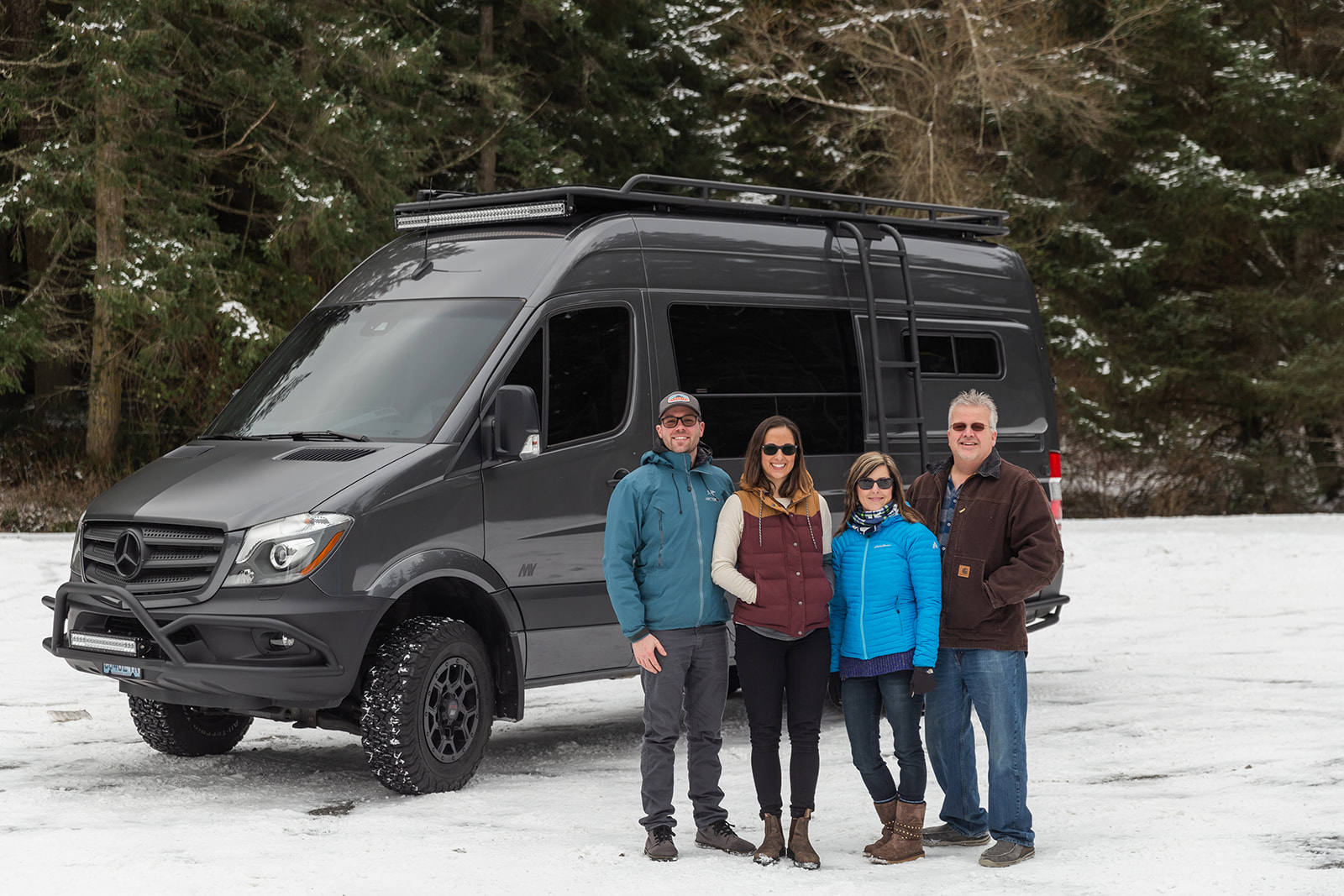 Momentum Vans – a family-owned van conversion company based in Arlington, WA – uses Solid Edge to convert Mercedes Sprinter cargo vans into "custom adventure camping vehicles". Momentum Vans is owned and operated by the Wright's, a northwest native family with four generations of craftsman roots. For over 30 years, the Wright's have built father and son businesses that cater to recreation in the U.S. Pacific Northwest.
Brian Wright, and his wife Brianna, connected over their shared love of the outdoors and adventure sports—mountain biking, skiing, skydiving and paragliding—perfectly suited to their life in the Pacific Northwest. But they were tired of having to set up a tent or crash on friends' couches whenever they traveled to pursue their active hobbies. Embracing the "van life" movement, they bought a Mercedes Sprinter to serve as their personal "hotel room on wheels" for the weekends.
Even with professional careers in mechanical engineering and biotech, respectively, they soon found themselves logging more than a hundred nights a year on the road. The Wrights realized that the van wasn't just a tool to make their lives easier, but that the growing popularity of this flexible, mobile lifestyle could also evolve into a business opportunity.
And thus, Momentum Vans was founded. With their new business, The Wrights—Brian, Brianna and Brian's father, Dave—now take completely empty cargo vans and turn them into unique adventure camping vehicles. Customers show up with their stock vehicles and their wishlists. They leave with a fully custom layout, including living spaces, specialized storage and the freedom to hit the road in style and comfort.
With the help of Solid Edge 3D Design, Momentum Vans is able to perform all of its work fully custom and in-house. Every one of their converted van interiors are handcrafted using high-end marine grade materials and built specifically for each customer's needs.
Brian quickly realized that he needed an affordable CAD solution for their custom designs. That's how he discovered the Solid Edge for Startups program. "We started our business on a tight budget, so naturally Solid Edge was a perfect fit from the start, enabling us to achieve quality at every level of our design and production process," explains Brian Wright. "For example, the finish in the gaps of our ceiling and wall panels, as well as cabinetry, all meets up perfectly. Without a precision-driven CAD platform like Solid Edge, we wouldn't be able to ensure that level of quality."
Creating the ultimate adventure camping machine with Solid Edge
At Momentum Vans, every van is engineered to meet its owner's desired lifestyle and built with high-quality materials that hold up in harsh environments. The company takes pride in their thoughtful layouts and clever features. According to the Wright's, 30 percent of their customers live in their vans year-round. Take a look at some of their work.
Customers first provide Momentum Vans with a van, typically a Mercedes Sprinter, but also everything from Ford Transits to Dodge ProMasters. From there, they use 3D CAD tools in Solid Edge to build out the interior of the van with features like kitchens, bathrooms, sleeping areas, custom cabinets and captain's chairs. To support the unique hobbies of their owners, each van can include custom spaces for owners to store their skis, mountain bikes, scuba gear or even motorcycles.
Their work requires close collaboration with every customer. "We're able to take whatever rough sketch, concept or idea that a customer is looking for, and then depending on the customer's experience with van conversion, build a unique relationship that works," explains Brian. "If a customer is completely new to the industry, we'll spend a great deal of time in a van with them to provide a lot of suggestions on how to make things functional and usable."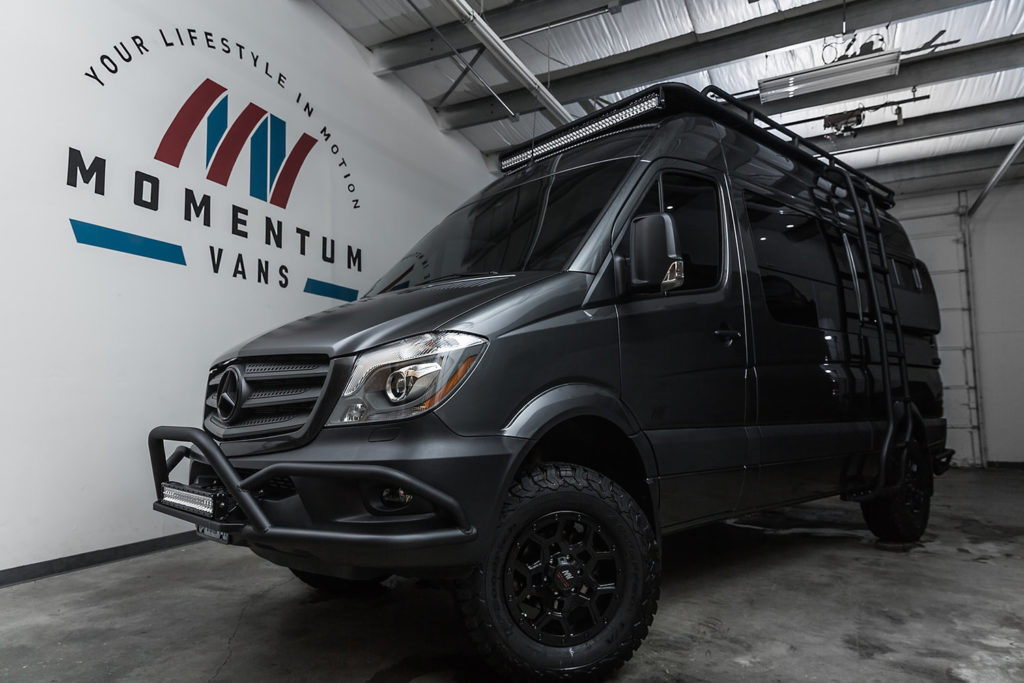 Momentum Vans starts working on the design of a van as soon as the customer puts down their deposit. From there, they develop a CAD model in Solid Edge and finalize it as a graphic rendering that can be used during meetings with the customer to suggest materials and colors, modifying renderings in real-time until they're satisfied with the layout and color scheme. "Solid Edge allows us to tailor builds around whatever sport-specific needs a particular customer has, or even for how many children or pets they have. Regardless of the need, our process involves a constant back and forth," says Brianna.
"This has been by far the hardest that we've ever worked. But it's so rewarding to see our customers excited about our products that we put a lot of blood, sweat and tears into."

Brian Wright, Momentum Vans
With the help of photo-realistic rendering capabilities in Solid Edge, Momentum Vans is able to show customers exactly what the final layout of a van is going to look like, and where changes to the design might be required. 3D rendering tools in Solid Edge provide a valuable way to communicate back and forth because it eliminates the need to sketch by hand or communicate changes verbally. The ability to do this digitally with Solid Edge makes all the difference.
Momentum Vans primarily relies on Solid Edge for its part environment, as well as for building full assemblies once they've decided on a final design. Importing solid models in Solid Edge with a single file drop allows the company to convey space inside of a van digitally, instead of having to physically build and cut each part. From there, they're able to build the assemblies one at a time as they're working their way through the physical conversion of the van itself. All of this is done leveraging a vast library of assemblies that are essentially the same every time the company performs a new van build, cutting down on valuable design time.
Solid Edge for Startups: Making Ideas a Reality
The Solid Edge for Startups program makes it easy for new businesses like Momentum Vans to access premium software and resources, including online training and community support.
New businesses need access to the best tools and technologies to bring their ideas to market quickly, but they often lack the means to acquire the professional resources they need. They struggle to maintain a consistent funding stream, the time required to learn new skills, and the challenges of work-life balance, especially when you're still working a day job, can doom great concepts before they have a chance to take hold.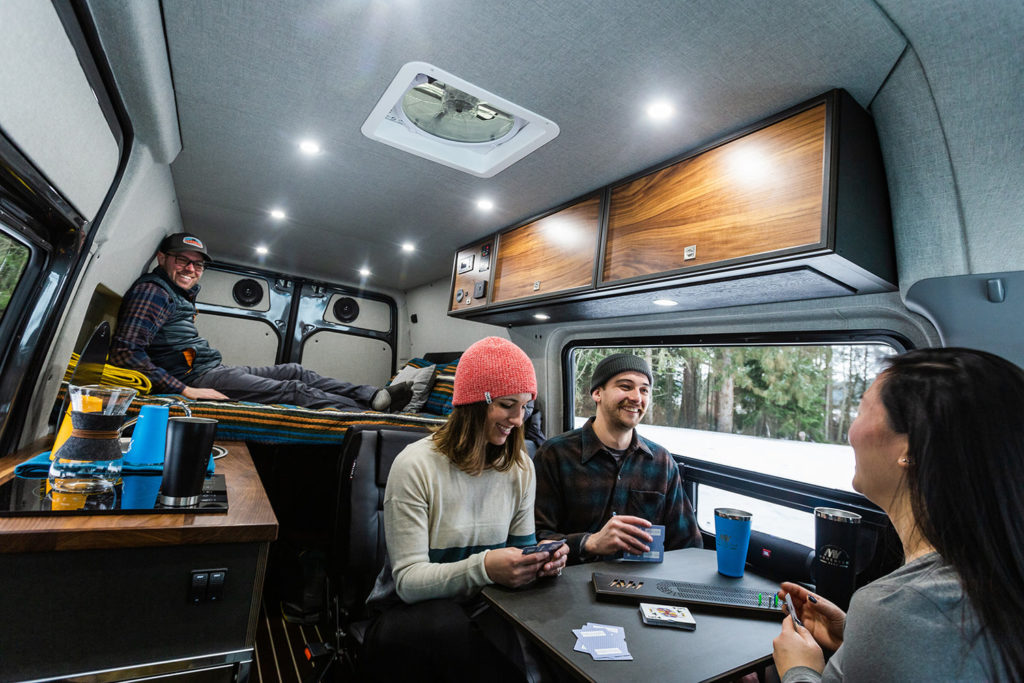 "Anytime I have an issue, all of the technical support that we get through [our Siemens Solution Partner] Oasis is extremely helpful and prompt. I appreciate that anytime there's an issue, everyone [at Oasis] understands that we're ultimately just trying to get back to work and tries to help us get there as quickly as possible," says Brian.
Looking ahead, Momentum Vans plans to add a 3D printer to take advantage of the many powerful 3D printing and additive manufacturing capabilities in Solid Edge. Solid Edge allows users to easily select a material and choose between different suppliers, taking into account costs that are connected to the model. This makes 3D printing a quick and simple process, even for novice users. Solid Edge supports end-to-end workflow, from design for 3D printing techniques, to preparation and output, to 3D printing hardware and services with color-printing.
We asked Brian what advice he'd give other entrepreneurs who may be thinking about starting a company or bringing a new product to market. Here's what he has to say:
"Work hard. Go for it. I'm definitely a realist instead of a dreamer. I think that just comes from the fact that I have an engineering background. So I've talked myself out of a lot of business ideas, but this is one we knew had legs and would actually work out. If you've got an idea, go for it and go for it with full commitment. This has been by far the hardest that we've ever worked, but it's so rewarding to see our customers excited about the products that we create and put a lot of blood, sweat and tears into."
Momentum Vans, a member of the Solid Edge for Startups program, is a lifestyle enabling company, passionate about quality craftsmanship, creative designs, and empowering people to get outside to play hard. Every one of their vans are handcrafted in-house with high-end marine grade materials and built for each customer's needs.
This article first appeared on the Siemens Digital Industries Software blog at https://blogs.sw.siemens.com/solidedge/momentum-vans/