Interview with Doug Stainbrook, Field Support Trainer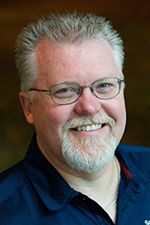 Doug Stainbrook was one of the first people I met on the inside of Solid Edge, six or seven years ago. He was the guy who had the job of demonstrating brand new technology (Synchronous Technology) to a loudmouth self-appointed CAD critic who used the competitor's software (me).
I've spent a decade doing training and demonstrations myself, and I have to say that Doug is the perfect guy for this kind of work. He's patient, has a great sense of humor, doesn't take the wrong stuff too seriously, and of course knows his stuff inside and out. Plus, he's just a genuinely great guy. A lot of people have helped me out at Solid Edge, but Doug has probably been the most helpful.
End users may not run into Doug every day, but when you're at Solid Edge University or the regional productivity events, you should be sure to introduce yourself and ask him your favorite Solid Edge questions.
I got to ask Doug some questions myself, here's what he had to say:


Describe how you came to work at Solid Edge training field engineers?

I was actually a Solid Edge customer first. I used Solid Edge to design products and automated machinery for the sport bottle capping industry. I had Solid Edge for quite some time before getting official training and as I was being trained I thought, "I would like to do something like that." I then pursued a career with Siemens (Then it was Unigraphics Solutions). I worked in industry for about 10 years designing plastic parts,injection molds, and automated machinery before coming to work at Siemens. I just celebrated my 15th year with the company.




Training is a lot harder than it looks. What sort of things do you find most rewarding about training people on Solid Edge?

I enjoy showing people the power of Solid Edge. I enjoy showing them how the functionality in Solid Edge will help them get their job done faster and easier. I like to be the one to show the students the next greatest thing in the software and see their faces light up when a particular function or feature really resonates with them. I find it very rewarding helping people learn how to use the software most efficiently.




In addition to Solid Edge, do you also train on some of the other tools, such as Teamcenter, Insight, FEMAP, simulation, Keyshot, etc?

I also train KeyShot. This is the most amazing and easy to use rendering software I have ever seen. You don't have to be an artist or an industrial designer to create stunning photo-realistic images from Solid Edge models.




Can you describe the difference between trying to teach Synchronous to an existing Solid Edge (or other history-based) user and teaching a non-CAD user?

I find that training synchronous modeling to non-CAD user a bit easier than training someone who has been using history-based modeling. This is mainly due to the fact that history-based modelers are a bit apprehensive to the idea that they can control their model parametrically without history and without sketches. Sync modeling is very flexible and is more comprehensive. It just makes sense.

For instance if I want to move some piece of geometry I can simply select it and move and/or rotate it without having to worry about how the part was modeled and what that might break later in the feature tree. Synchronous is MUCH more forgiving in the way a particular part is modeled. You really don't have to think about how the part may need to be edited later and what the design intent should be. You can change it any time with sync. Once the History-based modeler understands synchronous and that it is just as parametric as their history-based model with greater flexibility, then they become the biggest advocates for using sync.




Is there any special link between traditional 2D only CAD and Synchronous techniques?



I would say "yes".The ability to fence select geometry and then stretch, move and drag it feels a lot like what you do in 2D drawings. You can align and persist geometric relationships between a set of faces using face relationships. This is very similar to how you select 2D elements to create persisted geometric relations between them. Adding dimensions to the actual 3D model could also be compared to how you would dimension a 2D drawing or a sketch entity.


What sorts of teaching tools have you developed to help teach Synchronous?

Mostly a lot of demonstrations. People seem to get it faster when you walk through it and they get to experience it themselves as a hands-on class. They seem to get it when at first you disable all of the Live Rules and then introduce each one into a particular move and they see exactly what each one does. In the end they see that the default Live Rules set makes the most sense and, for the majority of what they want to do, are going to give them exactly what they want with little intervention.




Did you buy into Synchronous right away?


Not exactly! I came from the history-based modeling background and felt very confident in my abilities to model just about anything quickly. My colleague adopted synchronous first and one day challenged me to a modeling duel. He completed the model usingsynchronous far before me.It was then that I thought I needed to take a closer look at it. Now I would feel as though my arm were cut off if I was forced to go back to history-based modeling only.


When you have advanced and less advanced students in the same class, how do you deal with that difference?

This can be difficult. Typically we have "helpers" in the class roaming around helping people who get behind. I structure any hands-on class with detailed PowerPoint slides of all of the steps so that if there are advanced users, or those who just catch on quickly, that they can work ahead and not get frustrated with moving too slowly.




What are your favorite materials to teach from? Do you develop these yourself? Do you create your own example parts and assemblies?

I enjoy teaching synchronous modeling. I love to see the "Ah-ha!" moment when it clicks and they understand and can see the clear benefits of using synchronous modeling techniques. Most of the materials I use were created by myself or colleagues who work in my group. Examples and parts used for training may be widget parts we built ourselves or ideally a real part from one of our customer datasets that we have permission to use for training. I believe the most effective training is hands-on. If you limit it to lectures with endless PowerPoints, you lose the audience quickly. You need to keep them engaged and interactive to be most effective.




Any sort of wisdom you'd like to impart to users who have to teach other users how to use Solid Edge?

Be prepared! Start with understanding who the audience will be. Are they new to CAD? Are they long-time history-based modelers? Are they open-minded and willing to learn something new? Have materials ready to cover any of these audiences. Sometimes even before you start training something new like synchrounous technology you need to lay some ground work. It is always good to have realistic working scenarios that they may encounter and show them the difference of a history-based and synchronous approach. This is often just enough to pique their interest in what you are wanting to teach them.


Dora Smith did a video interview with Doug at Solid Edge University 2012 about why he became an engineer:
This article first appeared on the Siemens Digital Industries Software blog at https://blogs.sw.siemens.com/solidedge/interview-with-doug-stainbrook-field-support-trainer/