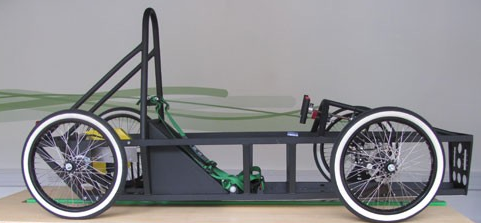 On Indy500 Community Day before the 101st running of the Indianapolis 500 race, 33 high school GreenpowerUSA students will get the opportunity to assemble a kit Formula 24 electric race car with one of the real Indy car drivers, and then race that car against other students on the Indy track.
Who is Lindsey Hitchcock?
Lindsey Hitchcock is one of the lucky students who is going to get to participate in the Indy/Greenpower events leading up to the big race next year. In fact, she has been chosen as the student spokesman for GreenpowerUSA. Lindey's role is the Outreach and Sponsorship coordinator. She helps recruit students to help with the project and talks to potential sponsors to help fund their activities.
"Before Greenpower, I was just a regular middle school girl who hated math class….I've been learning things like problem solving, teamwork, leadership, communication, critical thinking." "Parents and teachers love (Greenpower) because it is laying down the foundation for college and career, but to us, it just feels like fun."
What is Greenpower?
Let's step back a little and figure out what all of this means. First, Greenpower. Greenpower is an organized competition that started in the UK where school-age kids get to build and race one-seat electric cars in two categories – the younger kids assemble and customize kit cars called Goblins. The older kids assemble a more sophisticated Formula24 vehicle. Teams may also elect to custom build their own car from the ground up, using the Greenpower provided battery and motors.
Greenpower has been huge in the UK, and is now starting to catch on in the US and other places around the world. It has all the competition of an athletic event, along with the ability to use your mind for design and troubleshooting, and learn many job- and even life-related skills that schools traditionally don't teach, like technical communication, how to work on a team, the value of competition and cooperation, and character building involved in facing adversity.
What is Indianapolis?
Indianapolis is of course the epicenter of the Formula1 style racing in the US. The Indianapolis 500 is the big annual race event (just last week was the 100th) where drivers cover 500 miles on a big oval track at speeds of around 220 mph.
I
ndianapolis also happens to be the location for the Solid Edge University 2016 conference? Coincidence? Not at all. There will be events at SEU16 related to Greenpower and the upcoming race.
How is the Indy500 related to Greenpower?
Greenpower is really about getting students involved in Science, Technology, Engineering, and Math. What better way to do that than through competition.
Greenpower cars are electric, but you can see the resemblance of the Greenpower car pictured earlier especially to older style open-wheel racing designs from the 1960s and earlier. The Greenpower cars use bicycle wheels rather than automotive wheels, are much lighter, and obviously not as fast, but they use similar proportions.
Plus, working with electricity to drive the cars, we are preparing the students for a transition away from internal combustion to electricity which can be made from a number of sources.
What's the Big Deal?
The big deal that we're working up to is that in 2017, 30 student competitors will get to assemble a Greenpower kit car, turning wrenches right along side a real IndyCar driver. The Formula24 kit goes together in a couple of hours. After assembly, the students will race their assembled kits on the Indianapolis track.
That's a thrill.
So What Can I Do?
Greenpower needs sponsors, it needs mentors, and I'd be willing to be they'd find something for you to do no matter what you're good at. Remember Lindsey from the beginning of the story? She's really in marketing, but contributes to the team as much as anyone who turns a wrench or designs parts in Solid Edge.
GreenpowerUSA also wants to start more teams at more high schools across the US. Visit the GreenpowerUSA website to find out more about how you can get involved.
You can also participate in the conversation in the Greenpower Challenge Forum.
This article first appeared on the Siemens Digital Industries Software blog at https://blogs.sw.siemens.com/solidedge/greenpower-goes-to-indy/