A Stronger Solid Edge: What Would it Mean to You?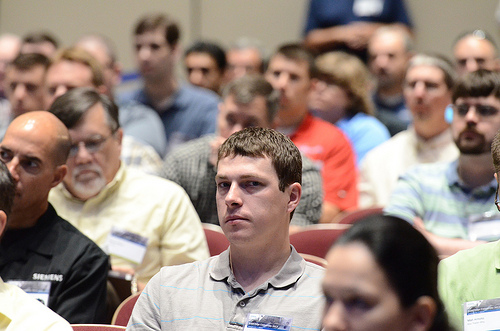 Sometimes I hear people wishing that the Solid Edge product had a stronger position in the market. Sometimes that's just in conjunction with wishing for more business, and sometimes it's used as an excuse for staying away.
I think there's a consensus that the Solid Edge product is pretty strong. Sure there are little things that each of us would change, but it doesn't seem to be technical issues that are holding the brand back. And that's why most of us have chosen it, I think. Because the software does what it's supposed to do, it's very stable compared to other products out there, and the development is headed in a positive direction.
So, what would a Solid Edge with a stronger market position mean to you? What would you do if Solid Edge had the most customers of any CAD program? How would that affect your business? This situation would obviously benefit most users. Now think about what you can do to help. I might be bias a little bit, but supporting the community is something that comes to mind.
Other related things to think about include what amount of your current business comes from (or goes to) a different CAD program?
To some extent these questions are rhetorical, but if you want to venture an answer, please do so in the comments. My real point here, though, is to present some ideas for things that as customers, you can do to build the general awareness of Solid Edge.
Customers really do effect the way a product is perceived. There are several things we as end users can do to crank up the awareness of Solid Edge, which will create indirect benefits for businesses that use this software.


participate in social media – professional marketers are one thing, but when the CAD buying public hears users making a big deal about their software, they do pay attention


get visual – communicating what you have accomplished with the software is a great way to get the attention of just about anybody


participate in local user groups – aside from the "productivity summits", there are several local or regional user groups organized around the country


Solid Edge University is a great way to connect with other users and help the message resonate


make a Synchronous Technology tutorial, and post it to a blog or forum. Those who ask for help in this regard will always find it. Tutorials are in high demand.


Make a YouTube video of working in the software. There is nothing you can do that will have a more widespread impact than a great CAD video


If you have other ideas for stuff you can do to promote the software that you use to make a living, please add to the comments.
This article first appeared on the Siemens Digital Industries Software blog at https://blogs.sw.siemens.com/solidedge/a-stronger-solid-edge-what-would-it-mean-to-you/