2D Nesting – More Than You Ever Wanted to Know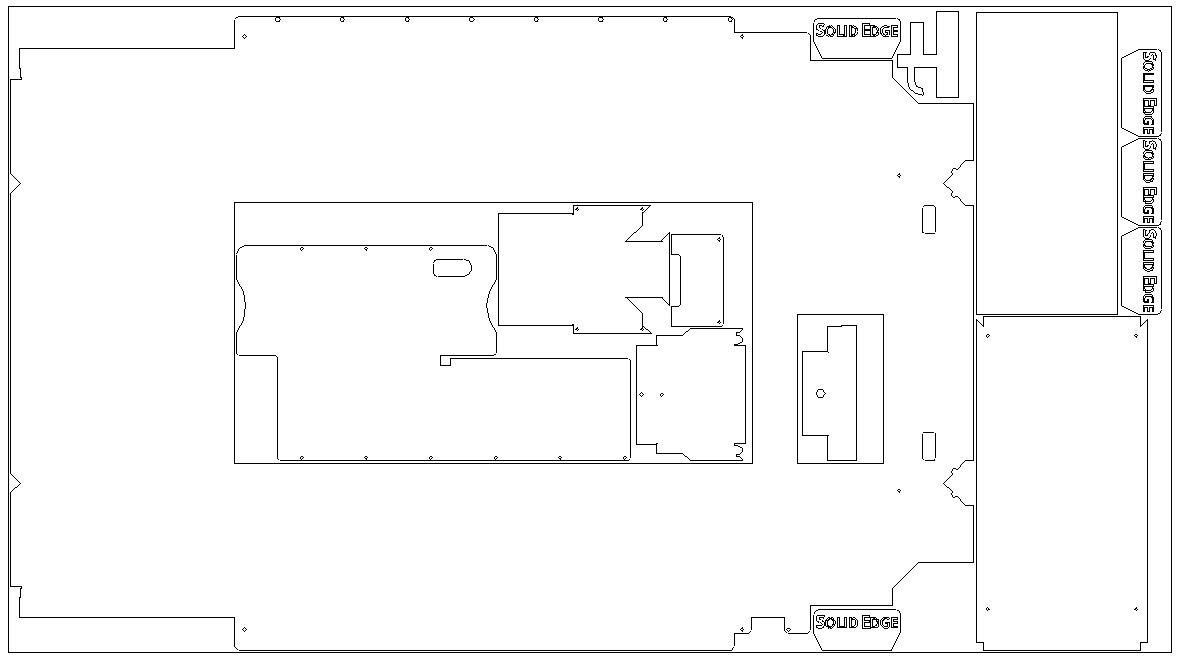 The Solid Edge 2020 portfolio has expanded again with a new manufacturing product – Solid Edge 2D Nesting. Before we get into the details of the product, I want to spend a moment explaining the concept of 2D nesting. When I was a young lad, my mother was a seamstress and she taught me how to sew my own clothes. Laugh if you want, but when the Zombie Apocalypse comes you'll be lining up for my tailoring services. My point is that making clothes uses a version of 2D nesting: a clothing pattern is laid out on in an efficient pattern on cloth. The cloth is then cut and the pieces are sewn together.
For one-off personal sewing projects, you can lay out the pieces yourself. However, for high-production clothing manufacturers, you can bet that they stress over getting the greatest amount of clothing from the least amount of material.
For simple projects, you may have done some nesting yourself, but it is very difficult to design efficient nesting that way. It can be done, but the time required is extremely high. Don't forget, time is money. Consider this nest from Solid Edge 2D Nesting:
Flattened sheet metal models in a nested pattern
This particular nest consists of several different sheet metal models that were placed into a pattern by Solid Edge 2D Nesting. Note that smaller parts were placed inside the cutout of the largest part. Other small parts were placed in areas around the largest part, increasing the efficiency and reducing material costs.
One thing in particular I want to point out – Nesting is NOT just for sheet metal. There are lots of applications outside of sheet metal that require 2D shapes cut from stock: wood cabinetry, some furniture, and ship-building to name a few.
Solid Edge 2D Nesting is a separate application from Solid Edge. It can extract flat pattern data from Solid Edge *.PAR and *.PSM files, but it can also read neutral formats *.DXF/*.DWG files (kind of the industry standard for 2D nesting work). When the nesting process is complete, the product can push the data back into Solid Edge (*.DFT,*.PAR) or the neutral formats already mentioned. Becuase of the neutral format capability, it will also work with NX (that OTHER CAD program).
Some things I really like about the product:
1. Continuous improvement – until you stop it, 2D Nesting will continue to improve the efficiency of the nest. Having said that I found in my work with the product that the nesting efficiency after just 2 minutes is really very good.
2. Multiple sheet sizes – Solid Edge 2D Nesting permits and will choose the best nest using several different size sheets. Because of this, the size of leftover material (aka "partial sheets" or "tailings") on the last sheet can be kept to a minimum. I've been in a lot of shops that have 2D cutters, and they always have a rack of somewhere to hold these leftovers. Too big to throw away or recycle, but too little to make good use of, these leftovers often sit for years. Inventory waste!
3. Choose from any previous result – unlike some other nesting programs, ours allows you to pick the solution set that you prefer. Every solution from the first one until you hit stop is available. Maybe you want the one with the shortest leftover, or maybe you want one that has critical parts grouped together. Whatever your reason, you can choose the nest that best suits your need.
4. Very efficient algorithm – I tested this product against others, and I am confident that it is among the best.
5. Support for grain direction – certain applications like wood-working need to control the direction that the shapes are allowed to be oriented in. Solid Edge 2D Nesting has controls for that.
6. Reports – The detailed reports this product generates are good enough to serve as data sheets for the machine shop in most applications.
There are three use cases I can think of for 2D Nesting. The first is for cost estimating (how many raw sheets of material do I need to buy to make this job?), purchasing (how many sheets of material do I need on hand?), and obviously nesting for manufacture processes.
Here's our website about 2D Nesting, and here is a video about it.
Here's another video (from our YouTube Channel):
This article first appeared on the Siemens Digital Industries Software blog at https://blogs.sw.siemens.com/solidedge/2d-nesting-more-than-you-ever-wanted-to-know/