14-year-old Marcos Marfa uses Solid Edge to build his own robot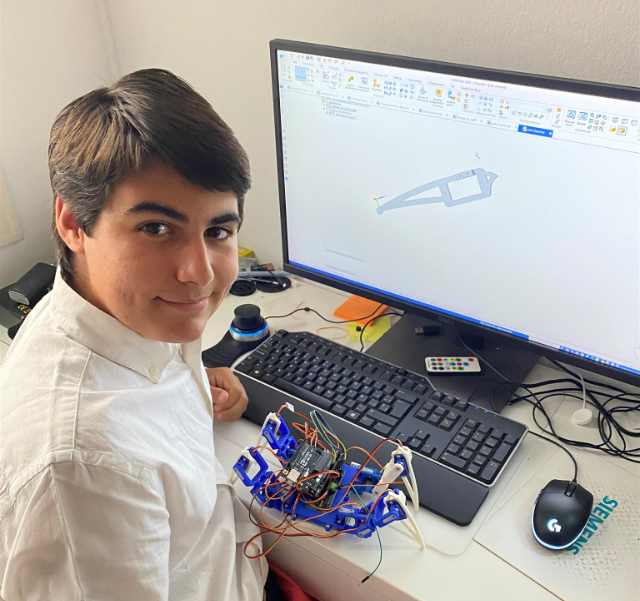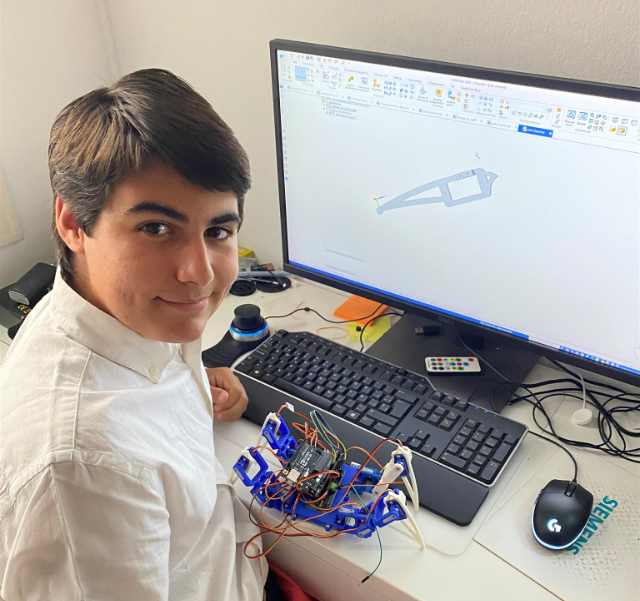 Computer Aided Design (CAD) software has been changing industry design over the last 30 years. What used to be made at great expense in a large factory can now be done by sending your CAD model to a 3D printer to create a prototype. Design and technical drawing are simplified across industries with the increased use of design software. Furthermore, in the private sector the possibility of producing spare parts or customizing objects according to one's preferences are being offered more frequently. Maybe this is the reason why the interest in CAD, design and additive manufacturing has also grown among young people.
14-year-old Marcos Marfa found his passion in this field. Marcos is currently attending the 8th grade at Sagrat Cor Sarria School in Barcelona, Spain. He enjoys 3D printing and designing in his spare time and recently built a robot using Solid Edge software for students.
We recently connected with Marcos to better understand how he managed to learn Solid Edge on his own and what inspired him to do so. Here's what he shared with us…
---
What sparked your interest in Computer Aided Design and 3D printing?
"When I was a child, I had diagnosed with dyslexia. Dyslexia is a learning disorder in which the ability to read and understand words or texts is limited despite normal vision and hearing. Letters get mixed up and I had to put in a lot of effort to study. On the other side, I found out that doing manual things are easy for me and I enjoyed it a lot! I remember when I was 8 or 9 years old playing together with other kids, I folded origamis, like lambs, ships, frogs or boxes. We even built our own small flee market and sold them for 25 to 50 cents. That was so much fun! Then three years ago, when I was 11 years old, I saved some pocket money and bought a 3D-printer (my parents paid half though). First, I printed designs from the internet and experimented with plastics and temperature settings. One year later, my dad bought me an Arduino (microcontroller motherboard) and some electronic components. That was about the time when I started to do my own designs. My father installed the free-student-version of Solid Edge on my laptop. Before that I had never used any CAD software. So, I taught myself Solid Edge to design a robot."
What inspired you to build this robot? How did you get the idea?
My father works at Siemens. When I was 9 years old, he showed me an article, about a research team in Siemens which created a swarm of autonomous, spider-like robots that can work together to 3D-print on command. These pictures stuck in my mind. One day I want to build a robot too.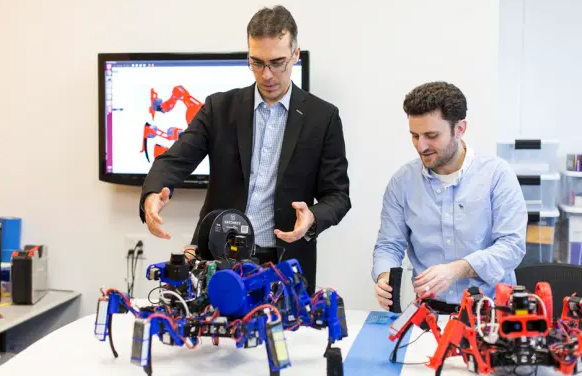 How was the process to build your robot? What were the single steps?
I wanted to create a robot that could move and walk. First, my father helped me to install Solid Edge on my computer and gave me a 3D-mouse. To learn the program, I started with some easy designs. After one week I tried to build the middle part of the spider robot, then the legs. Since 3 motors are installed in each leg, they must work accordingly. I put the right measures of the motors and modified every leg part in Solid Edge. Then I assembled them in the program and was able to see the result. All this work took me less than two weeks.
The next step was to transform the CAD models into STL files. I printed each part with PLA material. Afterwards I integrated the motors and micro controllers, which I had programmed in advance. I also built in the cables, and battery from my Arduino kit. Fortunately, every part fit well at the first attempt so I didn't have to change anything. I was so happy to see how the robot could walk and move by itself then!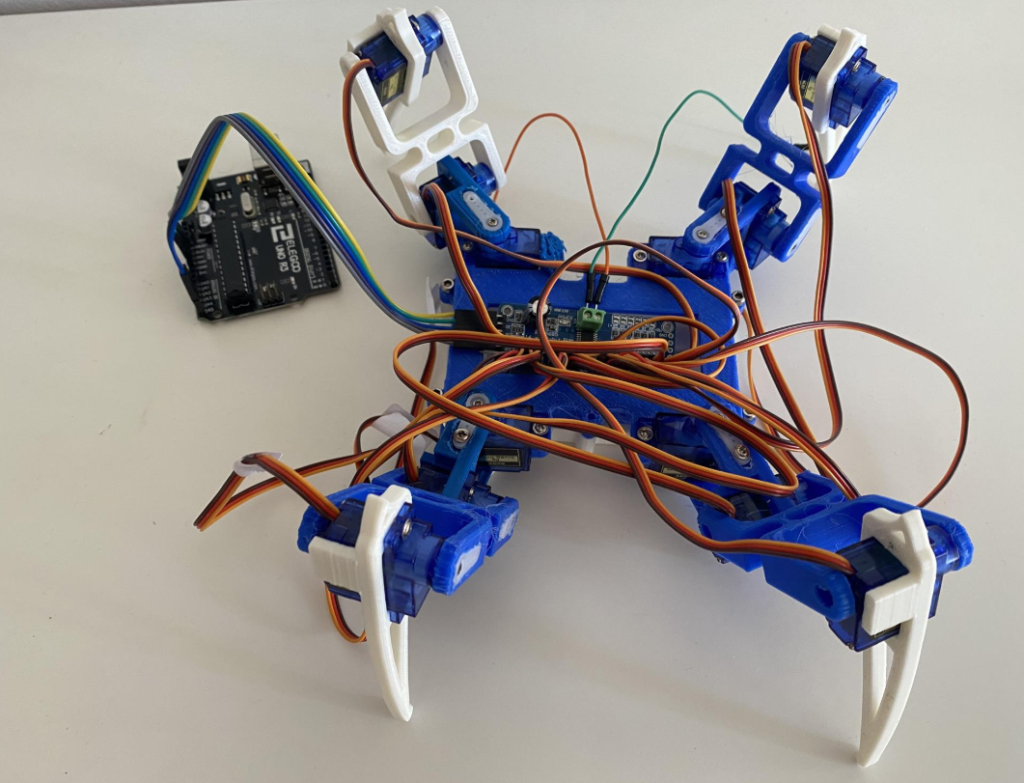 You have never used any CAD-Software before and you learned to use Solid Edge on your own. How did you start? What are your tips? Are there any difficulties?
First, I tried to find out about the functions of all menu buttons in the program. I started with basic designs like creating boxes and cubes. Then I stretched them, changed measures and included holes. If something was not working I watched the recommended videos and built-in-tutorials. That helped me a lot!
In general, I find Solid Edge quite intuitive and easy to learn. Somehow, I think that some very easy designs are more difficult than it seems at first sight, but then also difficult designs appear to be super easy. I have already recommended Solid Edge to my classmates and friends. Now they want to design something too! In general, I think it would be a good idea to learn the basics of CAD in school.
Can you imagine doing further projects with Solid Edge? Do you have any plans?
Yes, for sure! My spider robot project is not finished yet. I would like to improve the design and, for example, hide the cables better.
Next, I would like to program and build a robotic arm that can lift objects. Therefore, I will definitely use Sold Edge again to design the individual parts.
Where do you see yourself in the next 5-10 years?
After finishing school, I can well imagine studying mechanical, industrial, or electrical engineering. With further knowledge and possibilities, I would like to build bigger projects. As a Siemens engineer, I could definitely design many cool things!
---
For more information on Solid Edge and 3D printing and to stay connected with our online community, check out some of the other articles here in the Siemens Solid Edge Blog and follow @solidedge on Facebook.
This article first appeared on the Siemens Digital Industries Software blog at https://blogs.sw.siemens.com/solidedge/14-year-old-marcos-marfa-uses-solid-edge-to-build-his-own-robot/