Products
Webinars of the month – September/October 2015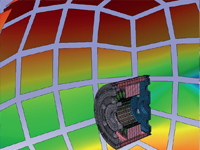 Highlight
Fundamentals of fatigue
On-demand webinar
Fatigue is a typical phenomenon encountered during day-to-day usage of a product. This can however be avoided by designing a component against fatigue. This introductory seminar will explain the basic principles of fatigue versus strength, discuss on different failure modes and the influence of external factors – e.g. mean stress- on the fatigue properties of a component. On top, we will briefly discuss 2 main approaches to derive the fatigue life of a component.
In this web seminar you will learn:


What is fatigue?


How to interpret typical fatigue-related curves?


Common approaches for fatigue estimation


Live webinars
Simulating powertrain acoustics
September 02, 11am EST

In this webinar you will learn:



How to setup an efficient process to predict and optimize vibro-acoustic behavior for tens of engine designs?



How to simulate whining noise from electric motors?


How to simulate engine noise of electric motors in installed conditions?


How to use the appropriate simulation methods?


Jet engine development challenges
September 08, 3pm CEST
In this webinar you will learn:


How to cope with the

requirements on efficiency, availability and emission for aircraft and energy gas turbines?



How to

get engineering insight in the complex physical behavior of turbines through simulation and testing, and this accross many departments and applications?



Design of flexible pipes, cables and hoses mountings for the automotive industry
September 23, 10am and 3pm CET
In this webinar you will learn:



How to find solutions for pipe/cable mounting issues



How to predict possible large deformation of pipes


How to improve the fatigue life of the pipes and its connections


How to apply nonlinear dynamics simulation as required by the application


Register to the webinar (10am CET)
Register to the webinar (3pm CET)
Simulation and optimization of electric motor noise
October 07, 10am CEST

In this webinar you will learn:



How to implement a complete simulation process to minimize noise and optimize sound quality in new electric machine designs?



What are the noise source modeling techniques


How to start accurate structural FE modeling and analysis of the final acoustic signature?


This article first appeared on the Siemens Digital Industries Software blog at https://blogs.sw.siemens.com/simcenter/webinars-of-the-month-september-october-2015/