Webinars of the month – July/August 2015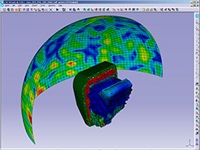 Highlight
Improve the powertrain controls development process
On-demand webinar
To stay technologically ahead and to improve their products quality and reliability while maintaining development costs and time under control, automotive manufacturers need to integrate mechatronic systems to optimize the performance and efficiency of their vehicles.
Controls engineering is a discipline that deals with designing and implementing controls systems to achieve a desired overall system behavior. It is the backbone of complex mechatronic products.
Using a model-based system engineering approach, you can evaluate the performance of design concepts and develop advanced, intelligent and cost-efficient products earlier in the design process. This webinar introduces how to implement mechatronic simulation solutions that optimize mechanics and software simultaneously as an integrated system, illustrated with customer examples, at every stage of the development process.
Live webinars
How to optimize engine thermal management strategies
July 08, 11am EST

In this webinar you will learn:






How to support the design of engine cooling systems and the integration of additional heating strategies?




How to assess the impact of front-end module design on cooling system performance?

How to evaluate the performance of new architectures and test control strategies?






How to ensure fast and reliable data acquisition
July 22, 11am EST
In this webinar you will learn:






What are the important criteria to select measurement hardware?




How these criteria affect data quality and measurement performance?




Which hardware configuration fits your needs?






Intake / exhaust performance simulation
August 12, 11am EST
In this webinar you will learn:








How to analyze the transmission loss of intake and exhaust systems?






How different measures improve the acoustic performance of intake and exhaust systems?




How to analyze the effect of temperature, flow and perforations on the noise characteristics?






This article first appeared on the Siemens Digital Industries Software blog at https://blogs.sw.siemens.com/simcenter/webinars-of-the-month-july-august-2015/