Products
The Urban Mobile Charging Project – Innovative EV charging solution for urban environments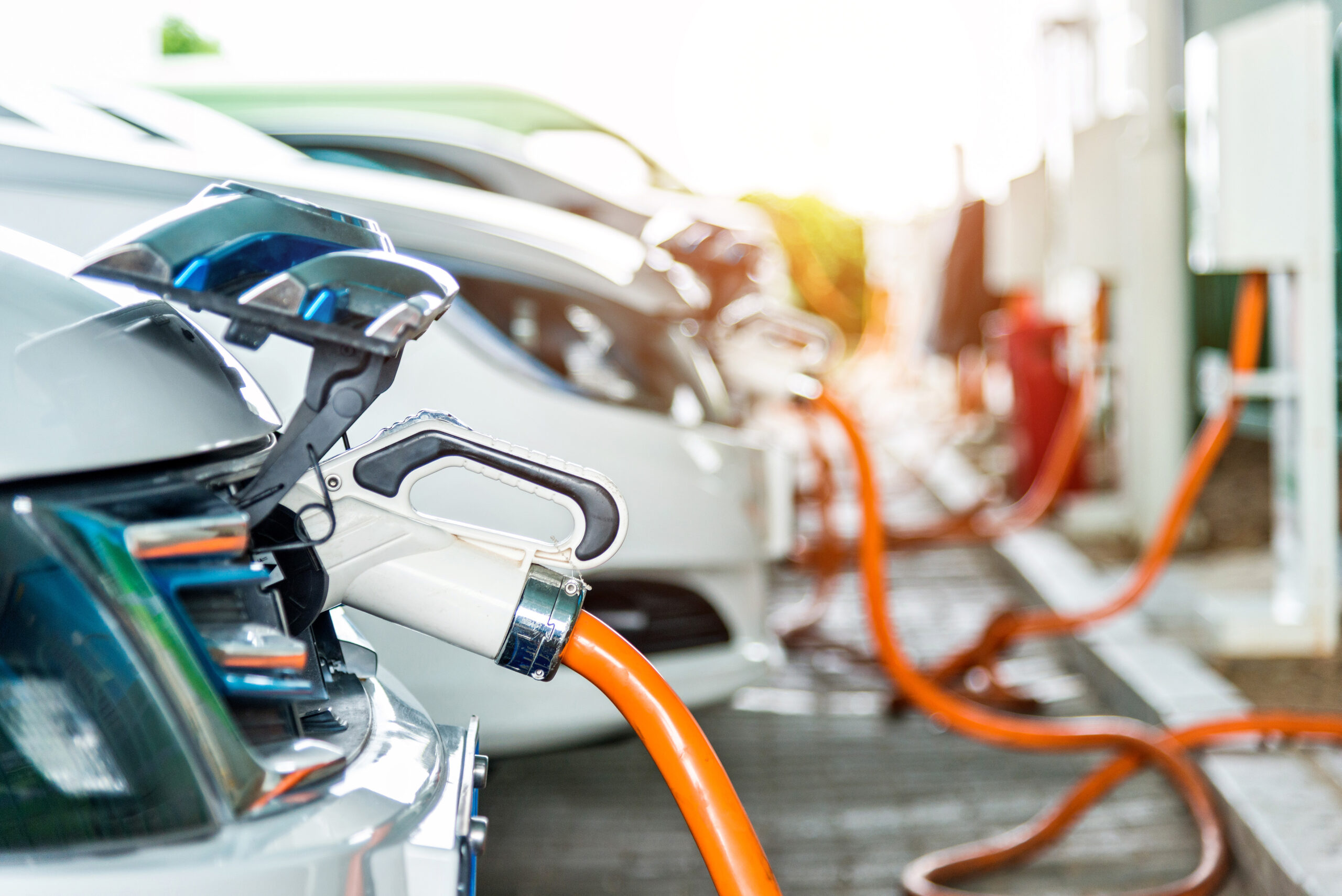 What's holding you back from your next EV?
Have you made the switch to an electric vehicle? Are you concerned about range and ease of charging? There's no doubt that the availability and the number of EV charging points are real issues.
The European Automobile Manufacturers' Association (ACEA) reported that between 2017 and 2021, sales of electric vehicles in the EU increased more than 10-fold. However, public charging points are not increasing at the same rate. As the chart below shows, their numbers have grown by less than 2.5 times in the same period.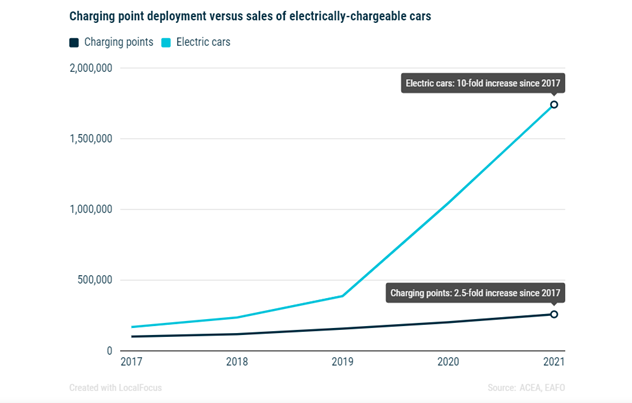 Installing EV charging points at convenient locations around Europe takes time and a considerable amount of money. As electric vehicle sales continue to increase, it will become more difficult for the growth of public charging points to keep up.
What happens if your EV runs out of charge?
What if, instead of taking your car to the charging station, the EV charging station could come to you?
Nimble Energy, from the Czech Republic, is leading a consortium of European companies and institutions, including Siemens, to develop a new solution – electric vehicle charging-as-a-service.
Customers will be able to book an EV charging unit through an app . A driver will deliver the unit to the agreed location at the agreed time. The mobile charger can add 40KWh of power (around 200km range) in just 45 minutes. Once charging is complete, the car's battery will automatically communicate with Nimble Energy. This triggers a driver to go and collect the charger.
This project is funded by the European Institute of Innovation and Technology (EIT) as part of its Urban Mobility Initiative. The first public demonstration of the urban mobile charging project took place on the 3rd May in Zilina, Slovakia.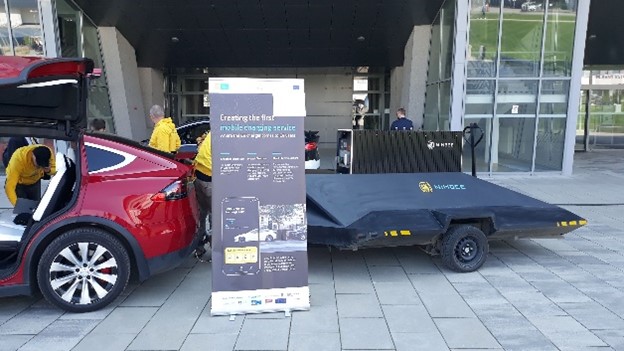 Self-driving chargers for electric vehicles
The next stage of development is to make the urban mobile charger autonomous. Once autonomous, the service is even easier and more reliable to use.
And this is where Siemens Digital Industries Software comes in.
Working with Nimble and the other consortium partners, we are focusing on the reliable and cost-effective sensing and localization of the autonomous platform. Safety is critical to any autonomous driving system. Read this white paper and find out how our engineers have proven expertise in "Scenario-based verification and validation of self-driving vehicles." This will allow the urban mobile charger to meet all safety requirements in different European countries, as well as deal with technical and regulatory challenges posed by indoor parking environments.
So, if you're thinking about switching to an electric vehicle but are worried about the availability of charging, fear not! Help is on the way, and it could soon be driving itself to you wherever you are!
The future of transportation promises to make life safer and more mobile for everyone, with positive economic results. However, the increased complexity – associated with autonomous platforms – necessitates a radical change of test methods and new concepts for comprehensive verification and validation in both the physical and the virtual world.
We are moving into a new era of transportation safety through autonomous mobility, but this shift raises big questions:
For autonomous platforms, what constitutes state-of-the-art testing of driving functions in a rapidly evolving environment?
How will the industry consider best practices for testing and safe deployment while at the same time integrating new technologies like artificial intelligence and complying with regulations?
In this sense, the autonomous platform (autonomous charging robot) developed in the framework of Urban Mobile Charging project is not an exception.
The biggest advantages of autonomous platforms (autonomous robots) include their independence
and ability to orient themselves in space, without the need for external guidelines or other elements in the environment. Autonomous mobile robots orient themselves with the help of advanced sensors and a virtual space map. They can be used in the fields of manufacturing, logistics and transport.
Within tasks 6 (T6) Siemens Industry Software Netherlands B.V. defined the requirements and test requirements for safety validation of the autonomous platform, with focus on virtual validation.
The workflow is presented in the figure below, the software tools and the tested scenarios are briefly summarized in the video.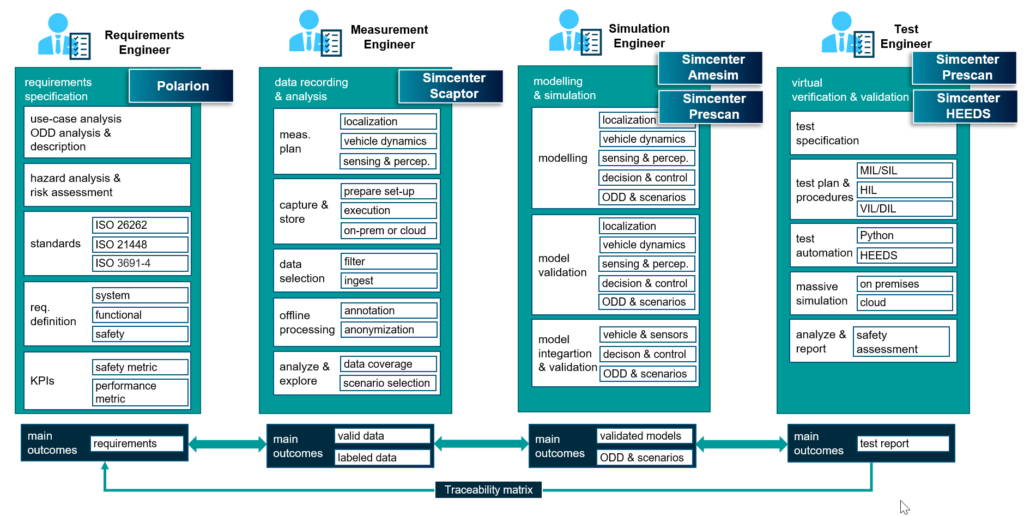 To learn more about the project, contact Alexandru Forrai, Ph.D., fellow engineer and consultant at Siemens Digital Industries Software, or head to the EIT Urban Mobility website or https://umc.nimbee.me/.
This article first appeared on the Siemens Digital Industries Software blog at https://blogs.sw.siemens.com/simcenter/the-urban-mobile-charging-project-innovative-ev-charging-solution-for-urban-environments/