Simcenter powertrain testing at Automotive Testing Expo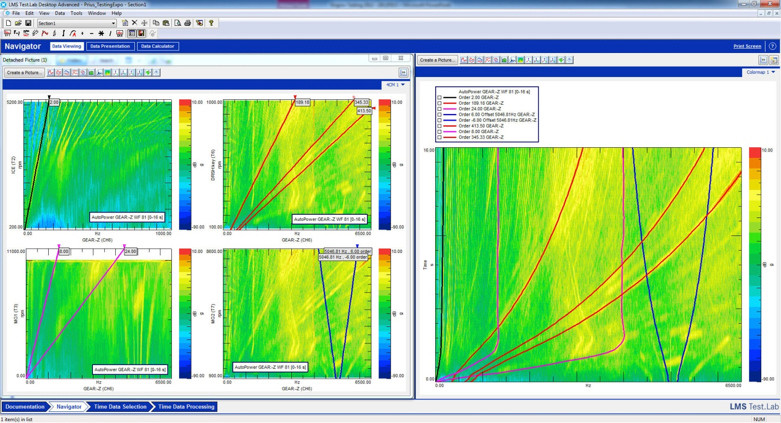 Powertrain design is not an easy task. While we expect powerful cars, they also need to be fuel efficient and environmentally friendly. On top of this, we expect to feel comfortable in our cars, which implies that the NVH behavior of the vehicle should be state-of-the art.
The NVH engineer faces a huge challenge. Often the requirement for NVH comfort conflicts with the requirements of performance and fuel efficiency. For example, switching off a cylinder can result in a more fuel efficient car. On the other hand, the resulting higher pressures in cylinder cause higher torque fluctuations on the powertrain. This leads to NVH discomfort in the vehicle cabin.
In order to evaluate the effect of new engine control strategies on fuel efficiency, performance and NVH, testing engineers need one system that can analyze these three phenomena simultaneously.
Traditionally, testing teams use a different system to measure NVH, performance and fuel efficiency. The innovative Simcenter portfolio combines these testing applications in one synchronized database and one post-processing tool.
Watch the video below from Automotive Testing Expo 2017 where I demonstrate the hardware setup on our demo kit car.
The synchronized database contains NVH data, combustion efficiency data and engine controls data. The post-processing tools of the Simcenter LMS Test.Lab portfolio allow you to draw conclusions to optimize both NVH, fuel efficiency and performance. This unique capability allows powertrain testing teams to be fully equipped to handle the challenges of future powertrain development.
Figure 1: identify orders originating from camshaft, pistons, turbochargers or electric motors in LMS Test.Lab.
Interested in other solutions from the Simcenter Testing portfolio? Stay tuned and watch out for our next video from Automotive Testing Expo Europe!
This article first appeared on the Siemens Digital Industries Software blog at https://blogs.sw.siemens.com/simcenter/simcenter-powertrain-testing-at-automotive-testing-expo/