Siemens wins "Best NVH Automotive Supplier" at interNéct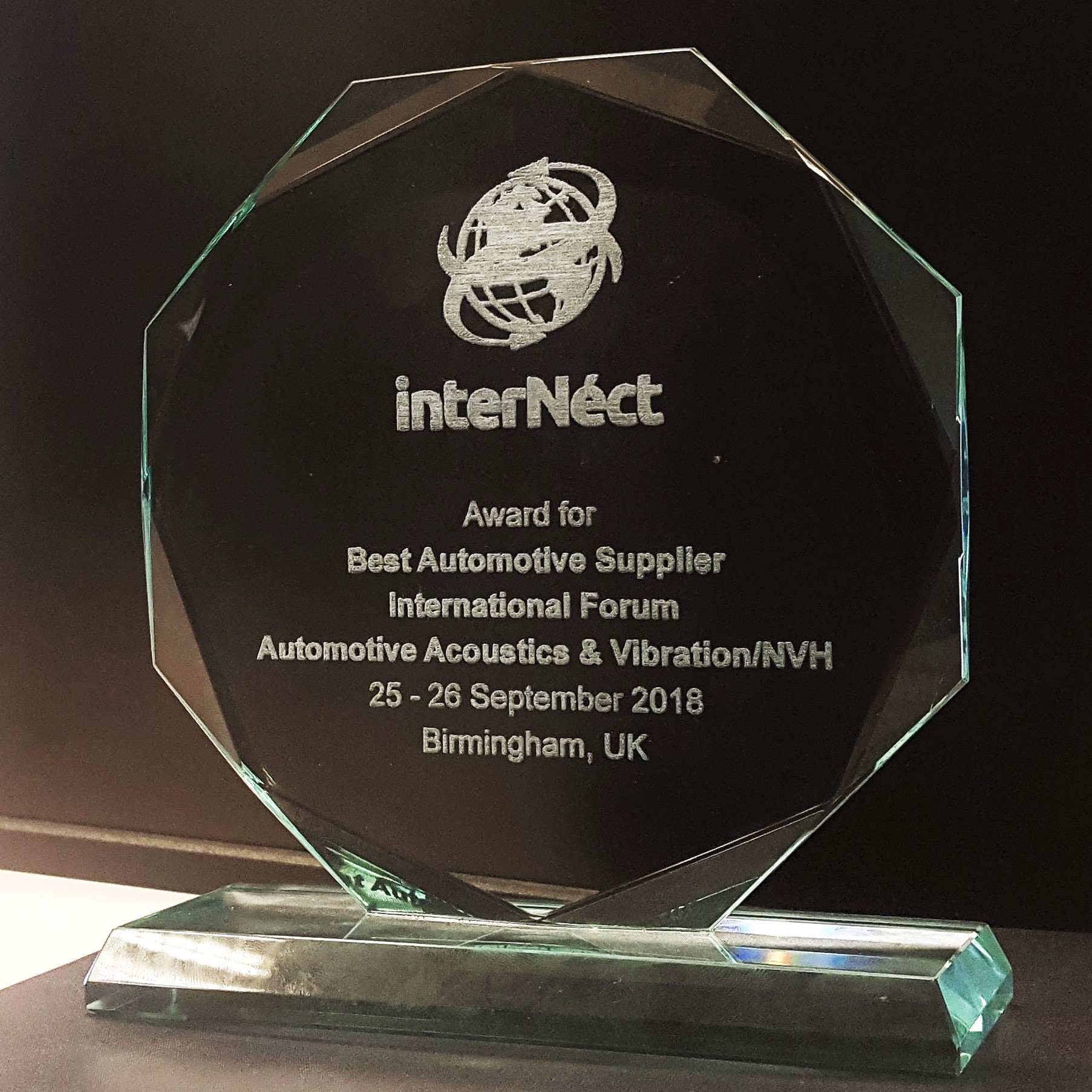 Earlier this fall, Siemens participated in the interNéct Automotive Acoustic & Vibration NVH international forum 2018 in Birmingham, UK. The conference held a co-operation between representatives from more than 150 international automotive companies—including leading manufacturers such as Jaguar Land Rover, Bentley Motors, Ferrari S.P.A., Volvo Car Group, Honda R&D Americas, Ford OTOSAN, Nissan, and NIO. This selected group of experts discussed the industry's state-of-the-art acoustics and NVH technologies, as well as their ongoing projects and future visions.
Siemens' representative Mostapha Choukri gave a presentation on Electric Vehicles with respect to NVH challenges and solutions. He shares the following about his experience at the conference: "The interNéct Automotive Acoustic & Vibration NVH international forum 2018 was a great event to meet many key players in the automotive industry and to hear from their challenges. We learned a lot from interesting case studies and innovative concepts. Interactive sessions, workshops and 'speed dating' also offered excellent opportunities for networking. As a strategic supplier of NVH solutions, we had the chance to discuss with many experts and managers about how our Simcenter portfolio could help them in their vehicle development, e.g. in the domain of road noise (very important for Electric Vehicles), vehicle dynamics and psyche-acoustics."
Francois Iker, fellow Siemens' representative, also commented on the contents of the conference: "What was very interesting was that everyone who presented did not only show what they were working on today, but what they planned to do tomorrow. It was interesting to hear what future challenges the costumers might face, as it helps us prepare for them. It is not only about vibration and acoustics, but also about comfort and quietness—in a matter of years, we will not be driving cars, but be sitting in them. For me, it is really an event I wouldn't want to miss."
Siemens soon caught the audience's attention due to the fact that it is currently the only supplier that combines both NVH testing and NVH simulation. As a result—and based on other different criteria, such as innovation, quality of products and support—Siemens was voted by participants as the "Best Automotive NVH supplier" and was awarded an interNéct trophy for excellence.
Watch this video on Vehicle Performance Engineering and discover how Simcenter and its multi-attribute solutions allow you to digitally explore and physically confirm a vehicle that balances all present-day performance considerations.
Read more about NVH here.
This article first appeared on the Siemens Digital Industries Software blog at https://blogs.sw.siemens.com/simcenter/siemens-wins-best-nvh-automotive-supplier-at-internect/