Products
Researcher of the Month – Simone Manzato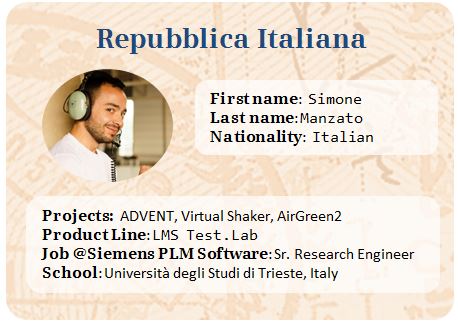 What you probably don't know is that we're involved in a variety of international research programs around the globe – everything from safer, quieter and more efficient airplanes to electronic vehicle research. It is something we've been doing for years and it is a great way to incubate new concepts and ideas that later transform into market-ready products. It is an amazing place for young researchers and grad students to really push their limits in a business environment.
How did you end up at Siemens?
Back at the university, vibrations and structural dynamics immediately caught my attention. I then decided to focus my thesis on the topic and, after graduating, I decided I also wanted to make a significant experience abroad. My teacher suggested me to apply for an internship at Siemens (it was 2009, so at the time still LMS International); they accepted me and so it all started.
What is your project about?
I seldom have a single project. Most of my activities focus on the development and validation of new methods to improve the software and support the customers in solving some of their problems. By working closely with customers, we can better understand their needs, translate them into ideas and then shape the long-term research plans accordingly.
At the moment, in our group, we're focusing on innovative testing solutions for lightweight materials, specifically composites, where we investigate new measurement and data processing solutions in particular to better and more reliably characterize the dynamic response. Also, we are looking at ways to extend the typical structural testing solution towards the detection, characterization and analysis of non-linearities.
Why did you choose this area?
As I mentioned, I was immediately fascinated by the world of structural dynamics and vibrations and how one can improve the design and tune it to fit to various business needs. Helping world leading industries in improving their design processes and consequently their products is extremely challenging, but also very gratifying as you can actually see tangible end results of your daily work in the cars, aircrafts, and consumers products that people use regularly.
Also, working for the company leader in structural dynamic solution offering allows me to always be on the edge of the technology to ensure our software and hardware remain the best solution for our customers.
What is the craziest thing you have ever done as an engineer? 
That is not an easy question…but I would say deciding to be an engineer can be considered the craziest choice I made back in high school.
What is the best thing about your research projects?
Having the chance to work on very challenging problems together with extremely experienced and skilled colleagues and partners and to be motivated by extremely demanding partners.
What is the worst thing?
Sometimes, as an engineer, it can be a bit difficult to find your way among all the administrative requirements of a project or a partnership, such as budget definition, legal constraints, confidentiality, etc. You would just like to start working. Luckily for us, we have a pool of extremely skilled and supporting people who are always keen on helping us in these things.
Do you think your work will really make a difference?
I think it does. Seeing that our solutions remain the preferred one for our customers is a clear indication that my work and that of the people in my team is valuable. And you see the clear effect of it in the improved performance and new features of the product made by the industry with the outcome of our research.
25 years from now, there will be: 
There will surely be products that require less and less user interaction. Self-driving transports, more and more application of virtual reality. But I also personally hope the user will still be able to take control and truly enjoy driving a car, for example, instead of merely using it as a functional object.
What would you do differently, if you could?
I would really like to see all the innovative solutions we develop in the software in a much shorter time.
If you weren't an engineer, what would you be?
I really love to travel, I'm passionate by photography and I'm fascinated by history, ancient cultures and what they were able to achieve millennia ago. So maybe I would have studied archeology.
Will engineering change the world?
It always has and always will. And I really hope that in the future it will keep changing it for the better.
This article first appeared on the Siemens Digital Industries Software blog at https://blogs.sw.siemens.com/simcenter/researcher-of-the-month-simone-manzato/