Products
Researcher of the month: Mathieu Sarrazin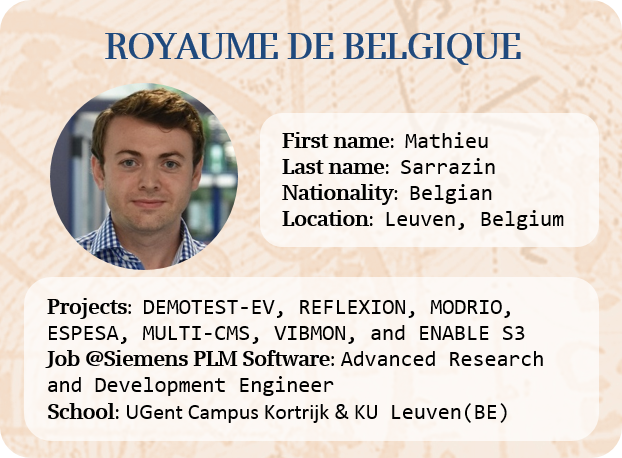 What you probably don't know is that we're involved in a variety of international research programs around the globe – everything from safer, quieter and more efficient airplanes to electronic vehicle research. It is something we've been doing for years and it is a great way to incubate new concepts and ideas that later transform into market-ready products. It is an amazing place for young researchers and grad students to really push their limits in a business environment.
How did you end up at Siemens?
The first time was in 2010 when I had a student job in the simulation division and aerospace competence center of LMS International. This was after my first Master in electromechanical-electrotechnical engineering from the University of Gent. In particular, I worked on parametric modeling of a preliminary structure of a horizontal stabilizer and actuation mechanism, a modal analysis of the stabilizer, a static stress analysis of the rotation shaft and a kinematic and dynamic analysis of the complete mechanism. In the meantime, I worked on a second Master of science in mechanical engineering with specific option, automotive. This was at the KU Leuven.
In July 2011, I came again by chance in contact with LMS International, but this time with the test division. It was for my masters' thesis subject: to develop sound synthesis models for hybrid and electric vehicles (HEV). The Royal Flemish Engineers Association and the Flemish Society of Engineers selected my work as part of the 20% best engineering theses in Belgium. After this, I continued to work on HEV subjects as part of the Flemish government's IWT O&O project HEV-NVH together with LMS and KU LEUVEN. In 2012, I joined LMS, now Siemens PLM Software, as staff member on the R&D test division team working on topics related to hybrid and electric vehicles, E-drivetrains, model-based system testing, multiphysics and condition monitoring.
What is your project about?
To be honest, I'm involved in multiple projects which have a certain link to the e-drivetrains or model-based system testing research topics: DEMOTEST-EV, REFLEXION, MODRIO, ESPESA, MULTI-CMS, VIBMON, and ENABLE S3.
The first project, DEMOTEST-EV covers DEsign MOdelling and TESTing tools for Electrical Vehicles. The purpose is to develop advanced and extended design, modeling and testing tools for automotive applications.
In general, I help supervise our research fellows to get them ready for a PhD degree and they help me with topics related to electromechanical drivetrains in HEV (define testing procedures, explore the multiphysical behavior, influence of control on NVH behavior, develop resolver algorithm, system identification of electromechanical machines, model-based testing of EMs, CM and diagnostics based on electric signature analysis).
Other parts of my job include sharing my technical knowledge on electromechanical drivetrains and working with different universities to explore new networks, find new contacts and strengthen my knowledge. Of course, I write papers about the results of the HEV project work.
In another project, MODRIO, which is almost finalized, I tried to simulate an e-drivetrain in LMS Imagine.Lab Amesim and correlate it with real measurements acquired in LMS Test.Lab. In addition, we tried to estimate the mechanical torque on the shaft without having a real available sensor. This work will continue in the REFLEXION project. Besides work on condition monitoring of e-drivetrains, I am involved in the project management of the MULTI-CMS and VIBMON initiatives. And recently, I have started to work on Enable S3 that focuses on model-based system testing for autonomous vehicles.
Why did you choose this area?
Personally, I strive to make things better rather than simply accepting them as they are by showing the gaps and solutions for these new topics. In addition, I like to initiate new ideas and projects to challenge myself and the people around me. In addition, I'm passionate about working on significant new subjects that capture my interest.
What is the craziest thing you have ever done as an engineer?
Almost two years ago, I got involved in a big project called ASTERICS. I had technical and management responsibility for a topic where the test rig was not yet ready, no people were available in the initial phase, and the various phases were running out of time. My goals were to get the test rig running as quick as possible, gaining knowledge, setting up a temporary team and getting results before the end of the project. Finally, very nice results were achieved.
What is the best thing about your research project?
Working together with people who have a totally different background or mindset in an international environment. It is very rewarding to observe the way they deal with problems according to their own nature and culture. I believe that cultural diversity, personality or even working together with the competition in a research context allows us to gain knowledge that give us profit to deliver better products and results.
What is the worst thing?
The worst thing for me is to have non-efficient telco meetings, long meetings which are not prepared or even have, at the end, no real conclusion or output.
Do you think your work will really make a difference?
Of course, since this research work should yield better products and better support for current and new customers. With our new tools, the development and manufacturing time for our customers will be optimized and more robust products can be created.
25 years from now, there will be:
There will be more "smart systems" inside factories, vehicles, homes and other places. Pressing a touchscreen will become part of the past. Simulation models or software algorithms will allow feedback from real-life applications and permit communication between real and virtual worlds.
If we look closer to 2040 into the automotive world, my view is that the majority of vehicles will be electrified in some way and exchange data about road conditions between each other. If we think totally out-of-the box, beside electric or self-driving cars, I think we could go as well in the direction of steering a car via our own limbs as it happens now, but interlinked together with input from our brains and feedback from our senses.
Beyond that, a car will be equipped with many more "common sense" sensors. For example, opening a door if persons come closer. Finally, drivers will be able to configure and personalize their vehicles on the Internet, but the key development drivers like safety improvement, efficiency and reduced pollution will stay.
What would you do differently, if you could?
I would like to compose and lead new qualitative teams across the company to work on innovative short and long-term topics, which generate new business.
If you weren't an engineer, what would you be?
Without hesitation, I would for sure start up and lead a company in a niche market like repairing and selling exclusive old-timers that increase in value every day or building exclusive, modern homes.
Will engineering change the world?
Yes, turn back the time to 20 years ago. There were no laptops, smartphones, smart home automation systems, or intelligent computer systems. If we still stay creative, innovative, work together with qualified people in teams, solve problems and design things that matter, engineering will still change the world and it will never stop. There will always be opportunities for an engineer to improve existing systems, to improve processes or to identify possible gaps in the market to come up with a new product.
This article first appeared on the Siemens Digital Industries Software blog at https://blogs.sw.siemens.com/simcenter/researcher-of-the-month-mathieu-sarrazin/