Heating And Global Warming: Are We Burning Down The House?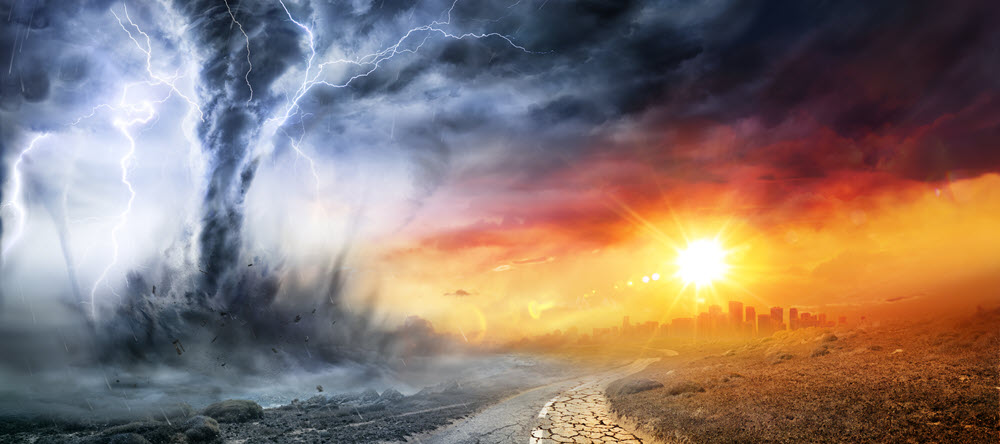 ---
This blog is a preview of the full article, available in the special edition of Engineer Innovation For A Sustainable World.
---
When I started writing this piece a few weeks ago, Environment Canada had just issued an extreme cold warning. The temperature dipped to -24 C outside; it felt even colder with the wind chill. The mercury dipping this low wasn't precisely the muse I was looking for when writing about global warming. This was abnormally cold for January in Montreal; the frigid arctic jetstream had dipped lower and invaded our city again. If you haven't experienced it, you won't understand but let me try to help explain. When you first step outside, you feel the moisture in your nasal passages start to freeze instantaneously, a weird and unpleasant feeling. Ironically, the cold did help; I could spend more time researching this piece since I was stuck inside. I stumbled on several claims that these wild weather variations intensify because of rising ocean temperatures due to global warming. It might sound familiar; it was a 2004 Hollywood summer blockbuster movie plot.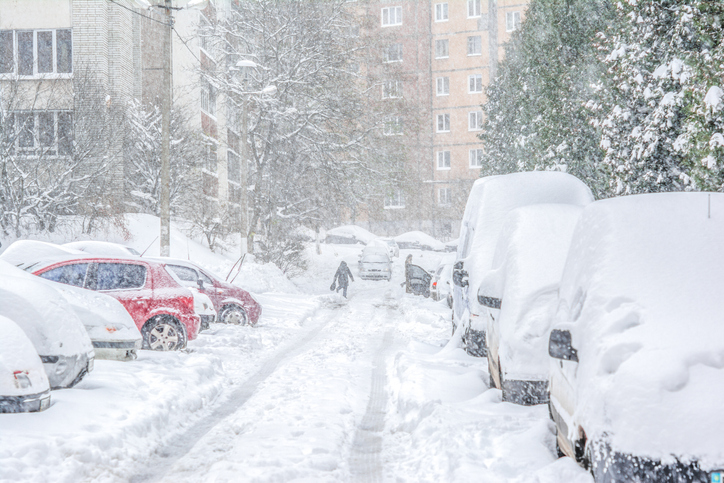 Could 'The Day After Tomorrow' come true? A German scientist has echoed the film's warnings, "a major oceanic circulation system is becoming more unstable – with concerning implications for the climate."
Within North America, Quebec is distinct for its traditions and usage of French as the common language. Through the eyes of a thermostat, we can add another item to the list. The majority of households use electric heating. When the temperature drops, we need even more electricity to stay warm. During this unusually cold spell, Hydro-Quebec, the local electric power utility, requested the population reduce power consumption during peak hours to minimize the strain on the grid: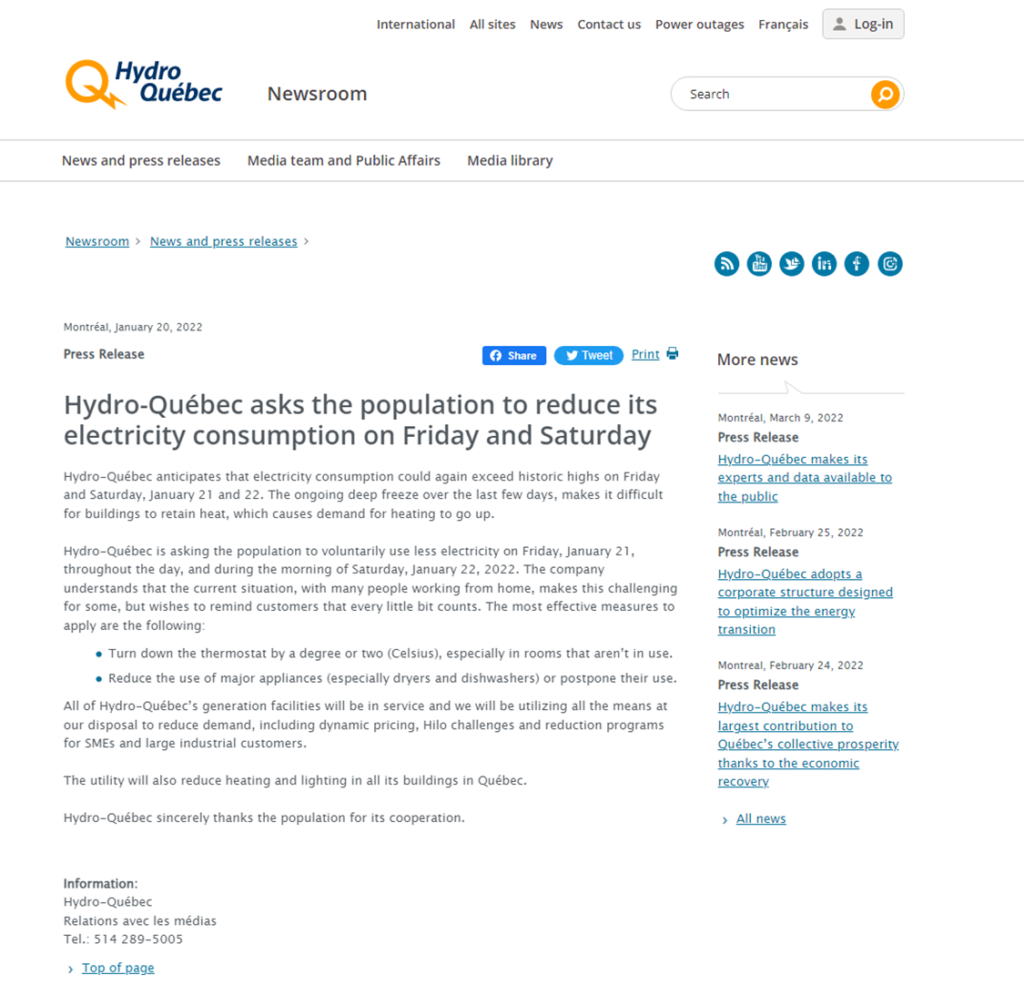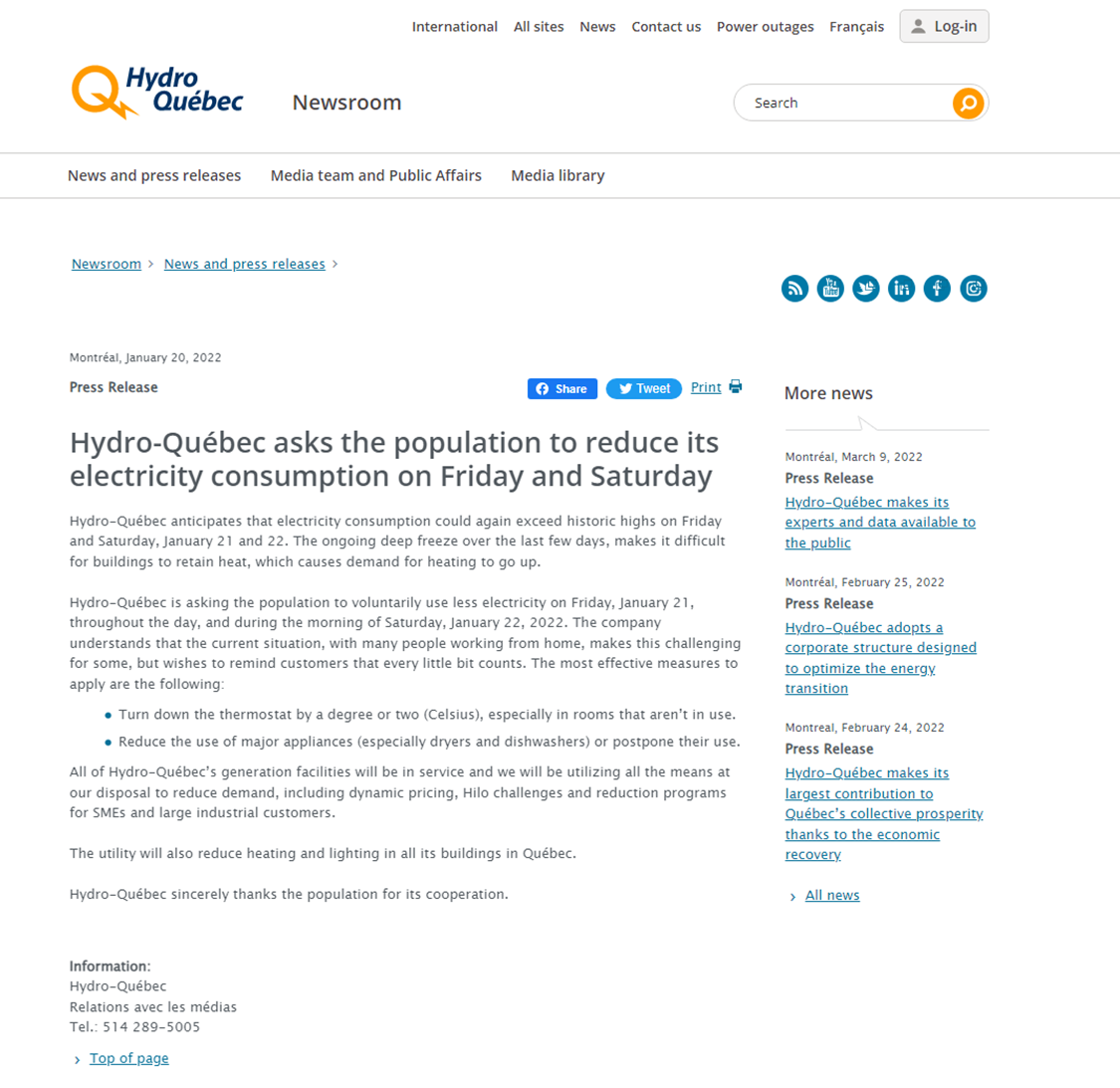 https://news.hydroquebec.com/en/press-releases/1791/hydro-quebec-asks-the-population-to-reduce-its-electricity-consumption-on-friday-and-saturday/
Quebec set a single-day consumption record of 40,300 megawatts by 8 am on January 21st, 2022. It broke the record of 39,900 megawatts set 10 days earlier. Heating, not cooling, sets peak demand in la belle province.
As the name indicates, Hydro-Quebec's power generation mix is primarily hydroelectricity – hovering around 97% with wind and other renewables balancing it out. They have a limited number of gas-powered stations, only used in extreme demand. Their electricity produces relatively low greenhouse gas emissions, well below the industry average.
"The power industry is responsible for 12% of all GHG emissions in Canada, but less than 1% in Québec. Québec's outstanding record in this respect is largely due to the fact that hydroelectricity—which is clean, renewable energy—constitutes almost all the power generated by Hydro-Québec."

Taken from https://www.hydroquebec.com/sustainable-development/our-approach.html
How does that compare to the rest of the world? We can crunch the numbers using the global energy mix for electricity and associated carbon emissions intensity data from Ourworldindata.org. In Quebec, generating 40,300 MWh of electricity produces 1334 tons of carbon dioxide equivalent (CO2e) emissions. For the world energy mix for electricity generation, that number jumps up to 17909 tons of CO2e emissions. Over thirteen times (13x) more. As bad as that data point might seem, it gets far worse.
According to the International Energy Association (IEA), heating accounted for almost half of global final energy consumption in 2021. Only 28% of global heating equipment is electric (conventional or heat pump). A whopping 48% is coal, oil and gas.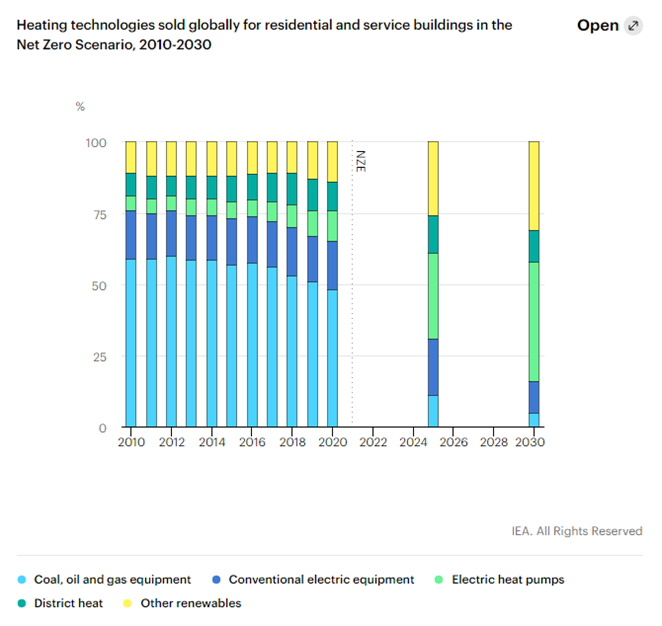 Quebec is avoiding a climate disaster when it comes to heating
In his book How To Avoid A Climate Disaster, Bill Gates offers these three steps to decarbonize heating (and cooling)
Electrify
Decarbonize the power grid
Use energy more efficiently
Does Mr. Gates offer sage advice?
Read Engineer Innovation For A Sustainable World to find out.
This special edition is dedicated to Earth Day and how engineering and simulation can contribute to a more sustainable world.
Visit Engineer Innovation to read the latest issues.
This article first appeared on the Siemens Digital Industries Software blog at https://blogs.sw.siemens.com/simcenter/making-hvac-sustainable/