Femap Symposium 2014 gets underway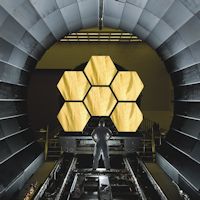 Karsten Newbury got the FS14 proceedings underway this morning at the Westin Peachtree Plaza in Atlanta, GA. Mark Sherman then talked about some recent Femap success stories within the theme of "discover new insights".
From the National Radio Astronomy Observatory, that helped with the design of ALMA telescope facility in Chile, to ADS International that specialize in adaptive optics, to NASA JPL and the Mars Rover Curiosity, to NASA Goddard Space Flight Center and the James Webb Space Telescope – the subject of the keynote presentation this year.
The keynote was presented by be Mark McGinnis (SGT Inc) James Webb Space Telescope Project Lead and Dr. Emmanuel Cofie (SGT Inc.) ISIM Lead Thermal Distortion Analyst. The James Webb Space Telescope (JWST) will operate 1.5 million kilometers above the Earth. It's ambitious mission is to examine every phase of cosmic history and look back into the past, "from the first luminous glows after the Big Bang to the formation of galaxies, stars and planets to the evolution of our own solar system", according to the JWST website. The JWST is considered to be the next-generation space telescope and is much larger than the Hubble Space Telescope.
In the keynote Mark described how Femap's role on the JWST project was thermal modeling, design and testing of the Integrated Science Instrument Module (ISIM) and on-orbit stability of the observatory for thermal and jitter. He went on to discuss some of the major challenges that had to be overcome modeling the JWST, not least model sizes. The models are huge exceeding 5.2M elements (mostly solids) and 27M degrees of freedom.
As there is only one opportunity for the JWST to succeed, every part and assembly of every system must be thoroughly tested on Earth to ensure that everything will function flawlessly. However, operational stability cannot be proved by test and has to be proven by simulation as much as possible.
In conclusion, Mark stated that JWST is making excellent strides towards completion and launch in 2018. Femap is part of the effort to successfully observe the first light of the universe, but there is still much to analyze between now and the delivery of the telescope.
This article first appeared on the Siemens Digital Industries Software blog at https://blogs.sw.siemens.com/simcenter/femap-symposium-2014-gets-underway/