Femap 12: preview of new preprocessing enhancements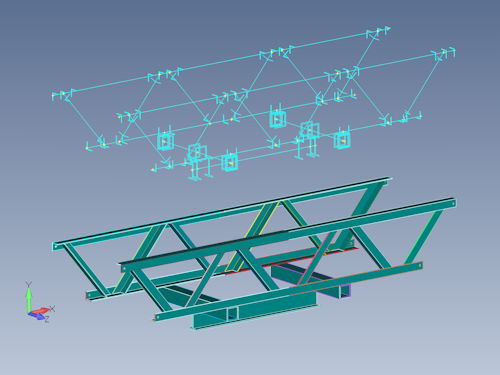 The Femap version 12 release is coming up very soon, so let's take a sneak peek at the new preprocessing enhancements.

In the meshing toolbox, the capabilities of the washer and pad mesh improvement tools have been extend and can now act on solid element meshes, and the washer can now modify the mesh around non-circular holes to create the best possible mesh around any cutout. Version 12 also brings a mesh point editor, which allows you to specify hard points on the geometry where you wish nodes to be placed after meshing.

Methods of copying or moving geometry with associated FE data (or vice versa) are much easier in version 12, and can be executed with just a single command. There are also further controls for block and offset entity numbering options.
The beam centerline finder, which started life as an API option in a previous release, is now a fully implemented command in version 12. You can use this to automatically determine the centerline of a solid beam structure making it easier to model it using 1D beam elements.

Data mapping enhancements include a criteria-based method of mapping model output on elements to create load definitions is now available. You can also create discrete color plots based on element value (ID, materials and properties).

In support of the new multi-step nonlinear capabilities in NX Nastran, Femap version 12 adds support for cohesive entities, including elements, properties and materials.

Watch the video below to find out more about preprocessing enhancements in Femap version 12.

Stay tuned! We'll be outlining more new features and capabilities of Femap version 12 as we approach the release date.
This article first appeared on the Siemens Digital Industries Software blog at https://blogs.sw.siemens.com/simcenter/femap-12-preview-of-new-preprocessing-enhancements/