Come in Troy and meet our team during the 2016 Quadfecta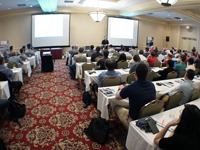 We invite you to the LMS Simulation & Testing Solutions Quadfecta, held in Troy, Michigan, from September 20th to 23rd. Come and discover more about our cutting-edge technologies and all the lastest releases of our software.
You will discover stories from other firms, share your own experience and extend your knowledge during various conferences.
Take notes of the event agenda:
Tuesday, September 20th
Understand rotating machinery dynamics: orders, torsionals, imbalance correction, angle domain analysis, and more…
Sampling rates? Windows? Leakage? No problem! Learn how to take meaningful and correct digital data in any situation.
Design and manufacturing of products is becoming more challenging! Learn how to concurrently design products while balancing multiple engineering attributes in a single environment. Take advantage of lightweight, high strength composites. Understand the non-linear behavior of your product.
Wednesday, September 21st
Engineer fatigue tolerant parts, gain insight into your loading environment, accelerate your durability validation, and see new approaches for spot and weld fatigue
Troubleshooting complex noise and vibration issues requires a systematic source-path-receiver approach: load identification techniques, Q-sources measurements and time domain analysis.
Best practices in model based control system design: from controller testing and calibration, test case generation, to effectively using HIL, SIL and MIL.
Thursday, September 22nd
The whole world of sound: from decibels, octaves and weighting, advanced sound quality metrics, to the latest troubleshooting acoustic techniques!
How can you ensure that your structural FEA models reflect reality? Learn the ins and outs of experimental modal analysis and correlation – from best tips for impact hammers, to Polymax curvefitter, to the Modal Assurance Criterion.
Deliver optimal system performance against other key design requirements such as performance, comfort, efficiency and fuel economy early on in the design/conceptual phase thru final design.
Friday, September 23rd
Learn the latest in vehicle development for handling and ride performance. Be exposed to leading edge technologies for numerical simulation, real-time solutions for controls integration, and experimental measurement methods to quantify body deformation during test track maneuvers.
Sound quality isn't just for gurus anymore! Learn about loudness, prominence ratio, sharpness, articulation index, fluctuation strength and much more.
Increase battery life, vehicle performance and range!
This article first appeared on the Siemens Digital Industries Software blog at https://blogs.sw.siemens.com/simcenter/come-in-troy-and-meet-our-team-during-the-2016-quadfecta/