Cleaner sailing on the horizon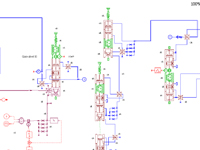 We constantly hear all about the latest hybrid vehicles and electric car developments, but what about an eco-boat? According to the International Maritime Organization, the number of boats sailing the world's oceans, lakes, rivers and canals is well over 100,000. And this number covers everything from giant container vessels, like the MSC Oscar, the current recorder holder with a whopping 19,224-container capacity to the local fishing fleet.
Now take in the fact that most of these vessels still run on lower-grade "bunker" fuel, basically waste fuel left over after crude oil refining. The MSC Oscar is different, but older, less efficient mega-container vessels use up to 350 tons of the stuff per day.
This is bad news for global emissions (experts surmise that one giant container ship pollutes as much as 50 million cars!) and bad news for the ship owner (can you imagine picking up the fuel tab for a giant container vessel that doesn't consume per gallon or liter, but by tons per hour?).
But like we said, the MSC Oscar is different. It runs MAN Diesel & Turbo's new, hyper-efficient mega-engines that help the ship consume around 35% less fuel. So you can imagine the owners of ships like the MSC Oscar were thrilled to hear that the shipping industry, too, could start to slash consumption and pollution with the help of Simcenter Amesim.
This article first appeared on the Siemens Digital Industries Software blog at https://blogs.sw.siemens.com/simcenter/cleaner-sailing-on-the-horizon/