Brembo braking systems or how I put a little Le Mans in my drive to work…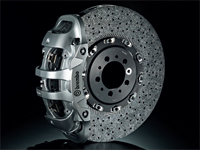 Brembo braking systems or how I put a little Le Mans in my drive to work…
I was driving into the office today and racking my brains about this post. Brembo is one of those behind-the-scenes companies that engineer really important things: braking systems. And as a world leader in the design, production and development of braking systems, they obviously do it very, very well. But, like many automotive component manufacturers, they aren't really famous or showy about it. You don't see any bright-red Brembo disc brakes popping out of the average Volkswagen and certainly not my Volkswagen. (Click here if you missed my post about my love of VWs.)
With serious market shares in North America and Europe, there is a pretty good chance that the car you drive has a braking system from Brembo in it. What I didn't realize is that the company has such an amazing reputation in the racing community. Pretty much everyone from Formula 1 to Le Mans teams use Brembo systems.
All that glamorous racing is great fun, but what happens every day at Brembo is rather exciting as well. We had the opportunity to talk to Fabio Carbone and Giulio Calamai, both mechatronic engineers at Brembo, about how Simcenter Amesim helps them continue to excel at designing the best-possible braking systems for customers around the globe.
And in case you have some time, 24 hours of Le Mans ran from June 18-19, 2016 this year.
This article first appeared on the Siemens Digital Industries Software blog at https://blogs.sw.siemens.com/simcenter/brembo-braking-systems-or-how-i-put-a-little-le-mans-in-my-drive-to-work/