Products
SGS TüV Saar Certification and ISO 26262:2018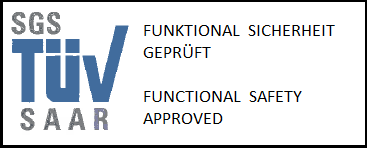 To achieve functional safety in electrical and electronic (E/E) systems, developers/suppliers/makers of E/E elements have followed the guidance of the ISO 26262 standard since 2011. Significant changes with regard to ISO 26262 occurred recently. The long anticipated 2nd edition of ISO 26262 is available, replacing the 2011 edition. Henceforth references to the latest edition of the multipartite standard are noted as ISO 26262-nn:2018, where nn = one of twelve parts. That's right, if you look at the famous ISO 26262 taxonomy graphic (the "vVv" chart) you'll quickly spot 11 parts thanks to the new Guidelines on application of ISO 26262 to semiconductors. Where's the twelfth part of the standard depicted? Look closely at the graphic, the 2018 edition now encompasses requirements for trucks, buses, trailers, and motorcycles –covered within a new Part 12: Adaptation of ISO 26262 for motorcycles. There are many other noteworthy changes within existing parts of the standard as well, for example two important clauses added to Part 8. Clause 8-15 for interfacing of applications that are out of scope of ISO 26262, and Clause 8-16 regarding integration of safety-related systems not developed according to ISO 26262. The full scale of changes within the new edition are well beyond the scope and purpose of this blog entry, but needless to say that this 2018 edition will touch all parts of the automotive supply chain.
Automotive engineering design / development / manufacture (no matter what you call it, or which aspects you focus upon) is obviously complex and relies upon an array of tools, notably software tools, which themselves must also address quality and reliability of a finished vehicle as well as all contributory components/elements. ISO 26262 has long defined functional requirements for the risk assessment and the confidence of using software tools, as described in clause 11 of ISO 26262 part 8, which requires tool classification and qualification for all software that is used in design, manufacturing, and in-system operation. Persuasive auditable proof of tool qualification must be captured. This was already described in the 2011 edition, and remains in-place, supplemented by some changes in the 2018 edition. Among these for example, more specific guidance regarding vendor validation as an attribute of establishing confidence in the use of software tools.
Despite fairly clear methodological guidance in clause 11 of ISO 26262 part 8, tool qualification remains one of the more misunderstood, if not downright mysterious aspects of the standard as a whole. Part of the dilemma is the dizzying array of software tools that are invariably employed during the processes to design / develop / manufacture. The sheer volume of tools aside, they can additionally be combined in an equally dizzying number of ways –a.k.a. tool chains.
In order to provide at least a starting point for qualification of Polarion software tools (ALM, RM, QA), we now provide a certification issued by SGS TüV Saar of a Software Tool Qualification Report for Polarion. This independent third-party Certification Report helps you to streamline your tool qualification process in accordance with clause 11 of ISO 26262-8, but is not –and cannot be– in lieu of your own tool qualification efforts, which at minimum must entail confirmation of the pre-qualification assertions made in any certification. This is often a source of misunderstanding and misperception by tool users and tool vendors alike, who often mistakenly consider independent certificates as some sort of get-out-of-jail-free card (no pun intended) that liberates one from having to perform any tool qualification activities at all.
In the end it is the singular responsibility of the system designer/creator/developer to ensure that their products/deliverables meet the highest safety, reliability, and performance metrics. Qualifying software tool safety is part of that process.
This second coming of ISO 26262 is only the beginning. The automotive sector is at the vanguard of multiple transformative innovation waves. Still missing are details about autonomous vehicle development. That is anticipated to be addressed in a new adjunctive standard to follow ISO 26262:2018 – ISO/PAS 21448 Safety of the Intended Functionality (commonly called SOTIF).
Stay tuned.
BTW: A downloadable Tool Qualification Kit (TQK) template is available on our Extensions Portal that is quite useful in organizing/managing any of your tool qualification activities using Polarion, with particular value for Polarion itself, since the standard use cases included in the TQK conveniently match those of the Qualification Report as certified by TüV Saar. [ http://extensions.polarion.com/extensions/315-tool-qualification-kit-iso-26262-8-11 ]
This article first appeared on the Siemens Digital Industries Software blog at https://blogs.sw.siemens.com/polarion/sgs-tuv-saar-certification-and-iso-262622018/