Products
Polarion ALM 2310 – What's New and Noteworthy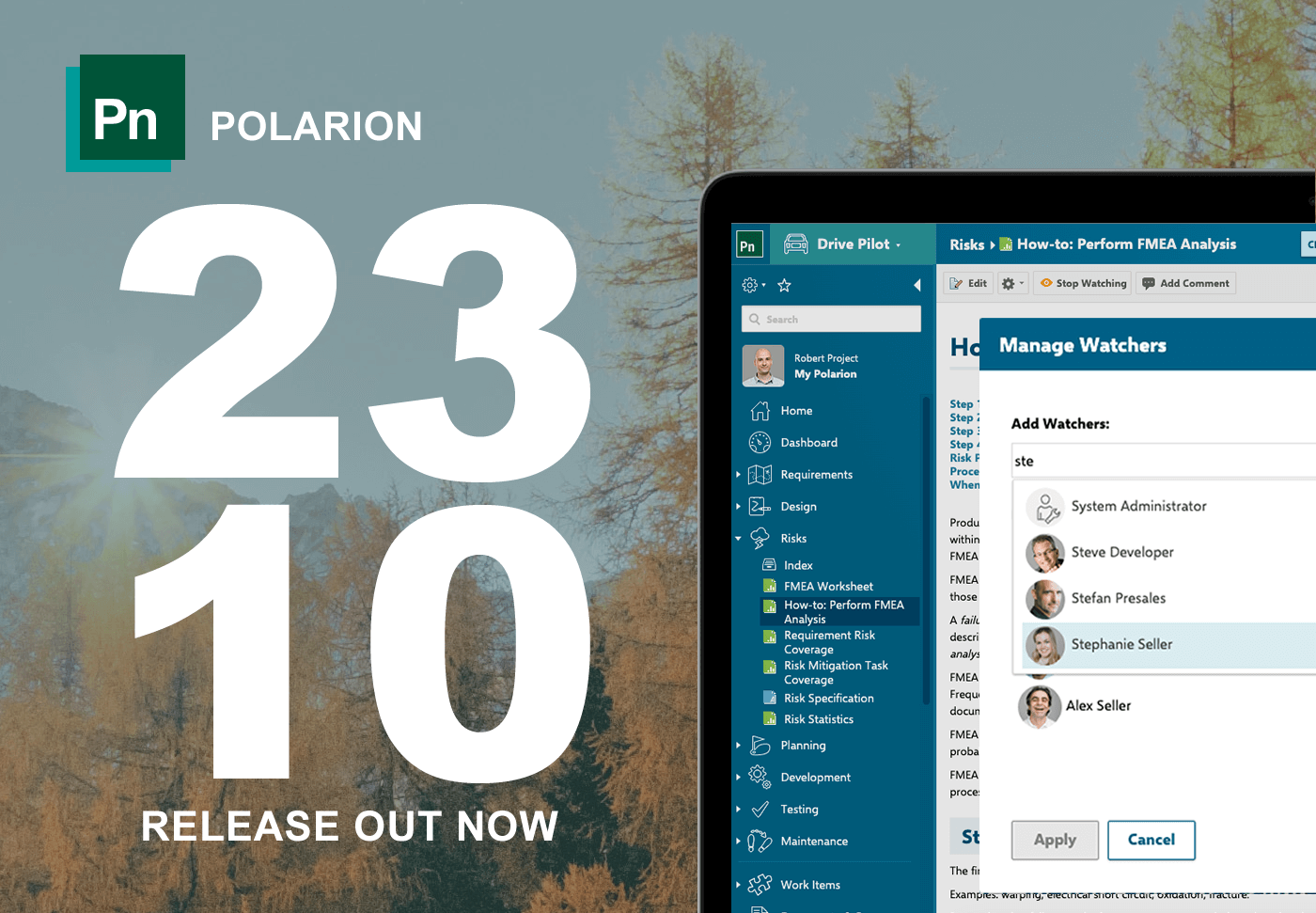 Welcome to the unveiling of our latest release, Polarion 2310, where innovation and user feedback merge to bring you a set of fresh features and improved functionalities. Our commitment to continuous enhancement is evident in the following significant updates:
Hierarchical Space Permissions: Elevate your control over Space access and handpick teams that can view and edit their content.
Bulk Branching: Branch multiple documents in one swift action, streamlining your reuse workflow with precision and convenience.
Collaboration on Pages: Engage in dynamic feedback on Pages through comments and stay in the loop as a Watcher when Pages evolve.
Interactive Diagrams: Seamlessly link diagram elements to Polarion objects and navigate to them from diagrams.
Polarion 2310 is more than just an update; it's an opportunity for our valued customers to tap into the latest features, reinforce security with the latest fixes, and relish the evolving usability and performance. In this blog, we'll take you through these pivotal additions, fresh features, enhancements, and spotlight security, performance, and quality enhancements. Join us on this journey to explore what Polarion 2310 has to offer!
Hierarchical Space Permission Management
In Polarion 2310, one of the standout features is the introduction of hierarchical Space permission management, which empowers you to maintain the confidentiality of your critical information while ensuring efficient collaboration. This comprehensive enhancement allows you to customize permissions at a more granular level for each Space and its contained artifacts and empowers Space owners to manage access to their spaces.
Key Benefits:
Confidentiality Assurance: With this feature, you can rest easy knowing that confidential documents and files are only accessible to authorized individuals. This maintains the privacy and integrity of sensitive information. Subspaces and artifacts inherit permissions from their parent space unless explicit permissions are added to the subspace.
Control Over Edits and Deletions: You can control who can edit or delete files within a space, preventing accidental or malicious alterations that could compromise data integrity.
Tailored Permissions: Spaces owners with manage permissions can now tailor Space permissions to suit specific needs. This flexibility enables you to customize access for your organization's different users, groups, and roles.
Granular Permissions: Polarion 2310 allows you to configure different permissions for Spaces and their contained artifacts. These permissions include:
Can View: Users can read the Spaces, Pages, and Documents within them, including their contained Work Items (provided they have read permission on the objects themselves).
Can Edit: Users gain permission to create, modify, and read the content of Spaces and all artifacts contained within them.
Own the Space to Manage It: Users with this permission can control Space-level user permissions using the Manage access dialog and modify the title and home Page of the Space.
Deny Access: This permission completely restricts access to read the Space, Pages, Documents, and all Work Items within the Space.
This new enhancement ensures that you have complete control over who can access, modify, or manage the Spaces and artifacts within Polarion 2310, providing enhanced security and customization for your team's needs.


Enhanced Bulk Branching for Streamlined Development
In the ever-evolving landscape of Polarion, we're thrilled to introduce an innovative feature that takes the efficiency of reuse and parallel development to the next level – Bulk Branching. This feature allows you to branch multiple documents in one swift action, streamlining your workflow with precision and convenience.
Key Highlights:
Bulk Branching: You can quickly and effortlessly create branches or copies of multiple Documents while maintaining relative links, ensuring a seamless transition in your development process.
Document Linking: Copied Documents are intelligently linked to their source Documents via the "branched from" field, preserving the connection between them. Copied Work Items are also linked to their source items through the "branched from" link, enabling efficient tracking and management.
Support for Compare and Merge: Bulk branching paves the way for the compare and merge interface and our upcoming Polarion 2404 auto-merge feature. This lets you work collaboratively on reused documents, enhancing productivity and collaboration.
Custom JavaScript Creation: To further boost your efficiency, we offer a quick way to create JavaScript for the selected Documents in your bulk branch. This script can be used in widgets to open the pre-configured bulk branch dialog with your preferred Documents for branching, saving you time and effort.
Simplified Workflow:
Branch Multiple Documents at Once: Perform bulk branching in a single step, minimizing repetitive actions and saving time.
Customization: Define a common target project, Space, naming pattern, and filter for all Documents or tailor these parameters for each Document individually.
Work Item Overwrite: Optionally overwrite referenced Work Items in reused Documents to align them with your development needs.
Preserve Relative Links: Maintain the integrity of relative links between the set of reused Documents while overwriting Work Items.
Workflow and Signatures: Choose whether to copy or reset workflow and signatures per your project requirements.
Work Item Fields: Define which Work Item fields should be reset upon reuse, giving you complete control over the branching process.
JavaScript Creation: Quickly generate JavaScript that opens the branch dialog with predefined settings for Document sets you frequently branch, improving your workflow efficiency.
With Enhanced Bulk Branching, Polarion 2310 empowers you to branch multiple Documents effortlessly, efficiently manage project development, and harness the full potential of your reuse and parallel development capabilities.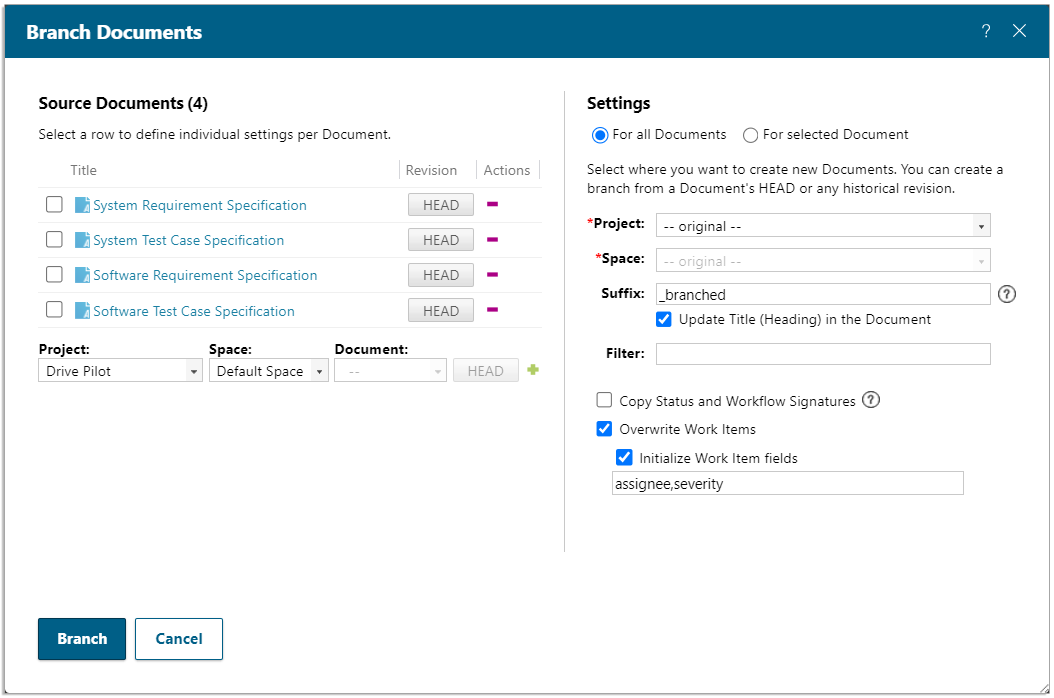 Elevating Collaboration on Rich Pages
In Polarion 2310, we're taking collaboration on rich pages to a whole new level with our feature, "Collaboration on Rich Pages." This addition equips you with the tools to review, comment, and collaborate on Rich Page content, providing a seamless and productive environment for feedback and decision-making.
Key Features:
Review and Comment Threads: With this enhancement, you can now thoroughly review Rich Page content and initiate threaded discussions with ease. This feature allows users to provide insightful feedback, report issues, and suggest improvements, contributing to informed decision-making for developers and product teams.
Comment Resolution: Streamline your collaboration further by resolving processed Rich Page comments once review remarks are addressed. This ensures clear communication and progress tracking within your projects.
Page Watching: Stay in the loop with the Pages that matter most to you by becoming a Watcher. You'll receive notifications whenever a Page is updated or commented upon, enabling timely responses and active participation.
Change Highlights: Keeping up with Page changes has never been easier. Our compare notification feature highlights alterations in Page content, ensuring you don't miss any important updates in rich page text or scripts.
Bonus: Control Rich Page Editor via Keyboard Shortcuts
As a bonus, we've enhanced the Rich Page editor with a brand new set of keyboard shortcuts, making your interaction with rich pages even more efficient and intuitive.
With Collaboration on Rich Pages, Polarion 2310 empowers you to engage, collaborate, and stay informed comprehensively to facilitate more productive project management and decision-making processes.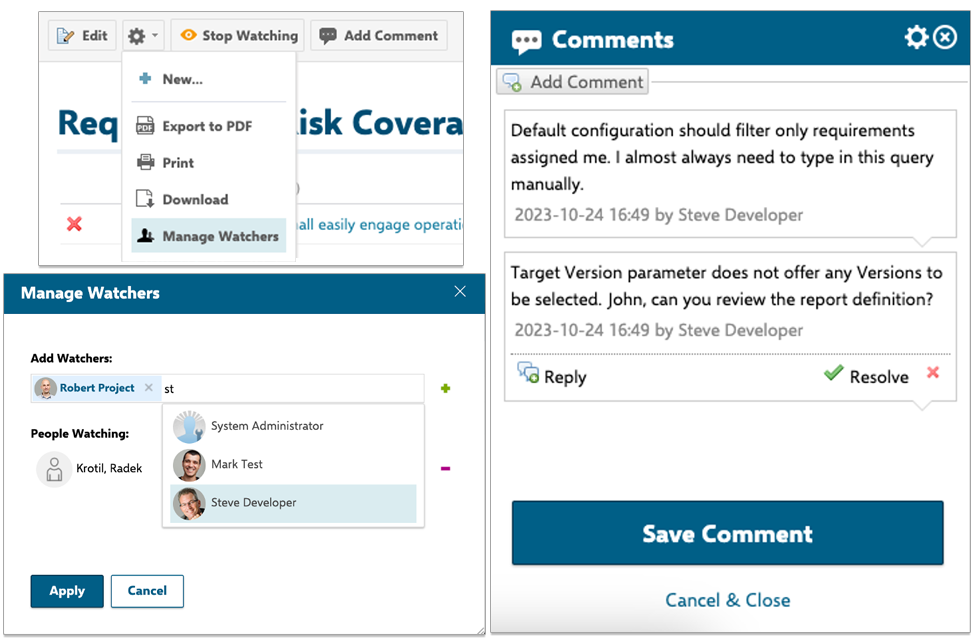 Streamlined Variant Management for 100% Specifications
Building on the foundation laid in Polarion 2304, Polarion 2310 takes Variant Management to the next level. For those familiar with our Variant Management capabilities, you'll appreciate the enhanced usability and efficiency introduced in this release.
What's New:
In Polarion 2304, customers gained access to a simple text editor for creating Variant Conditions using Features and Families defined in Teamcenter. Now, in Polarion 2310, you can edit variant conditions directly in Polarion, leveraging the editor from Teamcenter's Active Workspace. This ensures a consistent level of usability, mirroring Teamcenter's interface.
With this functionality, you can author variant conditions within Polarion and generate new Variant Specifications using saved Variant rules from Teamcenter. Seamlessly connect Polarion with Teamcenter Product Configurator to create 100% specifications from your 150% specification LiveDoc Documents, offering an integrated and efficient approach to Variant Management.
Polarion 2310 streamlines your ability to manage requirements while keeping your Feature Model in Teamcenter, offering a comprehensive product development and variant management solution.
Optimized Test Step Configuration
In Polarion 2310, we're delighted to introduce a powerful feature that enhances your control over test step configurations for different types of Test Cases. This capability allows you to optimize your testing processes by tailoring the layout of Test Steps tables to suit your needs.
Key Highlights:
Custom Layouts: Configure distinct Test Steps table layouts for various Test Case types, enhancing Work Item testing.
Update Alerts: Now, users can instantly spot outdated Test Steps layouts. In Edit mode, a yellow ribbon appears if the layout doesn't match the current configuration for a specific type.
Seamless Transition: Click the ribbon's update button to open the Work Item in a separate tab with the latest layout. Data remains static during the transition.
If you're looking to smoothly transition your test steps to the new configuration in bulk, we've got you covered with a helpful Test Steps Bulk Updater tool available on the Polarion extensions.
With Polarion 2310, optimize your Test Step configurations to streamline your testing processes and maintain alignment with project requirements.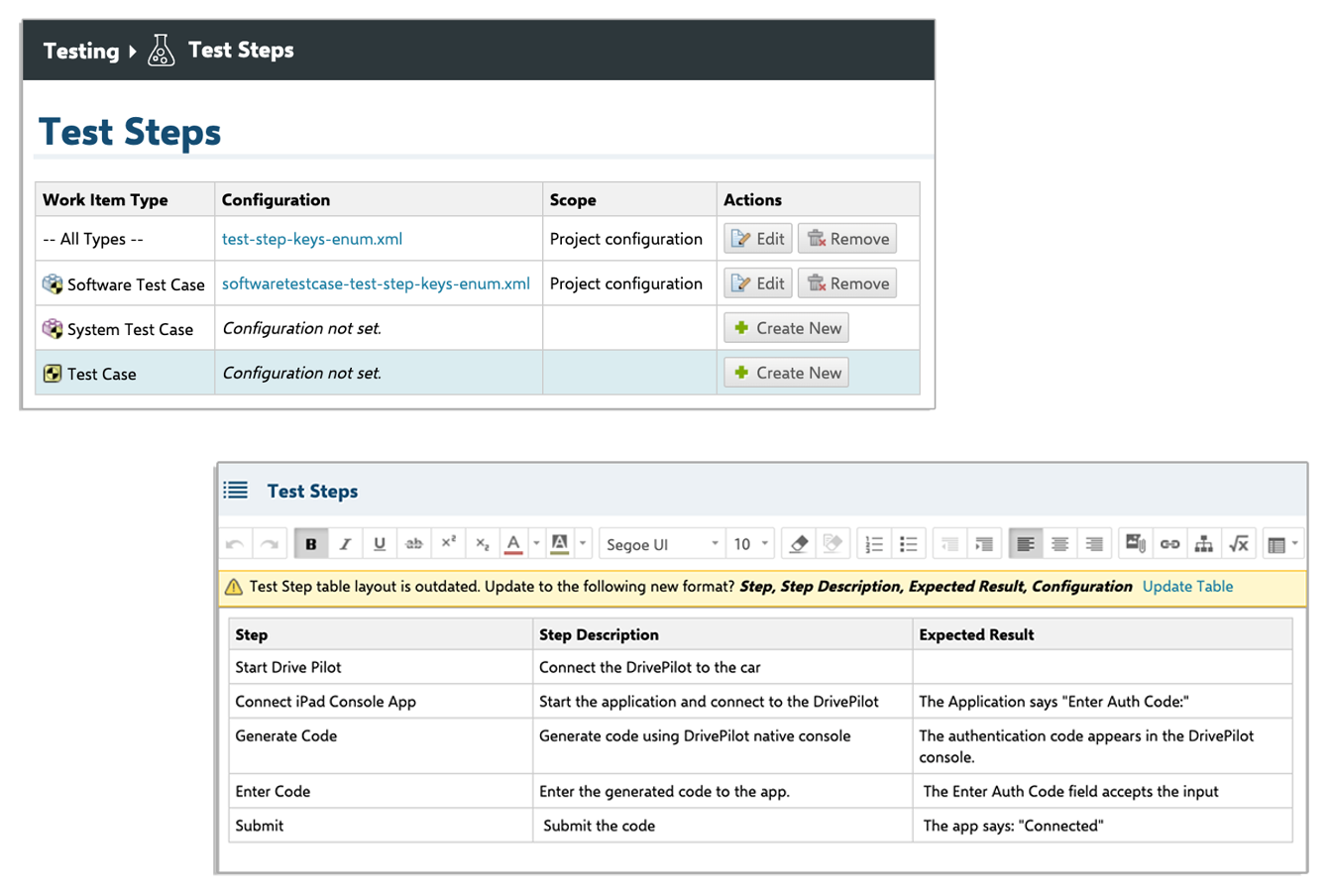 Streamlined Data Access with PostgreSQL
In the new release, we've also made a significant advancement in test data management in the PostgreSQL database. Now, you have the power to access all your test management data easily through SQL queries on new JSONB data columns.
Key Benefits:
Database Retrieval: You can now search via test steps, test step results, and parameter data directly from the database to easily create traceability reports and statistics.
SQL Queries: Instead of resource-intensive API calls, you can harness the efficiency of SQL queries to access the information you need. This not only simplifies the process but also accelerates reporting and analysis.
This upgrade empowers you to access and manage your test management data more efficiently, enhancing your overall testing and analysis process. For sample queries, please refer to Polarion Database SDK.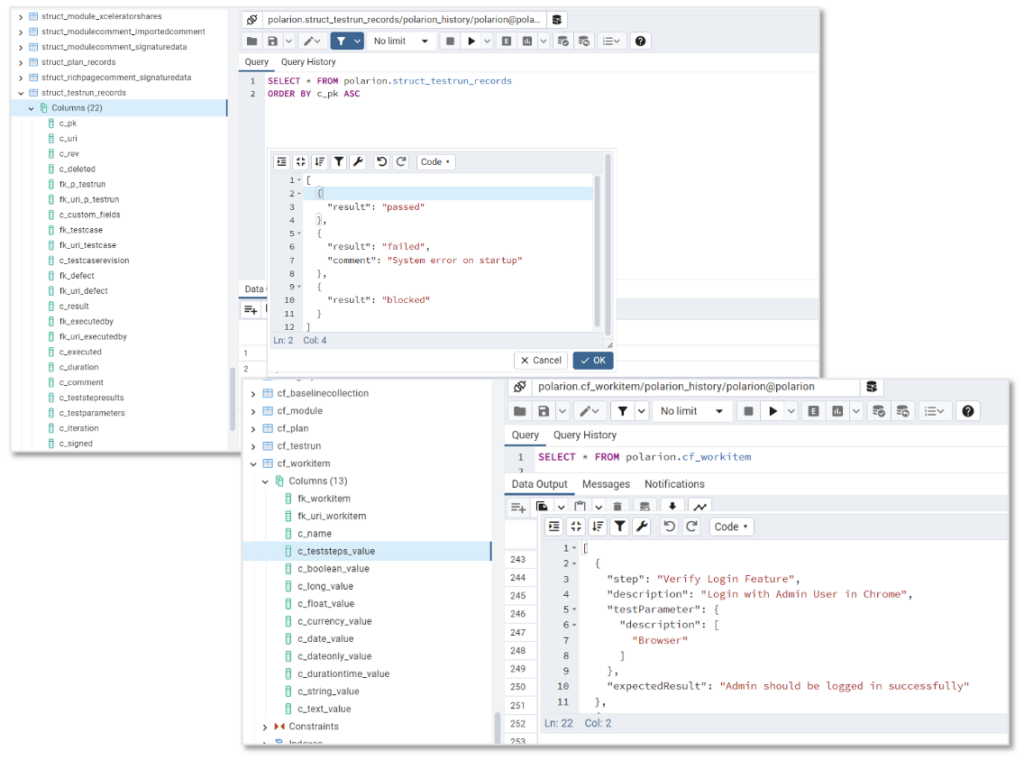 Enhanced Authentication Flexibility
For customers migrating to a different identity provider, Polarion 2310 introduces a valuable feature: Alternative User ID for authentication. This allows users to log in with different credentials while maintaining their original Polarion identity, even after undergoing an identity provider migration.
Key Advantages:
Seamless Transition: Ideal for scenarios where user IDs change due to migrations (e.g., from password/LDAP to OAuth2). This feature ensures users can still access Polarion with their original ID.
Consistency: The original ID remains intact within Polarion for querying and other purposes.
This configuration can be accessed and managed in the global administration settings, enhancing the flexibility and continuity of user authentication.

Cloud Solution Enhancements for Polarion X
In our pursuit of refining our Cloud Solutions, we've focused our attention on Polarion X. Polarion X shares the same binary as Polarion, ensuring feature parity. Now, let's delve into the specific improvements tailored for Polarion X.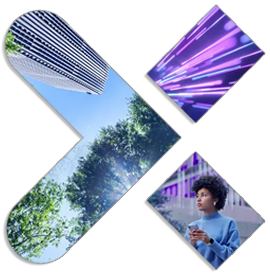 Notable Enhancements:
Collection Limitation Removal: The collection limitation has been lifted for Polarion X Base and Pro customers. With the release of Polarion 2310, all Polarion X customers will have access to the collection-related features. This enhancement will be automatically enabled as Polarion X instances are upgraded to 2310. (Expected to take place in January.)
Flexible Reviewer Licenses: Customers now have the option to purchase additional Reviewer licenses. These licenses provide read-only access, comment capabilities, and the ability to approve Work Items and Documents. With the purchase of Polarion X Base, the number of X licenses bought is included as REVIEWER licenses (one time). For Pro, it's included three times, and for Enterprise, it's included five times. If additional licenses are needed, customers can now acquire them.
Introducing Polarion X Extended: This year, we've introduced Polarion X Extended, designed to accommodate everything not included in Polarion X out-of-the-box. One notable example is advanced customizations. If such needs arise for your customers, we encourage you to consult with Polarion Product Management to explore the available options.
These enhancements pave the way for a more adaptable and comprehensive experience within Polarion X, empowering users to tailor their cloud solution to their specific needs.
Tailored Solutions for Industry Challenges
In a significant move this year, we unveiled our very first Industry Solution for Polarion X, with a special focus on the Automotive sector. This tailored solution is designed to address the specific needs of the Automotive industry and aligns with the newly released ISO-21434 standard, which emphasizes Cybersecurity in Automotive, and ISO-26262, which focuses on Functional Safety in Automotive.
Key Highlights of Polarion X for Automotive:
Unified Risk Management: Polarion X for Automotive offers a unified platform for managing both Cybersecurity and safety risks, ensuring that customers can efficiently handle all aspects in one place.
Seamless Integration: The solution facilitates seamless linking to the design phase, which is typically specified and tested within Polarion, providing end-to-end visibility and traceability.
Audit and Verification Support: It comes equipped with comprehensive reports and views that customers can leverage during audit and verification reviews.
Vulnerability Integration: For customers employing vulnerability scanners for Automated threat detection, such as S-I-G, the solution allows seamless integration into their workflow. This integration ensures that vulnerabilities can be tied back to the cybersecurity analyses and the strategies in place for addressing these vulnerabilities within the design.
Looking ahead, we're committed to enhancing this solution further based on feedback and insights gathered from the field. We aim to continually evolve our industry-tailored offerings to meet the ever-evolving needs of our customers. For a test drive, visit our new Polarion Test Drives site.
Siemens Telemetry Framework Introduction
In Polarion 2310, we're excited to introduce the initial implementation of the Siemens Telemetry Framework. This framework gives our Polarion team valuable insights and analytics while ensuring customer privacy and data protection. Here's what you need to know:
Key Highlights:
Consent Prompt: Users are prompted to provide their consent when they first log in to Polarion.
Data Privacy Control: Consent can be modified at any time through the "My Account" section under "Data Privacy."
Privacy Assurance: Siemens Digital Industries Software ensures that no contact information is collected, and users will not be contacted by phone or email based on the data collected. Rest assured, no information about the data you create or manage is collected.
Collected Data:
Digital Product Experience: This category covers installation and configuration statistics, including details like active users, available licenses, configured connectors (e.g., Jira, Doors), authentication methods (e.g., SAML, OAuth, LDAP), and cluster node count. It also includes statistics on the system's total number of projects, Work Items, and more.
Product Excellence Program: This category gathers feature usage data, specifically focusing on the frequency of CRUD (Create, Read, Update, Delete) operations on specific Polarion artifacts.
This data is invaluable for designing and optimizing new features and enhancing existing ones. Rest assured, the Siemens Telemetry Framework aims to get insights while safeguarding user privacy.
Expanding Ecosystem Integration Capabilities
Advancing Openness with REST APIs
In the broader scope of expanding ecosystem integration capabilities, Polarion continues to strengthen its openness through REST APIs. While we won't delve into the details here, the following areas have seen significant improvements in Polarion's REST layer:
Test Management: Enhanced support for various testing activities, from CRUD operations on Test Run objects to importing and exporting Test Case results. Note that test execution using signed context is not supported on the REST layer.
Project Management: Greater project control, including creation, updates, movement, marking, and deletion.
Plans: Now, you can read, update, create, and delete Plan and Plan Template objects, facilitating efficient project planning.
Revisions: Initial support for reading revision information, including author and commit messages.
Work Items: Comprehensive improvements covering CRUD operations for Work Items, such as updating Work Records, reading backlinked Work Items, accessing workflow actions, type conversions, and more.
For more detailed information and references, please consult the up-to-date REST API reference documentation in the SDK folder and the updated REST API User Guide.
These enhancements further advance Polarion's ability to seamlessly connect with other tools, ensuring a cohesive and efficient product development chain.
Enhanced Data Type Support in OSLC CreationFactory
Next, we've broadened our support for various data types within the OSLC CreationFactory. In addition to standard types like String, Integer, Float, and Boolean, you can now harness the power of HTTP GET and POST for DateTime, Rich Text, and Enumeration fields.
These expanded data type options empower our partners developing OSLC-based integrations for Polarion, giving them a wider range of information and enhancing their data management capabilities. In Polarion 2310, the following data types are supported:
String
Boolean
Integer
Float
DateTime (including Date and Time)
Text (multi-line plain text) and Rich Text
Enumerations (single and multi-valued)
Linked (OSLC) Work Items
We recommend using a Personal Access Token as the preferred authentication method, and you can find further details in Polarion's Help. This enhancement streamlines data management, providing more flexibility and options for your projects.
Seamless Synchronization of Security Levels with Jira
Polarion 2310 also enhances the Jira connector by adding bidirectional synchronization support for the Security Level field from Jira to Polarion enumeration values.
In Jira, the Security Level field governs issue accessibility and workability. With this update, you can now configure and synchronize this field seamlessly via the Polarion connector synchronization configuration.
To set up synchronization, create a custom enumeration field on the Polarion side and map the corresponding values. This enhancement simplifies security level management and ensures your projects stay well-coordinated.
Elevating User Experience
In this chapter, we unveil a range of improvements designed to enhance the usability and efficiency of Polarion, each focusing on addressing usability gaps, fulfilling enhancement requests, and streamlining the user experience to ensure you can accomplish more with fewer clicks.
Enhanced Diagram Interactivity
In Polarion 2310, the diagramming editor takes a leap forward with the ability to create interactive diagrams. These diagrams allow elements to be linked to Polarion objects or external entities so users can navigate seamlessly between them. Links can be added to the canvas or specific shapes. Please note that while these links enhance interactivity, they are not live links and won't update when the source changes. (Links are inactive in preview mode and when exporting to PDF or docx.)
Document Editor Enhancements
In Polarion 2310, our Document Editor underwent significant improvements to enhance your Document creation and customization experience. Here are the two notable enhancements:
Title-only Work Item Presentation
The Work Item presentation configuration in the Document Editor now includes a "Title only" option. This simplifies the structuring of large Documents with numerous Work Items, allowing for a more concise and efficient presentation.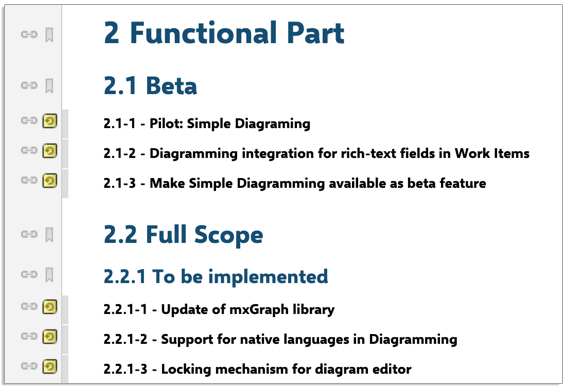 HTML Snippet Injector
The Document Editor now supports HTML snippet injection, allowing you to customize your Document user interface. You customize like you would the Polarion navigation frame and login page. You can apply injections via properties in the polarion.properties file or context properties configured through Polarion Administration.
For a practical example, refer to the Extension portal.
These enhancements let you create and customize documents more flexibly and efficiently.
Streamlined PDF Hyperlinks in Export
In Polarion 2310, we've introduced a valuable feature to ensure clarity in your exported PDF documents. To avoid confusion among external stakeholders who receive PDF documents exported from Polarion, we've added the option to remove links pointing to the Polarion server from the exported PDF file.
Key Points:
Custom Hyperlink Configuration: In the "Export to PDF" dialogue, a new configuration option named "Hyperlinks" is available.
Default Removal of Polarion Links: The default option, "Remove Polarion links," ensures that only cross-references and external hyperlinks remain in the PDF document.
Additional Options: Users can choose between "Keep all links," maintaining the previous behavior, and "Remove all links," eliminating all hyperlinks from the PDF document.
This enhancement simplifies the PDF export process, allowing you to tailor your Documents for external audiences while maintaining clarity and functionality.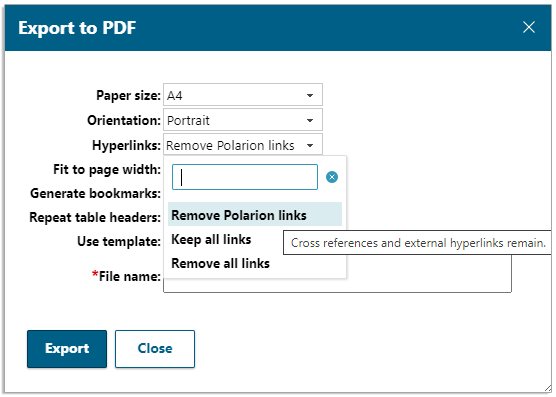 Rich Text Editor Enhancements
In Polarion 2310, we've enriched the Rich Text Editor with two significant improvements to make your content creation experience even more user-friendly:
Nice Attachment References in Rich Text
With this enhancement, you can now easily paste aesthetically pleasing links to attachments directly into your rich text content. This adds clean labels with icons for attachment links. It supports attachments related to Work Items, Pages, Modules, and Test Runs, and a clock icon and revision tooltip for baseline links.
Reuse Recent Colors in Rich Text Editor
Our Rich Text editor now remembers up to the last ten colors used by each user for fonts and font backgrounds. These colors are stored in the user's UI preferences and are accessible from any Rich Text editor in Polarion. The toolbar has been enhanced with the last used color appearing as a line under the font icon.
Streamlined User Selection for Watches and Votes
We introduced a new user picker for Watchers on Pages and hierarchical Space permissions and also added it to where you select Watchers and Voters on Work Items.
Key Enhancements:
Efficient Multi-Selection: In the past, adding multiple users to your Watches and Votes required several clicks. Now users can search and add multiple individuals with a single click.
Project-Based Filtering: The search filters display users based on the project context. This ensures that users can only search and select individuals from the project they're working on.
Refined Inline Editing for Work Items Table
In Polarion 2310, we completed our Inline editing feature with the following enhancements:
Expanded Field Support: Inline Editing now supports Test Steps and Table custom fields within Work Item tables.
Seamless Compact View Integration: You can now seamlessly use Inline Editing with Compact View.
Enhanced Enumeration Field Rendering: When editing Enumeration fields in the Work Item table, you'll now see the same rendering format configured in the Customize Table dialog, ensuring consistency and clarity.
Multi-Edit View Integration: The Inline Editing feature now fully covers Multi-Edit view use cases.
(So, the Multi-Edit view is no longer available in Polarion.)
These enhancements ensure that Inline Editing becomes an even more comprehensive and intuitive tool for managing your Work Items, allowing for greater productivity and control.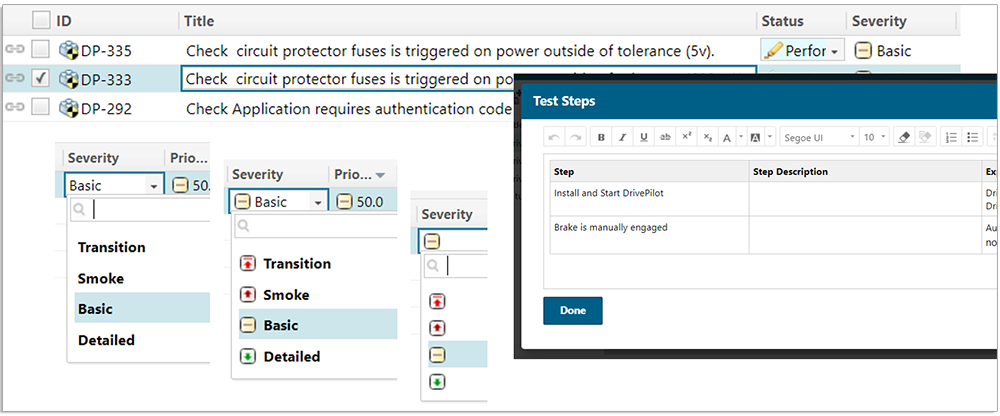 Security Enhancement Highlights
Polarion 2310 prioritizes security with the introduction of three key improvements to bolster the safety and integrity of your data:
1) Optionally Restricted Search via Unreadable Fields: Enhancing Lucene search security is now made possible by restricting searches via unreadable fields. By blocking queries that search via fields users cannot read, we strike a balance between security and user experience. It's worth noting that this security measure has significant performance implications.
In addition to this, the update prevents full-text and SQL searches via a set of pre-defined fields. During reindexing, these defined fields are not indexed in full text at all, and SQL queries containing these fields are blocked.
2) Secure Apache HTTPD Configuration by Default: We've incorporated recommendations from advanced security configurations into the default Polarion setup. This means that new deployments can benefit from improved security right from the start.
3) SELinux Configuration Documentation: Our commitment to security extends to documenting how to install Polarion with SELinux configuration. We've provided guidance on the required pre-configuration that allows you to install Polarion with SELinux, including SELinux rules and commands.
These security enhancements reinforce our dedication to safeguarding your data and ensuring a secure user experience.
Performance and Scalability Enhancements
Polarion 2310 introduces significant improvements in performance and scalability, addressing the need for enhanced efficiency and the ability to handle larger workloads.
Performance Improvements
Performance is a top priority, and in this release, we've fine-tuned the following aspects to ensure a smoother experience:
Live Document Performance: When addressing performance implications of Space permissions, additional optimizations were implemented, bringing performance gains to the following scenarios. Loading cached LiveDocs has improved by 17% while loading non-cached LiveDocs sees a remarkable 28% boost. Additionally, comparing LiveDocs is now 22% faster.
Reindex Context Ordering: We've introduced the ability to define the order of projects for object map creation during the reindex process. This allows you to prioritize projects based on their indexing time, shortening the reindex process's overall downtime.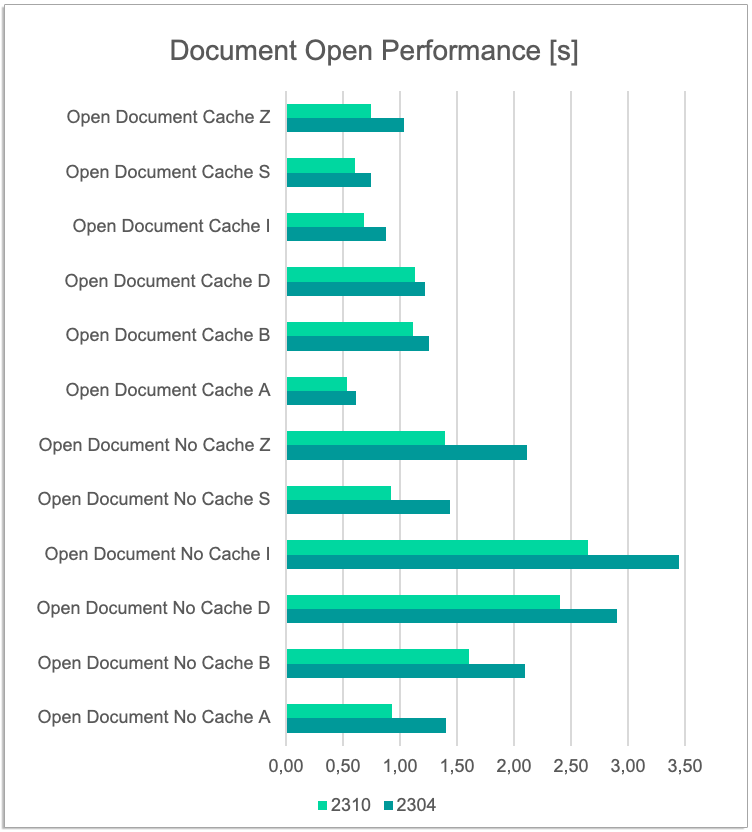 Scalability Improvements
In our pursuit of enhanced scalability, we've made significant strides in memory optimization and performance:
Optimized Read-Only Transactions: We've introduced optimizations to prevent data cloning from the cache in read-only use cases. This significantly reduces memory consumption and enhances performance, particularly when working with larger cached objects, such as Documents, Test Runs, and more. This enhancement extends to scenarios like loading Test Records, Document pickers in Collection details, and rendering Live Reports.
Handling Large Files: Improved memory handling when adding large attachments or project templates to Polarion. This results in reduced memory consumption, ensuring that the platform remains responsive even with substantial file uploads.
Cleanup of Coordinator Data: Enhancements in the cleanup process of coordinator data lead to reduced memory consumption, especially in scenarios where many external revisions are linked to work items, and notifications are sent regarding these new links.
Refined Timeouts for SVN Reads and SQL Queries
Subversion Operations: We've refined timeouts for Subversion operations to prevent stuck operations from affecting the Polarion server in the long term.
SQL Query Statements: To ensure that unoptimized queries do not consume a database connection for extended periods, we've set a default timeout of 10 minutes for SQL query statements.
Deployment and Maintenance Guide Updates
To ensure a seamless deployment and maintenance process, we've updated our Deployment and Maintenance Guide with the following improvements:
Improved Guidance for SVN Caches: We've enhanced guidance for tuning SVN caches for optimal performance.
System Resource Tuning: We've added guidance on re-tuning the system after increasing system resources to ensure efficient performance.
Operational Procedures: We've documented operational procedures, including guidance for project archiving, to assist with the deployment and maintenance of Polarion.
These performance and scalability enhancements, coupled with comprehensive guidance, ensure that Polarion continues to offer efficient and reliable performance even under heavy workloads.
Updates to Supported Operating Systems and Dependencies
Polarion 2310 comes with several updates and changes in supported operating systems and third-party dependencies. These updates ensure compatibility with modern technologies and enhance the overall Polarion experience.
3rd Party Dependencies
Dropped Support for Microsoft Office 2019: In this release, we've discontinued support for Microsoft Office 2019, reflecting our commitment to evolving technologies and aligning with Microsoft's policy.
Added Safari as a Supported Browser: Safari is now added to our list of supported browsers, expanding compatibility for a wider range of users.
Support for GitLab 16: We've extended our support to include GitLab 16, enabling users to integrate Polarion with this version of GitLab seamlessly.
Operating Systems
Added Windows 11: We've added Windows 11 to the list of supported operating systems, allowing users to run Polarion on this latest version of Windows.
Dropped Debian 10: Support for Debian 10 has been discontinued in this release.
Added Debian 12: Debian 12 is now a supported operating system, ensuring compatibility with the latest Debian release.
Added SLES (SUSE) 15 with Service Pack 5: We've added support for SUSE Linux Enterprise Server (SLES) 15 with Service Pack 5.
Dropped SLES 15 SP4: Support for SLES 15 with Service Pack 4 has been discontinued.
Bundled Open-Source Components
Updated Apache HTTP Server to 2.4.57 (for Windows distribution): The Apache HTTP Server included in the Windows distribution has been updated to version 2.4.57, providing users with improved performance and security.
These updates to supported operating systems and third-party dependencies ensure that Polarion remains compatible with modern technologies, delivering a seamless and efficient user experience.
Quality Updates and Notable Fixes
In Polarion 2310, we have dedicated significant effort to enhancing the platform's overall quality and user experience. We've addressed several important issues and introduced fixes that improve the reliability and performance of the system.
Here are some of the notable fixes and quality updates:
DPP-268423 – Regression in 3.23.4: History prior the oldest full baseline snapshot is not searchable
DPP-260904 – Innovations: Fixing editing issues in Live Doc and Rich Texts – Part 1
DPP-258047 – Regression in 3.22.1: Polarion displays false login prompts due to unstable network
DPP-252147 – Regression in 3.22.2: Reuse Document dialog shows current Project as target project value even if another project is preconfigured
DPP-250220 – ReqIF export fails when importing ReqIF from PTC Integrity
DPP-118750 – Export of historical Work Items table exports HEAD state instead
DPP-123262 – Link roles are displayed twice in roles picker in Traceability Matrix view
DPP-167854 – Underline or striked-through text formatting is lost on pasting
DPP-162617 – Generating a variant document throws InvalidArgumentException when propagation points outside of project span
DPP-120509 – Read-only fields for approvals and comments is not honored by Approval sidebar
DPP-118539 – E-mail notification is not sent for document-commented event targeted to current-author
DPP-43422 – Line breaks are lost in multi-line text fields when exported to Excel
These fixes and quality updates are essential to maintain Polarion's stability and provide a seamless user experience. We are committed to delivering a reliable and efficient platform for all users.
Enhanced Customer Enhancement Requests Visibility
Recently, we've improved the visibility of the customer-submitted enhancement requests review process via the Siemens Software Support Center. The polarion product management team is carefully reviewing the incoming enhancement requests. With the improved synchronization between our internal Polarion server and the customer-facing support portal, customers can now view the review state of their submitted product enhancements and the target release for enhancements planned into our roadmap.
This enhancement improves transparency and communication regarding customer enhancement requests, providing a better experience for both customers and the project management team.
Update Information
Polarion 2310 is an update of Polarion ALM, available to all customers with a current maintenance subscription. This update is your gateway to the latest enhancements and security fixes. Staying up to date with our latest release ensures you benefit from new features, enhanced security, improved usability, and better performance.
To download the update distribution package, please visit this link.
For comprehensive details on the update process, you can find the bundled 2_How_to_update_Polarion.txt within the update distribution package.
Conclusion
In this comprehensive blog post, we've introduced you to Polarion 2310, a release that redefines product development. With advanced features, improved performance, and heightened security, this update empowers you to enhance your workflows and make informed decisions. Upgrade to Polarion 2310 to discover a world of more efficient product development.
To stay ahead and informed, follow our blog, join our community site, and subscribe to our YouTube channels. By connecting with our vibrant community, you can harness the full potential of Polarion and lead the future of product development.
Ready to experience the power of Polarion 2310? Request a trial download or demo, and let us show you how Polarion can revolutionize your product development journey. We value your interest and are dedicated to delivering continuous innovation and value. Share this blog post with your colleagues and be part of our ongoing quest for product development excellence with Polarion.
Regards,
Radek Krotil,
Polarion ALM Product Management
This article first appeared on the Siemens Digital Industries Software blog at https://blogs.sw.siemens.com/polarion/polarion-alm-2310-whats-new-and-noteworthy/