Products
Polarion QA is One of "Top 5 QA Testing Solutions of 2014"
Polarion QA was recently picked by business-software.com as one of the 2014 Top 5 QA Testing Software Solutions. In the Expert Picks and Reviews area of the blog, author Miranda Limonczenko writes:

"No top 5 QA testing software list would be complete without at least one product that is known for its flexibility, intuitive user interface and value to SMBs… Polarion QA is an entirely browser-based QA testing solution that can easily be accessed and managed from anywhere, made affordable with a one-time licensing fee that never expires."

The article offers a free PDF download:
Top 10 Quality Assurance Testing Software Report
that provides a side-by-side comparison of ten leading software testing products addressing market segments ranging from small business to global enterprises.
One thing you might miss from the blog article, which accurately describes Polarion QA as a "minimalist" solution, is that while Polarion QA can be used as a stand-alone tool to manage testing (both software and hardware, BTW), it's just one several "mix and match" components of a common web-based platform that connects all stakeholders in your development ecosystem, including requirements and development.
This is something people often miss when they first look at Polarion. They're accustomed to vendors offering point solutions that somehow integrate with each other (often requiring a hefty consulting services budget to achieve the integration). With Polarion, you might start with our QA "product" in your testing teams. You quickly learn that you can easily connect your test cases, test results, and other testing artifacts to requirements for traceability and accountability. Your analysts and requirements managers get interested in that, and want to to start using Polarion REQUIREMENTS.
Here's the highly complex "integration" process:



Contact Polarion sales and decide how many Polarion REQUIREMENTS users of what type (concurrent, named, etc.) you need.


Purchase the license.


Have your admin copy the license key file to the existing Polarion installation on your server and restart it.


Done! Your requirements people can immediately start creating projects, taking advantage of the "out-of-box" requirements project templates that may well be all they need (and which are easily customizable if not). What's more, they can immediately link their requirements to your existing test cases… in the same project, or from a dedicated requirements project.
If (when!) at some point you decide you need some people using Polarion ALM's advanced reporting and other capabilities, that "integration" works the same way: get a license for just the users you need, and drop it onto the existing server. (For more details, check out our Effective Licensing page.)
There's no integration risk at all. All stakeholders across the entire project spectrum, regardless of physical location, are immediately connected by Polarion's unified (as opposed to "integrated") management platform. Find out more about the Polarion approach in the free whitepaper, linked below.
---
FREE WHITEPAPER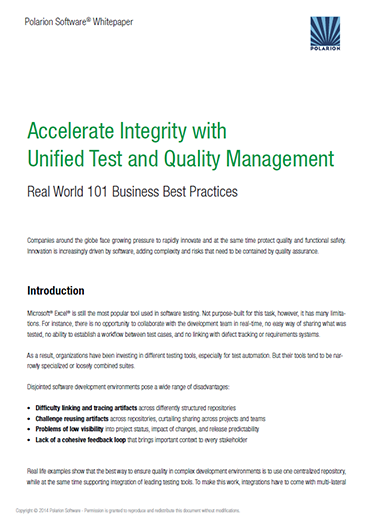 Accelerate Integrity with Unified Test and Quality Management
This article first appeared on the Siemens Digital Industries Software blog at https://blogs.sw.siemens.com/polarion/polarion-qa-is-one-of-top-5-qa-testing-solutions-of-2014/