Morris Medical Monday: Pain Relief for Medical Device Compliance Management
With so many of our customers involved in the development of amazing new technologies and products in the medical field, we're always interested to see stories like this recent one about a new implant technology that promises huge life quality gains for amputees.
According to this article, a revolutionary new technology being developed at London's Royal National Orthopaedic hospital (RNOH) which recently completed a trial, allows artificial limbs to be attached directly to an amputee patient's skeleton, giving them feeling and mobility far beyond that of today's prosthetics. The the new implants, developed by the UCL/RNOH biomedical engineering institute and manufactured by Stanmore Implants, were inspired by research into how skin forms itself naturally around deer antlers. Although still in the trial stage, the prospect for wider roll-out should be good news for amputees.
Medical innovation means new medical devices
As with any new medical breakthrough,
new devices
and products will be developed, all of which must pass muster in terms of
regulatory compliance
. However, this is an area that still trips up many medical device companies, many of which are start-ups. These innovators tend to be strong in design and engineering, but
weak in managing their process
, so that when it comes time to prove compliance to the regulators, their pain is almost as bad as that which their devices relieve.
But it doesn't have to be that way.
Polarion solutions provide a unique
unified working environment
that is helping leading makers of innovative medical technologies…


streamline collaboration,


automate and improve process control,


alleviate the pain and anxiety around compliance audits


…and more.
Learn from the success of our customers
If your company is developing for the medical industry, here are some
free resources
that you may find useful: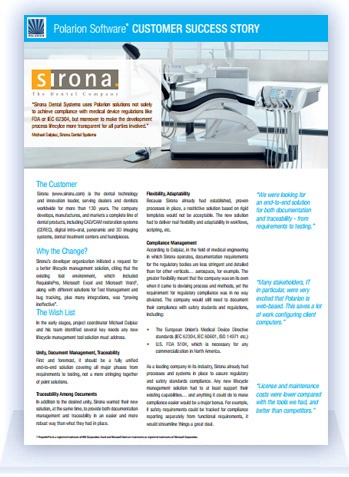 One of the technology and innovation leaders serving dealers and dentists worldwide for more than 130 years, Sirona develops, manufactures, and markets a complete line of dental products. The company was looking for a better lifecycle management solution, and chose Polarion because of the unified nature, the ease of establishing traceability to prove compliance, the simplicity of administration, the extensive customizability, and the general affordability.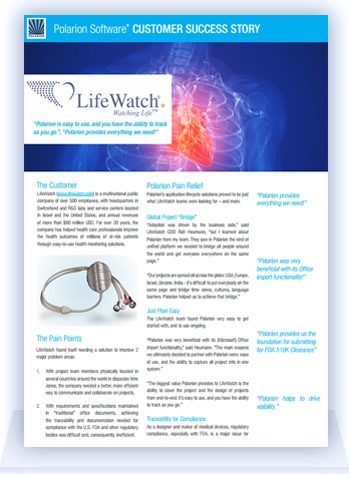 LifeWatch, a multinational public company of over 500 employees, has for over 20 years helped health care professionals improve the health outcomes of millions of at-risk patients through easy-to-use health monitoring solutions. Polarion's designed-in ability to quickly and easily create links between all artifacts, which can be set up to define any type of relationship, helps LifeWatch with their compliance requirements, and makes things more transparent.
REX Bionics Ltd. is a phenomenally innovative and advanced robotics technology company who for the past eight years has led a team of scientists and engineers in developing a solution which enables wheelchair users (and others with a mobility impairment) to stand and walk, allowing them to be independently upright and mobile.This solution is a robotic exoskeleton called Rex.
This article first appeared on the Siemens Digital Industries Software blog at https://blogs.sw.siemens.com/polarion/morris-medical-monday-pain-relief-for-medical-device-compliance-management/