Accelerate Automotive Innovation to Top Speed (Part 6 of 6)
This series of articles has presented an in-depth look at the challenges facing the rapid advance of mechatronics in the automotive industry, and discusses business best practices gleaned from our customers successfully using Polarion solutions to meet the challenges.
Part 1 was an overview of the challenges. Part 2 looked at effective real-time collaboration strategies. Part 3 discussed the strategy of proactive protection of quality and functional safety. Part 4 looked at the strategy of rapid response to defects after market introduction. Part 5 looked into compliance with automotive standards.
This final installment of the series will talk about responding to defects discovered after a product launch. At the end of this article, you can download the entire content of this 6-part series as a free PDF whitepaper.

Rapid Response to Defects after Market Introduction
As we have seen throughout this series of articles, in today's hyper-competitive environment, speeding time to market for innovative products is critical for success. The source of the challenge associated with accelerated lifecycles is that most manufacturers still apply separate development processes, and independently use Application Lifecycle Management (ALM) tools for software development while employing Product Lifecycle Management (PLM) tools for hardware engineering. This is laden with inefficiencies and synchronization delays, and their corresponding costs and risks.
The vital role systems and software play in product innovation intensifies this need for synchronization of both development efforts so the efficient use of people, processes, and tools can be achieved. Polarion believes that interoperability and data federation, at the core of the integration of software engineering processes into Systems Driven Product Development (SDPD), help organizations make smarter decisions that lead to better products. Seeing the tremendous improvement opportunities, we are working with leading PLM providers and joint customers to bring the advantages of such integration to bear.
ALM-PLM Integration Benefits include:



Integrated processes make cross-discipline synchronization a breeze.


Access to product and software requirements supports comprehensive understanding of the product definition.


Bi-directional linking enables cross-discipline lifecycle management and audit readiness.


Change propagation and automatic notification enable comprehensive change impact analysis.


Synchronized testing and reporting supports cross-functional defect management.


Linked, versioned data architecture without data duplication delivers close-looped decision making.


Integration makes holistic compliance reporting for every aspect of the manufacturing process a reality.


Orchestrating both lifecycle management disciplines unlocks tremendous synergies, helping organizations accelerate collaboration, integrity and innovation at the highest level. And as systems and software play an increasingly vital role in innovation and product value in our highly competitive global environment, the need for greater collaboration across design, development, testing and production of both software and product only intensifies.
"Polarion ALM is the ideal Siemens Teamcenter companion to converge Software and Product Development tools and talent to accelerate innovation."
— Raj Khoshoo, Sr. VP of Strategy Initiatives for Siemens PLM Software
Conclusion
Building cars for the next generation is no doubt exciting, but it also brings with it unprecedented challenges. The only way to meet them is for automotive manufacturers to rethink how they approach security, quality, performance, cost, and supply chain complexities. Development organizations have to create the right development platforms as well as establish new processes and means of real-time collaboration around the globe to meet the opportunities on the road ahead.
The revolution in software development is happening, and the time to act is now. The chance to transform your processes is yours for the taking so you can harness the opportunities ahead. A unified approach to Application Lifecycle Management and the integration with PLM is not a futuristic technology trend. It's here today, and the good news is that with Polarion as the right partner and technology you don't have to completely stop and reset, but can smoothly transition from getting the most out of your existing business processes to making your organization thrive in the future.

Liked the blog? Get the whitepaper!
If you found the content of this blog series useful, we invite you to get the
full series content
in a
free PDF whitepaper
that you can keep for reference or share with colleagues.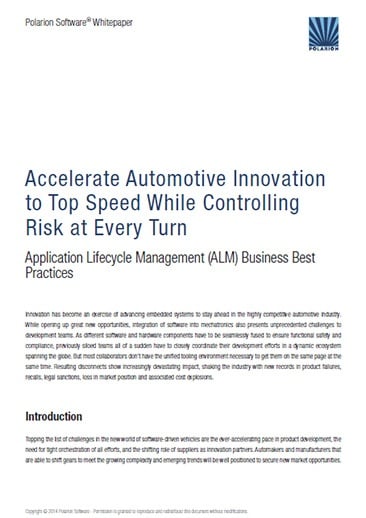 White Paper: Accelerate Automotive Innovation to Top Speed While Controlling Risk at Every Turn –
Real World 101 Business Best Practices for Effective Application Lifecycle Management (ALM)
Photo: flickr/Steve Jurvetson
This article first appeared on the Siemens Digital Industries Software blog at https://blogs.sw.siemens.com/polarion/accelerate-automotive-innovation-to-top-speed-part-6-of-6/