Podcasts
From James Bond to the Future of Our Cities – Frank M. Rinderknecht, CEO Rinspeed, Makes Your Imagination Reality
Imagination and fantasy are unique to the human experience, and what better way to express these sensibilities than in the autonomous car space? When we think of self-driving cars, the time-saving possibilities are endless. But the convenience factor extends beyond just productivity: these cars could – if we start thinking outside the box – create wonderful new opportunities for socialization or to spend time with A-list virtual celebrities.
https://blogs.sw.siemens.com/podcasts/the-future-car/future-car-podcast-2/(opens in a new tab)
In this episode of The Future Car podcast, host Ed Bernardon talks to the founder and CEO of Rinspeed, Frank M. Rinderknecht, about his passion and vision for future transportation. They get into Rinspeed's sQuba underwater car that was inspired by the 1977 James Bond film The Spy Who Loved Me and how their more recent car concepts have evolved since. Frank talks about the needs that autonomous cars will satisfy, the extent to which these cars will be dependent on a city's infrastructure, and what the developments can mean for the delivery of goods and personalized experiences. 
Tuning into today's episode, listeners will also hear Frank respond to questions about the biggest engineering challenges (that have nothing to do with engineering!), whether autonomous cars will be able to give everybody what they want, and why he would prefer having a car for every occasion rather than one that does it all.
Some Questions I Ask:
How did you get involved in Rinspeed and what drives your passion for future transportation? [01:53]
What has been the driving force behind all the innovation in the car concepts? [03:40]
What was it like to work on the sQuba project inspired by the 1977 James Bond film? [04:41]
How much of the engineering is dedicated to making a water car 'waterproof'? [07:26]
What are the biggest needs that you think autonomous vehicles will satisfy? [10:30]
Why is it not possible to have a 'living room' interior with a human driver? [14:00]
To what degree will the infrastructure of a city interact with autonomous vehicles? [15:30]
What do you think about the possibility of pre-selecting the profile of people you want to travel with? [23:16]
Won't it be better for cities to take control of the cars in the case of power outages? [24:51]
How do you see goods delivery and infrastructure evolving with autonomous cars? [26:10]
What role might autonomous cars play in bringing experiences to people? [31:22]
What do you see as the big engineering problems? [32:49]
Do you think autonomous vehicles will solve the problem of giving everyone what they want? [35:20]
What does the Frank Rinderknecht choice car of the future look like? [37:43]
What You'll Learn in this Episode:
The different ways in which Frank's concept cars evoke emotion. [03:27]
Why the underwater sQuba car was truly a one of a kind concept. [04:35]
How things that seemed impossible are being realized by technology. [06:47]
Why trying to engineer a water car can be compared to serving two masters. [07:59]
The kind of things that autonomous vehicles will allow people to do. [10:39]
Why vehicles need to operate independently from any outside communication. [16:03]
Hear why it is unlikely that mobility will ever be completely uniform. [18:43]
The idea that diverse brands will merge to provide a personal in-car experience. [20:47]
How transportation might begin to play a more important role in socialization. [23:16]
Why you might not want a city to take control of your car. [25:17]
The importance of thinking outside the box and questioning old ways of doing. [31:43]
Why people – not technology – are the main 'engineering' [32:55]
Why Frank does not wish to imagine a single car that meets all our needs. [37:55] 
Tweetables:
"Elon Musk brought up for, I don't know, the twentieth time his dream about a diving car. So, it seems that it is still present and I hope Elon does it one day because he will revive our sQuba, and then I look forward to seeing how he solves the issues of diving and how he cheats physics because at the end of the day, the physics you cannot cheat." — Frank M. Rinderknecht  [0:06:57]
"Mobility will always be segmented. It will serve people with more money, with less money, with more comfort, with more connectivity or convenience, and less. It is not one unified vehicle to transport people." — Frank M. Rinderknecht [0:18:43]
"Many times I think an out-of-the-box solution works much better than just going incrementally by little steps." — Frank M. Rinderknecht [0:29:04]
"I generally think that the main obstacle of the future of mobility is probably humans and not technology." — Frank M. Rinderknecht [0:33:51]
Frank M. Rinderknecht CEO Rinspeed – Guest
Frank M. Rinderknecht is the founder and CEO of Rinspeed Inc., based in Zumikon Switzerland and established in 1977, Rinspeed soon became a pioneer and first mover in the then newly created tuning industry. In 1995 Rinspeed started to build proprietary prototypes and concept cars including milestone inventions of the steering wheel with integrated controls for radio or other functions, sustainable powertrains and driver assistance systems. Frank's activities today are centered on being a Think Tank of the automotive and other industries and creating and promoting innovative technologies, materials and mobility means of tomorrow. Privately, Frank is passionate about spending his time on the sea, preferably in the Mediterranean.
Ed Bernardon, Vice President Strategic Automotive Initiatives – Host
Ed is currently VP Strategic Automotive Initiatives at Siemens Digital Industries Software. Responsibilities include strategic planning and business development in areas of design of autonomous/connected vehicles, lightweight automotive structures and interiors. He is also responsible for Future Car thought leadership which includes hosting the Future Car Podcast and development of cross divisional projects. Previously he was a founding member of VISTAGY that developed light-weight structure and automotive interior design software acquired by Siemens in 2011, he previously directed the Automation and Design Technology Group at MIT Draper Laboratory.  Ed holds an M.S. in mechanical engineering from MIT, B.S. in mechanical engineering from Purdue, and MBA from Butler.
If you like this Podcast, you might also like: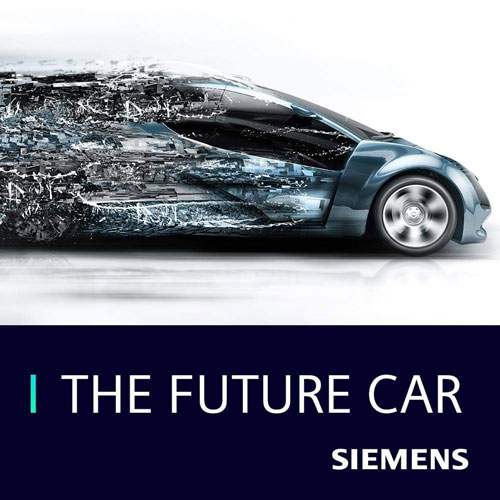 The Future Car Podcast
Transportation plays a big part in our everyday life and with autonomous and electric cars, micro-mobility and air taxis to name a few, mobility is changing at a rate never before seen. On the Siemens Future Car Podcast we interview industry leaders creating our transportation future to inform our listeners in an entertaining way about the evolving mobility landscape and the people that are helping us realize it. Guests range from C-Level OEM executives, mobility startup founders/CEO's, pioneers in AI law, Formula 1 drivers and engineers, Smart Cities architects, government regulators and many more. Tune in to learn what will be in your mobility future.
Listen on:
This article first appeared on the Siemens Digital Industries Software blog at https://blogs.sw.siemens.com/podcasts/the-future-car/future-car-podcast-2/