Parasolid v32.0 Release Highlights

Parasolid v32.0 delivers support for Convergent Modeling™ on models containing a mix of both facet B-rep surfaces and classic B-rep surfaces (mixed models), in addition to enhancements across a broad front of established functionality.
Convergent Modeling on Mixed Model
Convergent Modeling now operates on models containing a mix of facet B-rep surfaces and a subset of classic B-rep surfaces. This subset includes classic analytic planes, cylinders and spheres. So, for example, a fully facetted model may now be Booleaned with classic B-rep cylinders to create through holes or sectioned with classic B-rep planes, each creating new classic B-rep surfaces in the model. This first implementation of Convergent Modeling on mixed models opens up new work flows such as restoring precise, classic mating surfaces to a model that has undergone facet-based topology optimizations. Similarly, precise analytic surfaces can be added to scanned data of a part for re-manufacture.

A classic Parasolid model (left) is facetted for topology optimization (center) then re-loaded into Parasolid as a facetted model where classic planar and cylindrical faces are restored for mating with other components, creating a mixed model (right).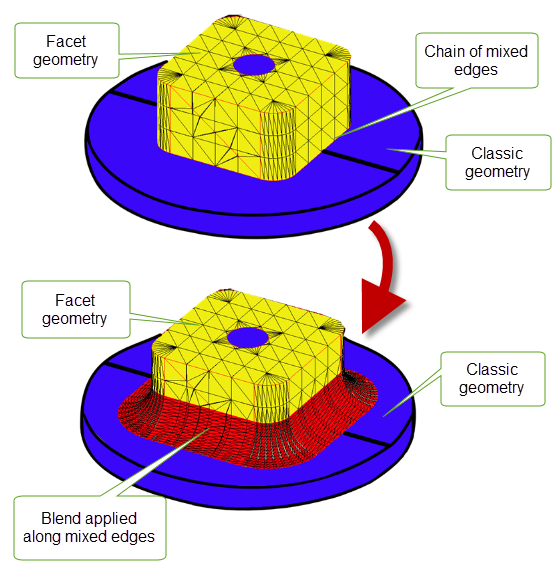 Blending a mixed model
Blending and Chamfering
On creation, the size of an apex range chamfer is checked, and diagnostic information is returned if it is too large for the surrounding geometry.
Diagnostic information is returned if overflow or capping has extended an apex range chamfer beyond its natural width.
Face-face blends are now possible on configurations where multiple blend faces need to be joined by extending a common capping face.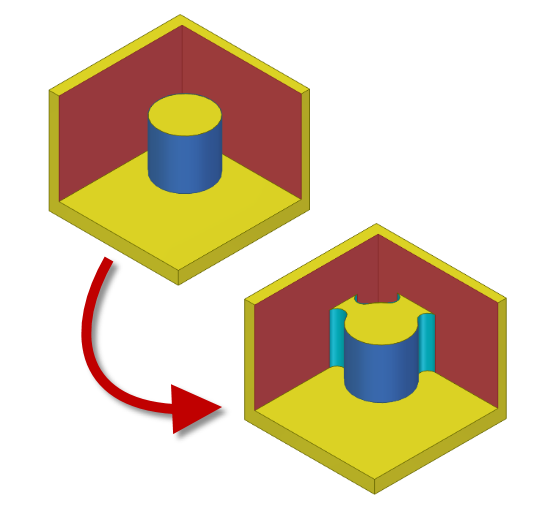 Capping faces to join multiple face blends
Booleans and Surfacing
A new option is added to provide tracking information for new regions created during Boolean operations, allowing each region created to be traced back to its originating region.
A new type of clamp can be specified when applying derivative conditions to lofted bodies. Composite clamps combine vector clamps and face / planar clamps providing control of the flow lines of the loft in the tangent plane of the clamping face or plane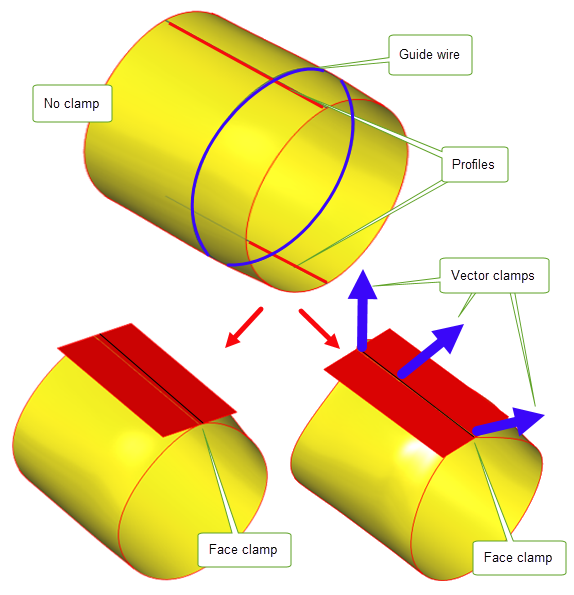 Lofting with face clamp only (left) and composite clamps (right)
For further information about Parasolid click here.
This article first appeared on the Siemens Digital Industries Software blog at https://blogs.sw.siemens.com/plm-components/parasolid-v32-0-release-highlights/