Products
How Parasolid helps Vectorworks designers make limitless designs
Parasolid geometric modeling technology is adopted across a wide range of industries, from automotive and aerospace to consumer products and the built environment. To explore some of the specific applications for Parasolid in Architecture, Engineering and Construction, we invited Carter Hartong, associate content marketing writer for our customer, Vectorworks Inc. to write this guest blog, describing how Parasolid helps Vectorworks users make limitless designs.
Why Vectorworks Uses Parasolid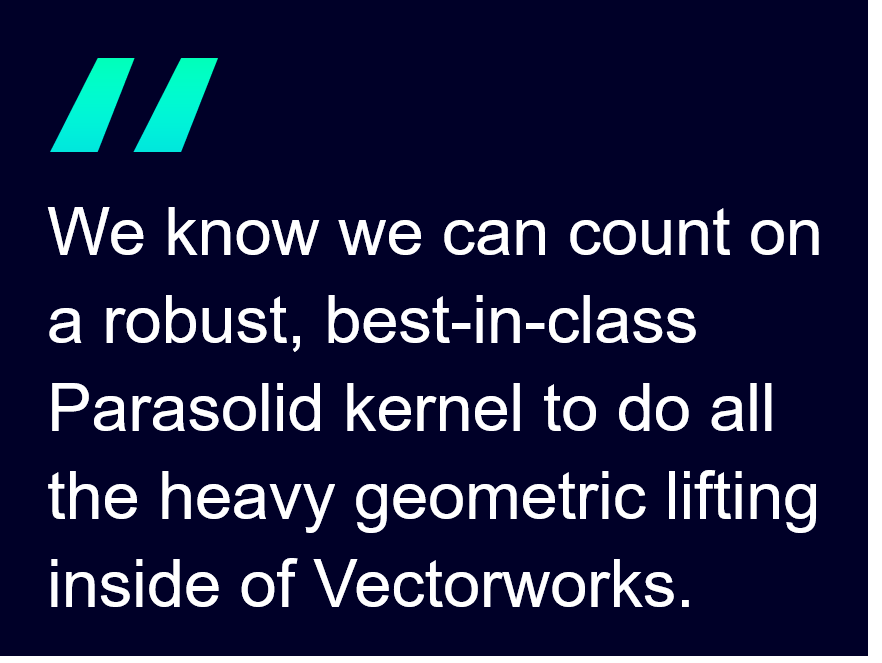 The Parasolid kernel is perfect for this.
"A robust geometry engine is critical," said Steve Johnson, Vectorworks' chief technology officer. "We chose to integrate Parasolid into Vectorworks so that we can better serve our design customers by focusing our research and development efforts elsewhere. We know we can count on a robust, best-in-class Parasolid kernel to do all the heavy geometric lifting inside of Vectorworks."
Read on to see some of the fascinating ways the Parasolid kernel helps designers model inside Vectorworks!
Modeling in Vectorworks with Parasolid
Parasolid is an integral part of your modeling process in Vectorworks for both 2D and 3D drawing. "It would be difficult to find a modeling solution in Vectorworks that doesn't utilize the Parasolid kernel," said Johnson.
With a hybrid drawing environment, Vectorworks allows you to switch seamlessly between 2D and 3D modeling.
2D shapes can be created with ease using the Basic tool palette in any of the Vectorworks products. Many shapes automatically contain 3D components, making the switch to 3D model views as simple as clicking a button.
If your workflow demands it, you can start creating complex, data-rich 3D geometry right away. These models can then be viewed in 2D by selecting "Top/Plan" view.
Many designers also display multiple working views on their screen to see how a change in 2D affects the 3D component.
3D Modeling Options in Vectorworks
With the help of the powerful Parasolid kernel, you have various types of 3D modeling options that you can use. These options allow you to create however your imagination demands.
Below are some of your 3D modeling options within Vectorworks.
Solid Modeling
You can create a variety of solid, 3D objects in Vectorworks. These solid objects include extrudes (regular, tapered, multiple, and along a path), sweeps, shells, fillets, chamfers, solid primitives (spheres, cones, etc.), solid additions/subtractions, and more!
All solid objects in Vectorworks contain an editable volume, helping you better document your designs and effectively collaborate with others.
Surface Modeling
Surface modeling allows you to create non-rational, free-form shapes such as drapes and other flowing objects. As the name suggests, you can pull on NURBS surfaces to create your intended shape.
Marionette Scripting
One of the more innovative ways you can create 3D objects in Vectorworks is with Marionette, an algorithms-aided design feature. By automating random forms, Marionette allows you to be both expressive and efficient. You no longer have to compromise one for the other.
Marionette is a graphical scripting language, meaning you don't have to be a computer whiz to procedurally generate model elements. This automation — and all the tricks Marionette has to offer — lets you follow your creativity.
Additional Resources
Better Modeling with Vectorworks and Parasolid
Not only is Vectorworks committed to providing you with industry-defining software, but we also have a tremendous number of free training opportunities at your disposal. Below are just a few videos and blogs that will help you get the most out of modeling with Vectorworks — which, again, is made possible thanks to Parasolid.
BLOG | Planet Vectorworks
Learn more about Vectorworks software and the designers using it to create stunning projects
VIDEO | Powering Vectorworks' 3D Modeling with Parasolid
Watch Peter Kerwin, Parasolid product manager, and Mark Doubleday, stage lighting designer, in this entertainment webinar on 3D modeling through Vectorworks software.
Watch: "Powering Vectorworks' 3D Modeling"
BLOG | Object Creation & 3D Modeling in Vectorworks
See how 3D modeling in Vectorworks software can help interior architects and designers create anything imaginable for interior spaces.
Read: "Object Creation & 3D Modeling in Vectorworks"
VIDEO | 2D Components for Hybrid Objects
In this overview, you'll explore 2D components of symbols. You'll also learn how to quickly generate different 2D components for the different views of the hybrid symbols.
Watch: "2D Components for Hybrid Objects"
BLOG | How to Get Started Modeling with Fundamentals
Learn how you can get started 3D modeling in Vectorworks Fundamentals. Our basic design software package offers 2D/3D capabilities and an intuitive, easy-to-use modeling and documentation platform that works the way designers think.
Read: "How to Get Started Modeling with Fundamentals"
VIDEO | The Power of 3D Modeling
Watch this video to witness the power and efficiencies gained by 3D modeling in landscape-specific BIM software and gain an understanding of how to build various features found on a proposed site while using a combination of site planning tools and commonly used 3D modeling processes.
This article first appeared on the Siemens Digital Industries Software blog at https://blogs.sw.siemens.com/plm-components/how-parasolid-helps-vectorworks-designers-make-limitless-designs/