Products
What's new in Opcenter Intra Plant Logistics 2310
Shifting to next-generation web-based architectures to improve UX, inventory accuracy, performance and costs
Managing factory or warehouse logistics occurs in various areas and levels, requiring multiple types of support to efficiently track inventory. Using Opcenter™ Intra Plant Logistics (IPL) software, which is part of the Siemens Xcelerator business platform of software, hardware and solutions, provides a just-in-time (JIT) methodology called kanban and changeover. This allows the company to manage a consistent material flow to production lines based on scheduled demand and consumption.
In our ongoing efforts to enhance Opcenter IPL, we are unveiling significant updates in our October 2023 release. We introduce a new storage solution based on a microservice architecture and web frontends, consolidating various storage management applications.
This streamlines operator interactions and extends support for Android mobile devices, improving overall efficiency. Additionally, we offer advanced search and filtering capabilities, enabling operators to swiftly locate materials in the warehouse and enhancing efficiency and accuracy for material management.
Some features from this release:
Storage management on the web
PDA storage management enhancements
New AVL and alternate parts web page
Siemens Cloud Documentation replaces InfoHub
Support for Siemens new licensing – SALT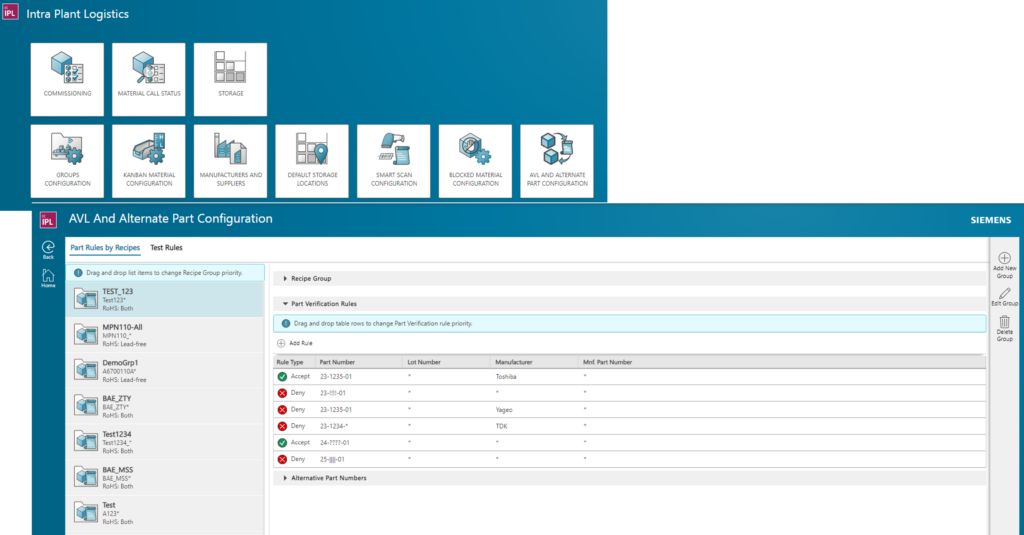 Benefits of Opcenter Intra Plant Logistics 2310:
Improve user experience (UX)
Optimize inventory accuracy
Reduce inventory and costs
Improve performance
Meet IT security requirements
Accelerate integration and customization
Already using Opcenter Intra Plant Logistics? See what's new in version 2310.
Want to learn more? With Opcenter Intraplant Logistics, you can increase line performance, maintain inventory accuracy and ensure smooth material flow between the warehouse and the shop floor with advanced intralogistics capabilities.
Access real-time inventory management
Know the current status and exact location of the material. Gather real-time performance information with material tracking and gain an accurate view of the inventory down to the single-carrier level. The solution applies to all material-consuming stations in the factory, including automated placement equipment, manual assembly stations, system assembly and process points such as dispensers and coating. See more…
This article first appeared on the Siemens Digital Industries Software blog at https://blogs.sw.siemens.com/opcenter/whats-new-in-opcenter-intra-plant-logistics-2310/