Products
What's new in Opcenter Intelligence Cloud 2304
Main enhancing insight into manufacturing data to improve trend analysis and decision-making.
Opcenter™ Intelligence Cloud is an enterprise manufacturing intelligence software as a service (SaaS) solution that addresses current and upcoming technologies that are shaping the future of data analytics for manufacturing: mobile internet, cloud computing and advanced analytics. Opcenter is part of the Siemens Xcelerator business platform of software, hardware and services.

Using Opcenter Intelligence Cloud enables you to connect, organize and aggregate manufacturing data from disparate company sources into cohesive, intelligent and contextualized information to gain immediate and actionable insights. The information includes process data combined with business information, operations data and key performance indicators (KPIs).
Main benefits of this release:
• Enhanced insight into manufacturing data to improve trend analysis and decision-making
• Used eDHR data model to streamline device maintenance and enhance performance
• Minimized production line downtime by identifying and eliminating the causes
• Improved data analysis ability within a user's natural workflow equipped with full control over data look and feel that perfectly matches the client's application
• Gained valuable insights into the causes and impacts of nonconformances
• Used paginated reports to efficiently deliver structured information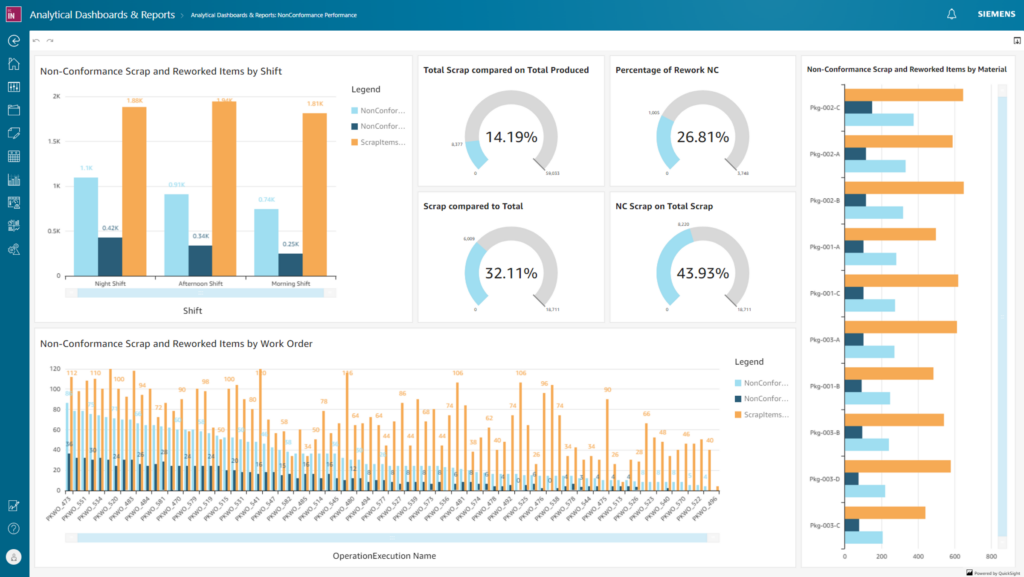 Opcenter Intelligence Cloud 2304 brings a lot of valuable capabilities, here are some of them:
• Data model extension for electronic device history record (eDHR)
• Manual root cause asset data management
• Electronic out-of-the-box dashboards
• Data exposition service
• Nonconformance data contextualization
• Paginated reports

Already using the Opcenter Intelligence Cloud?
See what's new in version 2304.
Opcenter Intelligence Cloud gives access to all production-relevant data and manufacturing data analytics from a cloud-based manufacturing intelligence system. It connects every source of manufacturing data, including Siemens and other manufacturing execution systems (MES) and manufacturing operations management (MOM) systems, shop floor operational technology (OT), the industrial Internet of Things (IoT), and a myriad of third-party legacy systems. Use this single, cloud-based source to correlate data and view it in different ways.
Opcenter Intelligence Cloud leverages cloud-based manufacturing intelligence tools and IoT applications to produce powerful manufacturing insights. Learn more about Opcenter Intelligence Cloud.
This article first appeared on the Siemens Digital Industries Software blog at https://blogs.sw.siemens.com/opcenter/whats-new-in-opcenter-intelligence-cloud-2304/