Products
Streamline your statistical process control (SPC)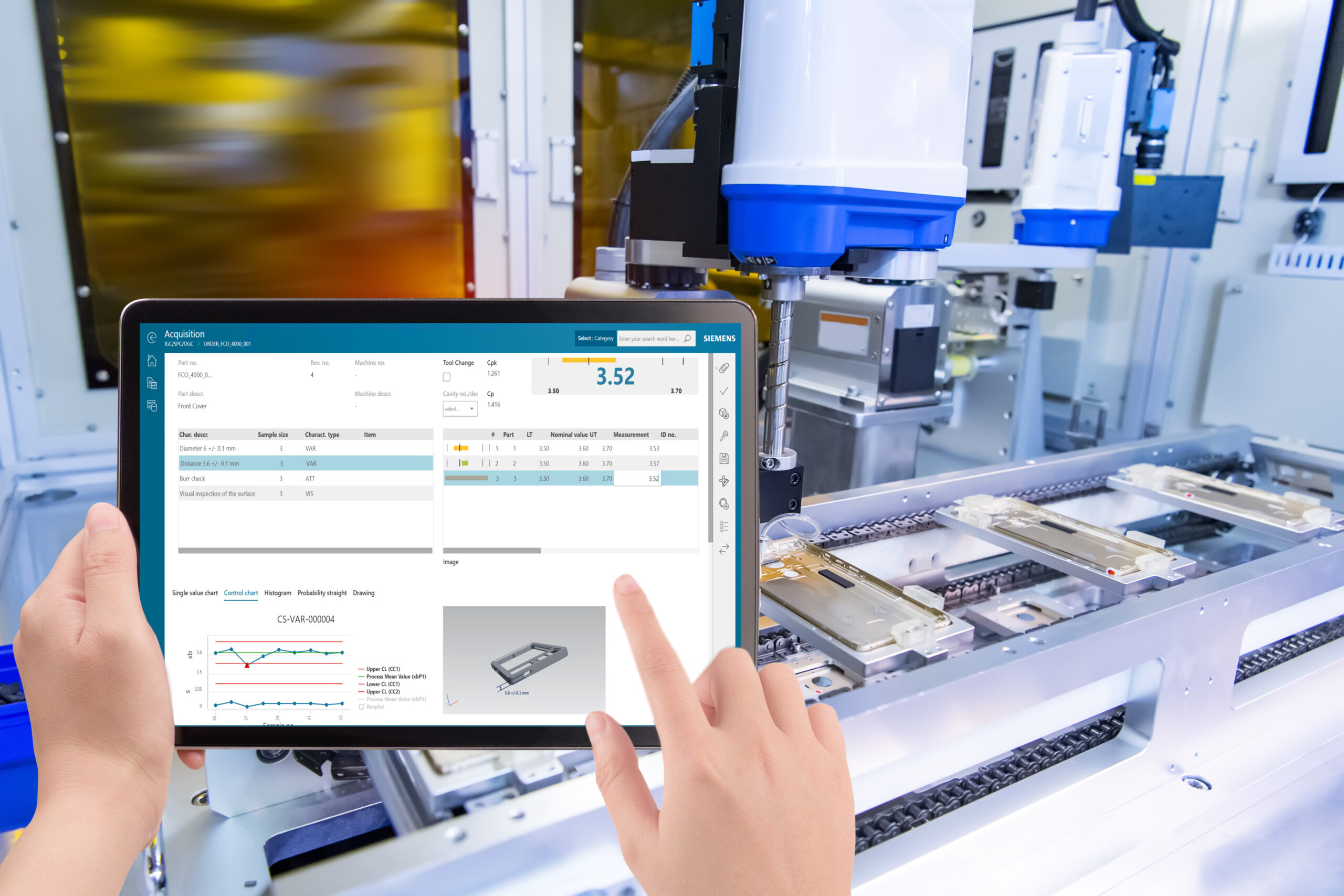 Statistical process control (SPC) is an essential function for monitoring products and manufacturing processes. Control of the production process is a foundational requirement for quality. That's why SPC is used widely in the manufacturing industry, especially where quality is critical. Simply put, SPC helps manufacturers measure, control, and improve quality.
In a typical SPC process, users create control charts to graphically plot and distinguish between coincidental and systemic quality factors that can influence production. By evaluating the control charts, tolerance variances are detected, and deviations are identified in real time. If a deviation is detected, the Quality Engineer determines whether instability problems can be solved on the manufacturing shop floor or if measures should be escalated for management review.
SPC is not only instrumental in production operations, but it facilitates the quality inspection process. SPC data is also used to identify root causes of defects and create corrective and preventive actions.
The Siemens Opcenter Quality Statistical Process Control (SPC) module delivers a variety of functional capabilities to help you implement SPC methodologies in your quality control processes. The SPC module documents relevant inspections carried out within the product manufacturing process, including inspections during product development (such as maturity level analysis), as well as reviews monitored within the scope of SPC.
A web-based statistical process control
Web-based capabilities are available in Siemens Opcenter Quality Statistical Process Control (SPC), streamlining access to dashboards and inspection orders, and supporting quality assurance and assessment methods.
The inspection order acquisition process in the SPC module supports systematic inspections by creating inspection orders based on released inspection plans. These orders are allocated to the appropriate acquisition stations. This process enhances quality assurance with systematic inspections and supports assessment methods using dashboards that provide data and insights.
Streamline your data acquisition process
The streamlined acquisition process allows for the collection of inspection results through sampling, visualization of data in various charts, and the collection of additional information like batches and lot numbers. This includes the acquisition of inspection results for inspection steps through sampling, either manually or with gauges for variable characteristics. The acquired values are then visualized in various charts, such as single value, control, and Pareto analysis. Additionally, the process allows for the acquisition of additional data, such as batches, lot numbers, and other relevant information.
After identifying defects, tolerance issues, or process violations, causes, actions, and complaints can be acquired. This streamlined process enables organizations to effectively monitor and analyze quality, take appropriate actions, and improve product or process quality.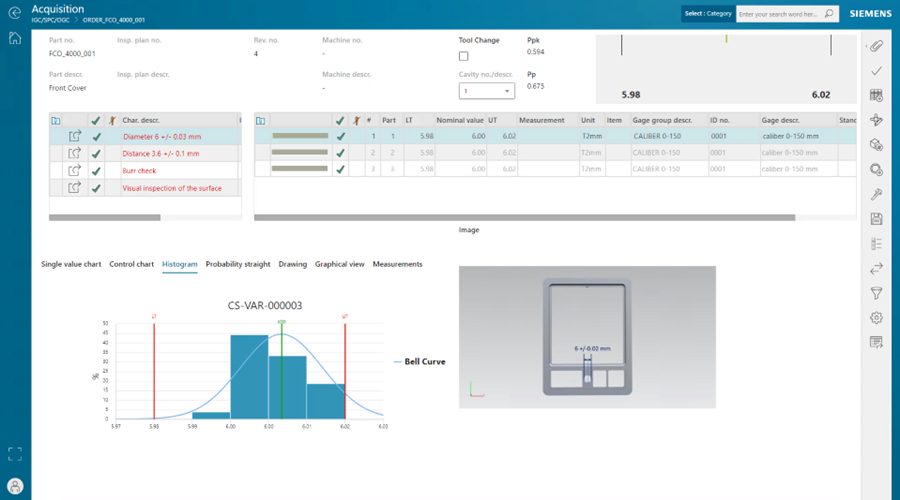 AI-powered statistical process control for optimal statistical distribution evaluation
The latest Opcenter Quality release includes an AI application to simplify and enhance data analysis, eliminating the complex calculation of the correlation coefficient to get the best distribution for a process. The AI logic thoroughly analyzes all measured values for a characteristic, delivering an automatic suggestion for the best fitting distribution. This innovative approach eliminates the need for manual calculations, saving both valuable time and effort.
How Siemens Opcenter Quality is improving customer products and processes
Read how Opcenter Quality is helping Merit get more efficient with Incoming/ Outgoing Goods Control and Statistical Process Control (SPC) modules. Incoming goods control combined with dynamic sampling helps Merit control the provided parts and release them to the incoming department when the supplier is considered reliable (low failure rate, audit passed, lower delivery mistakes). The frequency of quality controls is automatically decreased.
Pairing Opcenter Quality Control with Teamcenter Quality
Using Opcenter Quality Control enables you to pair the comprehensive digital twin with features in Teamcenter® Quality software. This supports all quality processes on the shop floor, such as documenting inspection results, controlling production processes and supporting the necessary processes that are carried out in case of deviations.
For examples, users can define follow-up actions for the statistical process control that must be processed, especially if a non conformance is detected. If a root cause analysis is required, it can either be performed in Opcenter Quality Concern and Complaint Management (CCM), or the process can be transferred to Teamcenter® Quality.
This pairing is possible also in case of 3D acquisition or model view representations by combining Teamcenter Quality Control and Inspection Planning and Opcenter Quality Control. This means that a certain view of the model shows a selected (reasonable) number of characteristics/product manufacturing information (PMI) without overloading the 3D model.
Effectively managing your quality control processes
Effectively managing your quality control processes can be a key factor in developing products that don't fail. When you manufacture high-quality products, you can expect to reduce or eliminate rework and associated costs. Early detection and prevention of problems also eliminates rework and reduces cost thereby creating better competitive positioning in your market.
Siemens Opcenter Quality includes proven technology that helps your company reduce the margin of error and dramatically improves quality control while lowering the risks and costs associated with defective products.
Enhance statistical evaluations for a streamlined quality inspection process
Facilitate quality inspection process on the shop floor
Streamline acquisition capabilities
Improve model and drawing analysis by reusing engineering data
Identify and correct defects in real time
Automatically create control charts
Distinguish between coincidental and systemic quality factors
Find out more about Siemens Opcenter Quality.
Table of Contents
This article first appeared on the Siemens Digital Industries Software blog at https://blogs.sw.siemens.com/opcenter/boost-statistical-process-control/