Products
How QMS software boosts your company's quality management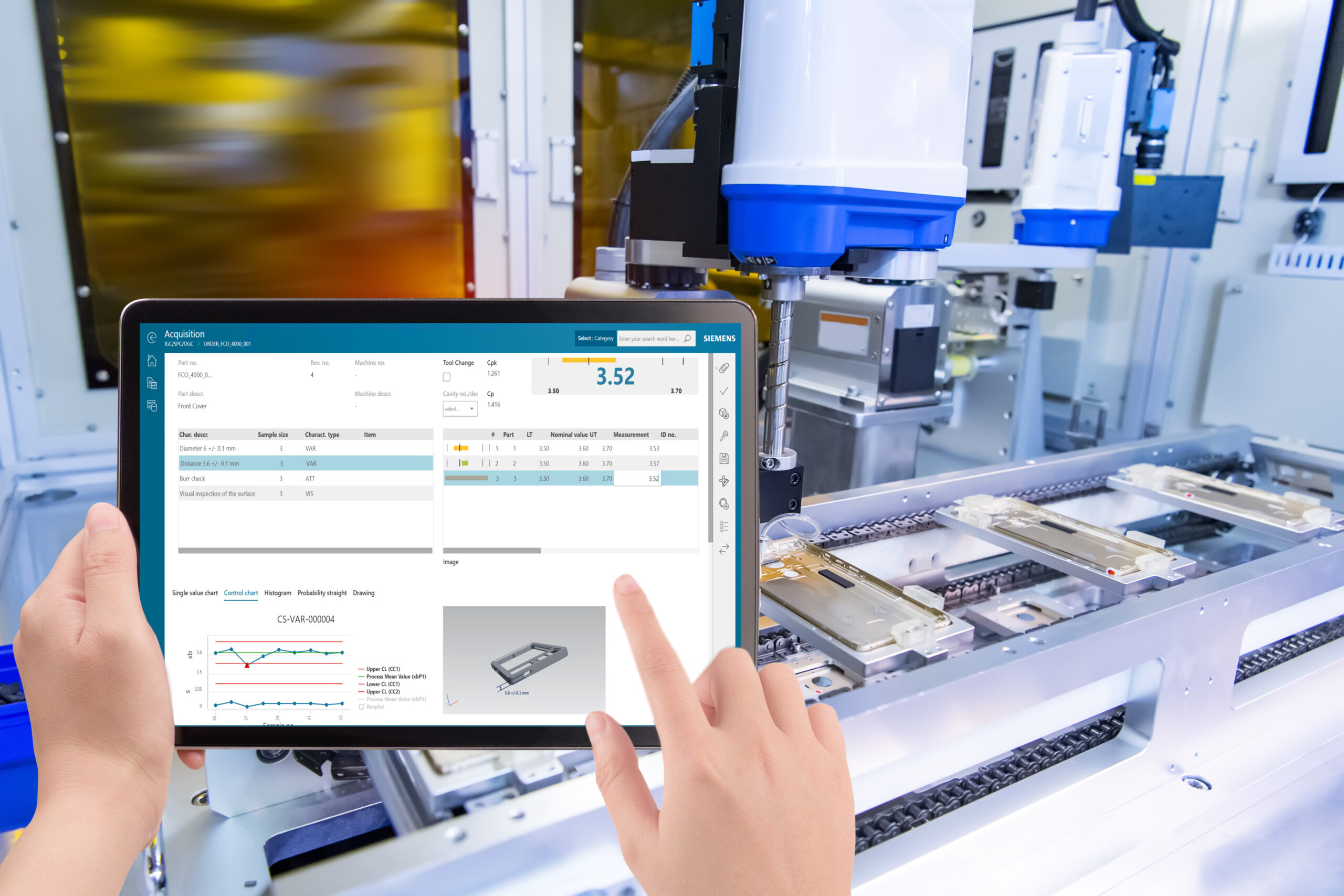 A reliable Quality Management System (QMS) solution can support organizations by helping them focus on improving quality throughout the whole product life cycle. The quality of products and processes is a prerequisite for achieving company goals. Quality largely determines the competitiveness of all manufacturers, and high-quality standards require the integration of quality processes in all manufacturing companies.
Achieve your competitive goals
When our customers manufacture products with the desired quality at the highest level of productivity, we refer to this as their productivity advantage.

Accelerate time to market – Speed up new product introductions by efficiently managing quality planning, realization and improvement.

Improve productivity – Save costs, reduce waste, and enable sustainable competitive improvements through complete transparency and process optimization.

Meet standards and guidelines – Fulfill the requirements of international quality standards and industry-specific guidelines.
Streamline the plan-do-check-act quality cycle
A strong QMS is rooted in the plan-do-check-act (PDCA) cycle to improve production processes continuously. The plan-do-check-act (PDCA) cycle describes the phases of the continuous improvement process and forms the basis of all quality management systems. The cycle is designed to promote a consistent and sustainable improvement of production processes.
Quality planning systematically guides the milestones for quality projects, from the early stages of your product and process development to complete realization. A QMS optimizes quality project management, guides and accelerates failure mode and effects analysis (FMEA), and supports control plan creation.
Quality realization defines the practical steps of your product and process quality activities. A QMS defines inspection criteria, manages gages and measurement tools, streamlines statistical process control, and monitors incoming and outgoing goods.
Quality evaluation checks the data collected and provides detailed reports that show inspection and tests results. A QMS monitors the reliability of your suppliers and leverages data analysis and evaluations to initiate product and process optimization activities.
Quality improvement is a continuous optimization process designed to keep products at the right quality level and safeguard compliance on a wide scale with regular monitoring through audits. A QMS optimizes and aligns cross-company procedures, such as problem-solving processes, audit setup and execution, and efficient monitoring of complaints and all quality actions.
How does Siemens Opcenter support your quality team?
Opcenter Quality, which is a part of the Siemens Xcelerator portfolio, the comprehensive and integrated portfolio of software, hardware and services, helps you support all of the quality processes required in production. Opcenter Quality is a quality management system (QMS) that enables organizations to safeguard compliance, optimize quality, reduce defects and rework costs to achieve operational excellence.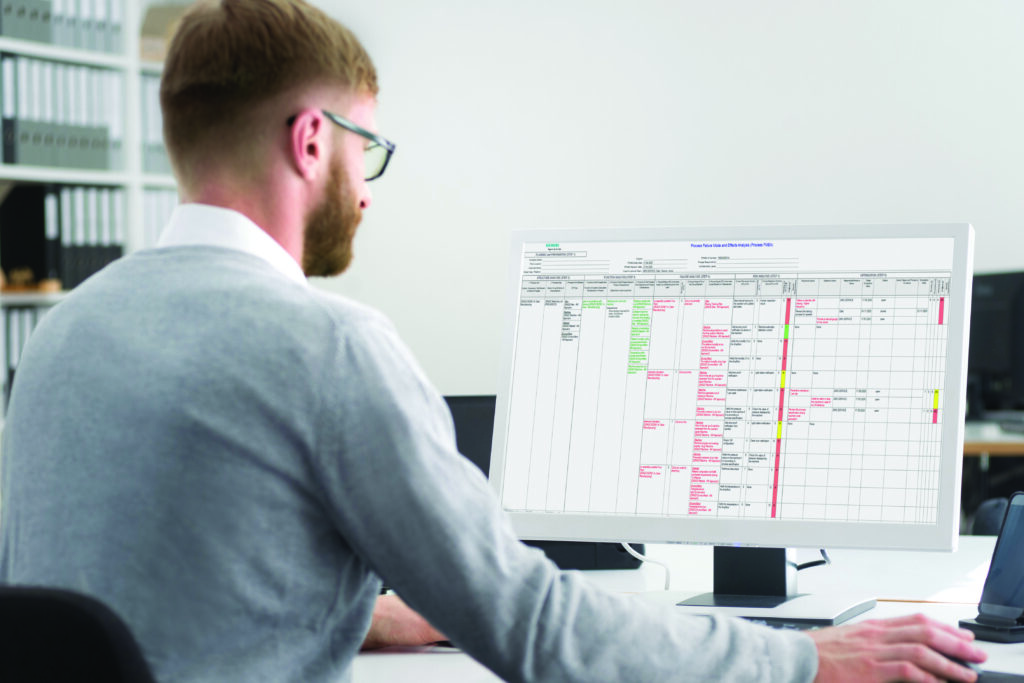 Opcenter Quality impacts production quality and efficiency throughout the process. During the planning phase, it supports Advanced Product Quality Planning (APQP), Control and Inspection planning, Failure Mode and Effects Analysis (FMEA) and Production Part Approval Processes (PPAP). During production, it boosts your quality control. Once a product is launched, Opcenter Quality plays a critical role by managing complaints and performance analysis. Closing the loop to generate continuous improvements, our solution helps ensure that lessons learned are fed back into the planning phase.
Learn more about some successful stories:
We have plenty to say about the benefits and features of Opcenter Quality, but our customers have stories to tell as well. Here are three examples of manufacturers that leverage Opcenter Quality for a competitive edge:
Miba is one of the leading strategic partners in the international engine and automotive industry. Siemens Digital Industries Software solution helps Miba streamline global quality assurance work in pursuit of zero-defects initiative. Miba uses Opcenter Quality to lay the foundation for further digitalization steps. If you want to learn more, click here.
Pepperl+Fuchs is a global company headquartered in Germany with more than 80 foreign subsidiaries on six continents and manufacturing facilities in Germany, the United States, Singapore, Hungary, China, Indonesia and Vietnam. To digitalize and globally streamline quality-related work across all locations, the company invested in Opcenter Quality. If you want to learn more, click here.
Merit Automotive Electronics Systems is a global supplier of complex mechatronics modules and switches to the automotive industry. Reducing the amount of paper on the shop floors and having all history data available at any time has made Opcenter Quality an asset. It delivers full control and a reliable support tool for the managers and supervisors involved in the decision-making process.
If you want to learn more, click here.
Would you like to learn more about product capabilities?
Read this eBook to discover how Siemens' Opcenter Quality software helps manufacturers meet their quality goals with a QMS system.
Already using Opcenter Quality?
This article first appeared on the Siemens Digital Industries Software blog at https://blogs.sw.siemens.com/opcenter/a-reliable-qms-software/