Products
A Leader again in Worldwide Discrete Manufacturing in 2023 IDC MarketScape: Manufacturing Execution Systems vendor evaluation reports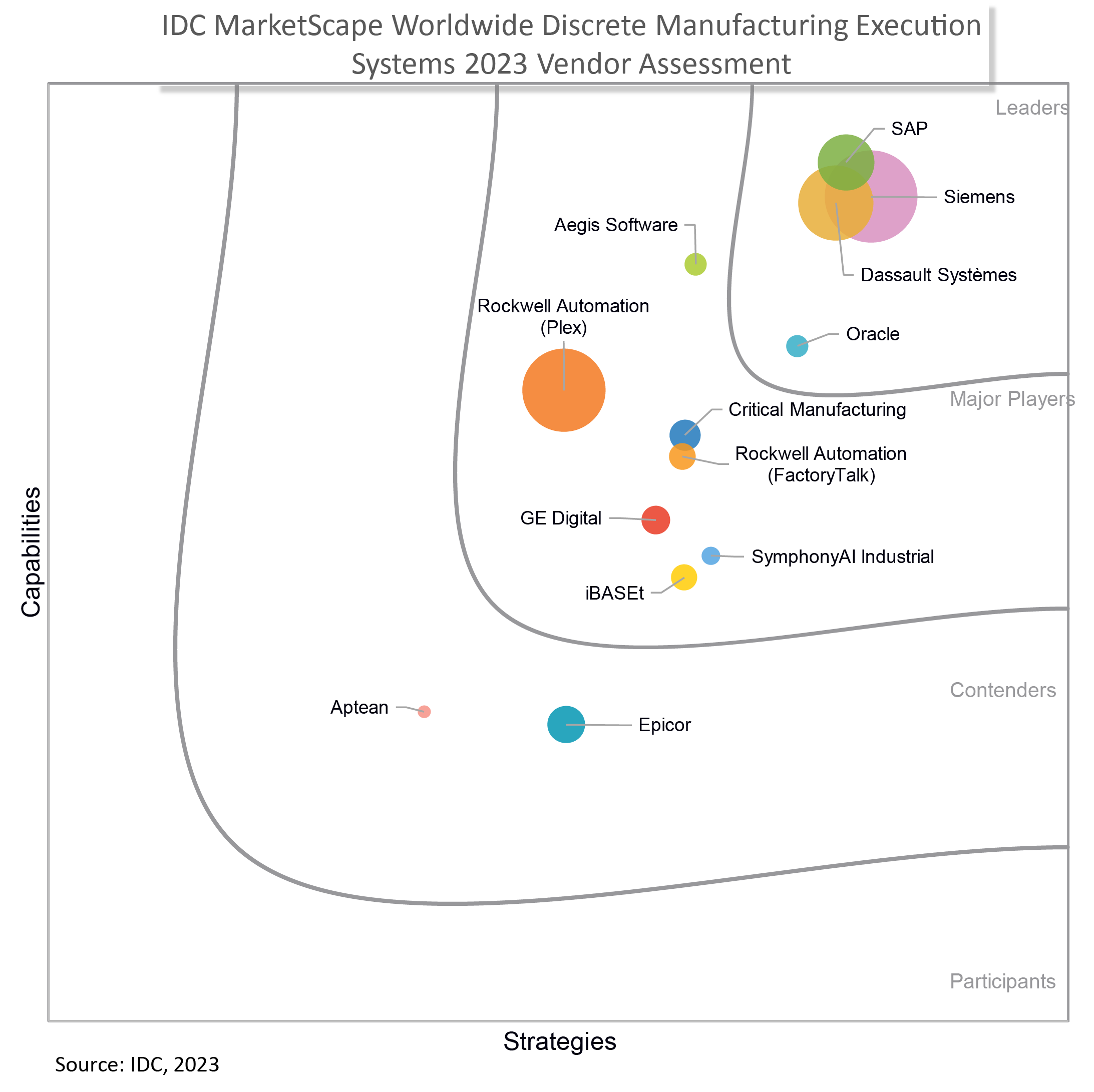 IDC recently released a set of 2023 IDC MarketScape reports that assessed the capability and business strategy of many leading suppliers as they relate to IDC Manufacturing Insights: Worldwide Smart Manufacturing Strategies Service. These 5 sectors were:
Worldwide Discrete
Worldwide Engineering Intensive
Worldwide Process
Worldwide Electronics and High Tech
Asia Pacific market
These evaluations were based on a comprehensive framework and set of parameters expected to be most conducive to success. We are glad to announce that within these IDC MarketScapes, Siemens is positioned in the Leaders category in each one of them.
IDC's recognition of Opcenter Execution, our MES system solution, as a Leader in all five markets, is a clear testament of the value that that customers from all these sectors are finding in our broad portfolio of MES applications and services, our depth of expertise in deploying MES solutions, and the outstanding support that customers continue to enjoy in this constantly evolving market.
Siemens Opcenter is a unified manufacturing operations management (MOM) solutions portfolio, enabling digital software operations management. According to IDC, this portfolio, along with its broad and deep solution stack, delivered to market through Siemens Xcelerator, Siemens' cloud-native architecture, "enables manufacturers to create a complete "digital twin" of their respective products and production processes."
Combined with your ERP, PLM, Field and 3rd party systems, Opcenter Execution Discrete forms an integral part of your manufacturing technology strategy by providing the shop floor visibility needed to increase quality and efficiency at the plant and within supply chain operations.
IDC, in their Discrete MarketScape report commented, "Siemens being a major automation provider and a manufacturing company itself, can bring its direct and hands-on experience to the software game."
Please download a complimentary copy of the IDC MarketScape report for Worldwide Discrete Manufacturing here>>
Any of the other four reports can be obtained directly from the IDC website.
IDC MarketScape: Worldwide Process Manufacturing Execution Systems
https://www.idc.com/getdoc.jsp?containerId=EUR150526323
Worldwide Engineering-Intensive Manufacturing Execution Systems
https://www.idc.com/getdoc.jsp?containerId=US49435622
Asia/Pacific Manufacturing Execution Systems
https://www.idc.com/getdoc.jsp?containerId=AP50532623
Worldwide High-Tech and Electronics Manufacturing Execution Systems
This article first appeared on the Siemens Digital Industries Software blog at https://blogs.sw.siemens.com/opcenter/a-leader-again-in-worldwide-discrete-manufacturing-in-2023-idc-marketscape-manufacturing-execution-systems-vendor-evaluation-reports/