Products
What's New in NX for Manufacturing (December 2019)
Achieve higher machining efficiency, program multiple robots, and generate production-ready CNC programs using a cloud-based technology with the new release of NX software. The enhanced additive manufacturing functionality enables printing of color parts and parts with associative print marks.
Read more about the new features in NX for Manufacturing, our end-to-end solution for part manufacturing.
3- and 5-Axis Milling
The new milling enhancements in NX CAM software help you boost material removal rates and improve surface finish, while shortening the overall machining time.
Adaptive Milling is a high-speed roughing strategy that can reduce machining time by up to 60%. It ensures consistent chip thickness, using deep cuts with small stepovers, enabling use of higher cutting speeds that maximizes material removal rates. The reduced tool vibration and heat generation in the cutting zone also extends tool life.
The new 5-Axis Adaptive Milling enables manufacturers to use this advanced technology to machine even the most challenging designs faster. Easy to program, the 5-axis roughing allows you to get closer to the part shape using a minimum number of setups and operations. Roughing out most of the material also shortens the semi-finishing and finishing operations. The combined machining time savings can help you significantly reduce the overall lead time.
5-Axis Guiding Curves finishing has been enhanced to include parametric tool-axis interpolation, improving surface finish. You can now precisely control the tool axis change when the cutting pattern follows the guide curve, enabling a smooth tool axis interpolation at each step over. By having a full control of the tool axis during the finishing process, you can machine parts with excellent finish.
Robotic programming now enables you to control multiple robots to perform machining tasks such as drilling, deburring and polishing. You can optimize and validate the robots' operations using the integrated simulation in NX. Robotic machining provides a flexible and cost-effective solution for CNC machining of various parts, including large aircraft components.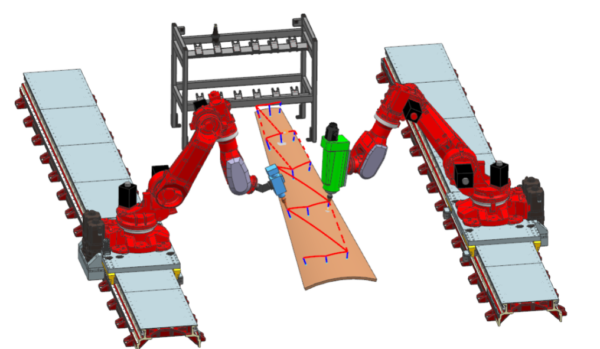 3-Axis Adaptive Milling has been enhanced to support tools with a "protection" chamfer, which are particularly useful for machining of hard materials. You can use higher cutting speeds for roughing and minimize the tool wear using endmills with a small chamfer (<5% of the tool diameter).
Prismatic Parts Machining
Machine shops use 2.5-axis machining and turning methods to make prismatic parts used for a wide range of applications, such as machinery, aerospace, and automotive components.
Hole milling now enables generating machine cycles to streamline programming and machining of the most common machining features – holes. The Motion Output setting lets you output a hole or thread milling operation either as a sequence of individual moves or as a machine cycle. To validate the cycles, you can leverage G-code based simulation in NX, which enables validation of the controller-specific NC code.
Machining heads, angle heads and their combinations can now be used to create machining programs. You can use mounted heads from the magazine or insert them manually in the spindle. To simplify the programming of operations with multiple heads, you can use the integrated G-code driven simulation.
NX's Machining Line Planner enables distribution, balancing, programming and simulation of operations over multiple setups and machines. The new function – Allocate One – speeds up the allocation of operations. Besides providing filters (e.g. time filter), NX also optimizes the process across multiple machines and setups by minimizing the number of tool changes, table rotations and tool travel distance.
Additive Manufacturing
NX Additive Manufacturing facilitate the process from design model to printed part with seamless integration that eliminates the need to convert and remodel parts between applications.
The new Siemens HP MJF Build Processor enables printing of color parts directly out of NX, eliminating the need for 3rd party build processors. It supports two new printer series: HP MJF 5200 and HP MJF 540 color series (340, 380, 540, 580). To experience the full HP workflow without a connection to a physical HP printer, you can use the included demo HP Printer.
Print Marks, such as serial number or production dates, can be added to component designs. You can add multiple instances of a part into the build tray and specify different print marks for each of the instances. NX detects print mark design changes, enabling you to simply edit the component, change the print mark definition, and synchronize the build tray retaining all the previous work.
Optimize Part Orientation is a new function that helps you find the optimal build orientation depending on the used printing technologies, including Powder Bed Fusion (PBF), Multi Jet Fusion (MJF) and Fused Deposition Modeling (FDM). NX analyzes many different part orientations and presents the optimum per criteria and the balanced optimum, using criteria such as build time, support volume and risk of overheating.
Multi-axis path extension enables "overbuilding" of printed parts by simply extending the additive path. This technique, often used for thin walled features, helps you add extra material that is then CNC machined/finished to the final size. Eliminating the need to manually extend faces or create new surfaces, this new automated function is particularly useful for thin blades and for controlling overlaps in junctions and ribs.
Postprocessing and Simulation
The integrated machining simulation capabilities in NX CAM software enable accurate validation of manufacturing operations, reducing setup time and maximizing machine uptime.
Post Hub is a new, cloud-based solution for postprocessing. Free to NX CAM users, Post Hub enables a streamlined process to generate production-ready CNC programs:
• Access the online post library directly from NX CAM
• Filter the posts using various criteria
• Review the documentation for each post (including sample parts and CNC programs)
• Install the desired post with one click
The posts have been developed using Post Configurator, which enables easy adjustments when necessary. Post Hub currently offers access to more than 1,000 postprocessors, and the library is updated regularly.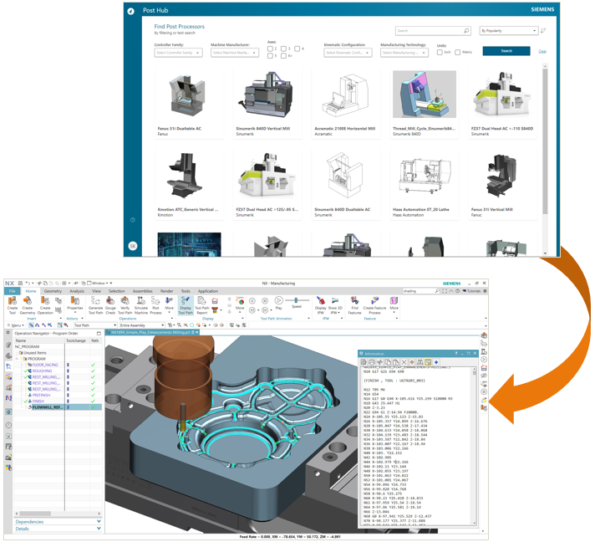 The integrated machining simulation now lets you validate toolpaths using commands from the ribbon, thus maximizing the graphics area for easier programming and simulation.
Productivity Enhancements
The new explorer-type dialogs have been designed to simplify the NC programming process. You can now quickly access the most common settings, such as the cutter tool, stepover and depth of cut, from the Main page. The other nodes contain a limited number of parameters, such as feeds, speeds, and tolerance values for faster programming. The Explorer-type dialog boxes also eliminate the use of sub-dialogs, making the programming easier.
The consolidated toolpath report lets you quickly investigate toolpaths in NX CAM software. It combines the toolpath findings and the toolpath report capabilities into a single function. You can now quickly identify any possible issues with the toolpaths for CNC machines and robots, ensuring that you send optimized operations to the shop floor.
See the latest NX software in action by watching the demonstration videos of the new features.
To explore the full power of NX CAM, launch the free cloud-based trial in your internet browser.
This article first appeared on the Siemens Digital Industries Software blog at https://blogs.sw.siemens.com/nx-manufacturing/whats-new-in-nx-for-manufacturing-december-2019/