What's New in NX CAM – Mold and Die Machining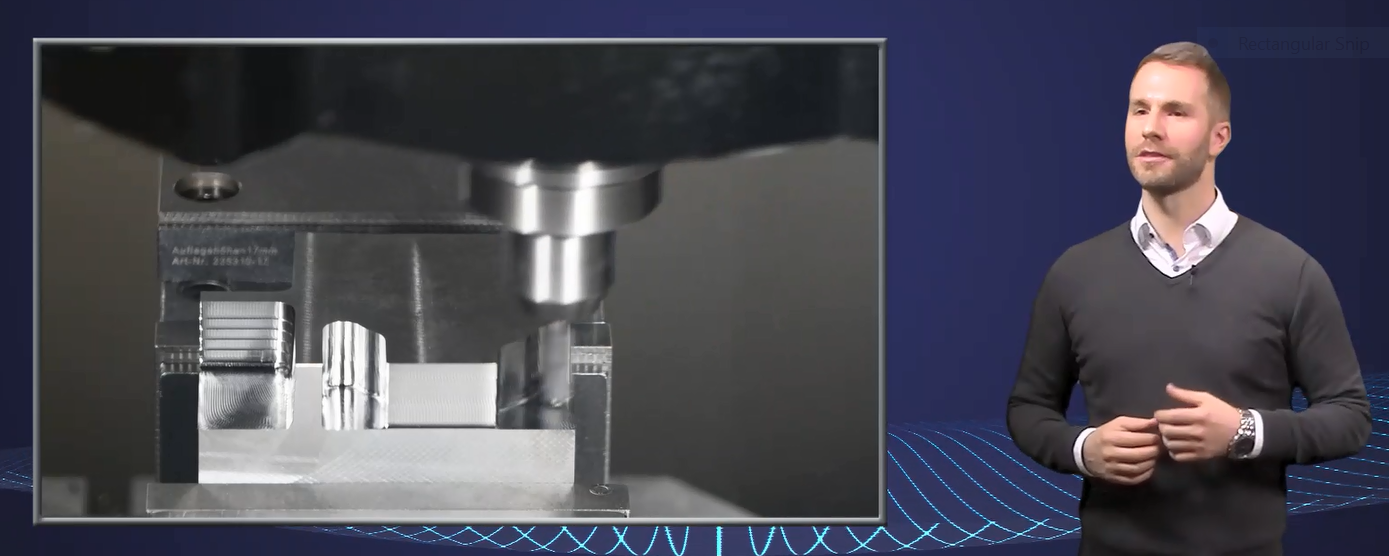 Watch our video highlighting the new mold & die machining capabilities in NX CAM software.
Learn about:
Open and Closed Area Region Coolant
Automatic Guiding Curves Bridge Curve Selection
Read about all of the new capabilities in the latest version of NX for manufacturing on the blog.
Click here to watch the video.
Video transcript
Hi! My name is Alexander Freund, Lead Product Manager for Mold & Die Machining, Siemens PLM. I'm going to talk to you about some of our newest additions to NX CAM software. Adaptive Milling is our high-speed machining strategy that we introduced in our previous version.
Bottom Up Cutting is one of the newest additions to adaptive milling. Which lets a rest milling option where the milling is being done the bottom to the top. The goal is to ensure a consistent and evenly distributed stock on tabered and contoured walls. This feature is very useful when you are milling 3D part shapes like mold inserts and cavities. It saves you a lot of machining time.
Along with the bottom up cutting, we are introducing Minimum Cut Depth feature. It is designed to ensure that the tool is used with a minimum necessary amount of the flute length to create a stable milling process. The twist angle – the amount of flutes and the cutter have an influence on the amount of contact points in use during the cut. In general, you can say that the milling process is more stable, you have more contact points in use. The least stable, it works with only one contact point in use and this can lead to vibrations and increased tool ware with a small amount of the flute. The Minimum Cut Depth gives you greater control over the contact points in use.
On harder materials, it is beneficial to set higher minimum cut depths while with softer materials you can mill completely to the top. If you wanted to define a separate coolant type for open or closed regions, in previous versions, then you had to adjust the postprocessor or create two operations. We are introducing the new Open and Closed Area Region Coolant capability where you can set the open and closed area region coolant only using one operation to program a roughing pass completely. We made sure that you can use this option with every Post Configurator post. This new option will save you a lot of programming time!
To achieve fast machining times while increasing tool life, it can be beneficial to combine the two highly efficient roughing technologies, High Dynamic Cutting and High Feed Rate Cutting. For High Dynamic Cutting, you are typically using the complete flute length of your tools but small step overs. The High Feed Rate represents extremely high feed rates while using a small cut depth and bigger step overs.
With Adaptive Milling you can program highly efficient cutting toolpaths while high feed rate cutting toolpaths are done with cavity mill. Use the corner and transfer moves moving for the best results. When you must deal with bad geometry with small gaps at edges or surfaces, then it can be problematic to select the input curves or guiding curves. We are introducing the new Automatic Guiding Curves Bridge Curve Selection which automatically bridges small gaps between curves. The benefit is that it will reduce the programming time through eliminating the need to repair geometries and bridge gaps between edges.
For a selected set of operations like surface area and area milling, it is possible to select geometries outside the workpiece since NX version 12. With the newest version of NX CAM, this functionality is now available for cut area selection in cavity mill, C-level profile, floor wall and solid profile 3D. It can be used to extend wall surfaces, cover unwanted holes, or areas in the geometry. This will help you to produce the best toolpath possible while saving programming time. With these enhancements in 3-axis milling creation of toolpaths is simplified, machining time will be reduced, and the surface quality of parts will be better.
Alexander Freund, Lead Product Manager for Mold & Die Machining, Siemens Digital Industries Software. Let us know what you think of the new capabilities in the comment section below.
This article first appeared on the Siemens Digital Industries Software blog at https://blogs.sw.siemens.com/nx-manufacturing/whats-new-in-nx-cam-mold-and-die-machining/