Products
Try out our new post processor online service – NX CAM Post Hub (beta version)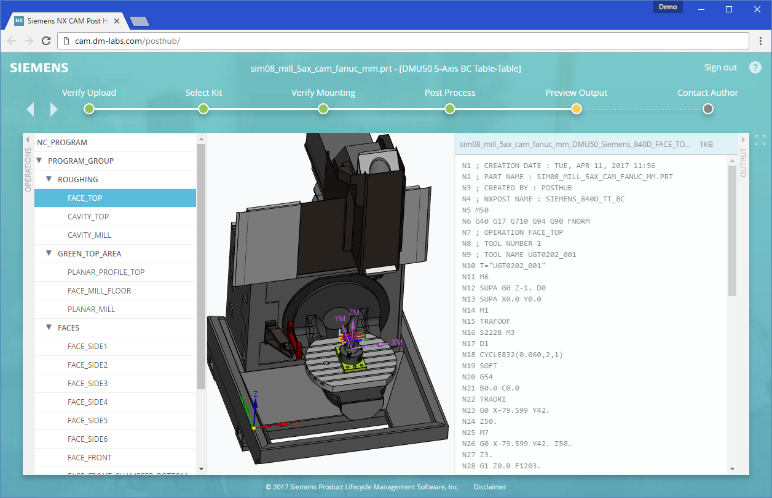 Authored by Florian Weisse, Siemens PLM Software
If you have worked with NX CAM software before, you probably have been looking for a post processor or a support kit for your new machine tool. We believe there are many fitting and well-tested solutions out there and would like to offer you a new way of finding and test driving those with Siemens NX CAM Post Hub (beta version).
Siemens PLM Software is introducing a new platform to browse and offer existing post processors more easily and to give you the chance to try out your test part with a new machine kit before you finally decide if this post processor is the right one for you.
You will need to upload your data/test part to the Siemens PLM server and then you can post process the CAM program with one of the many machine kits and post processors available in our library directly in your web browser without the need to install them into your Siemens NX CAM software. We offer both free and commercial solutions through Post Hub.
If you have found a valid post processor or machine kit, you will see the contact details of the author and you can reach out to them to acquire it. At this point we do not offer direct sales through the tool – the goal of the NX CAM Post Hub is to connect users who are looking for a post processor with those who offer them. With NX CAM Post Hub you will be able to test as many existing post processors as you like before you decide to buy them.
At this time we are asking interested users to try out this beta version and to provide feedback to us. Also we would like to work with content providers to add their content to this new platform as well.
In addition to this article we are providing a comprehensive slide deck with information and a getting started guide, as well as the required NX user functions to try it out yourself.
Let us know what you think about the Siemens NX CAM Post Hub beta version, and please send us an email under posthub.plm@siemens.com or comment directly under this text.
Downloads
Siemens NX CAM Post Hub Introduction slides:
https://cam.dm-labs.com/downloads/Post_Hub_Introduction.pdf
Siemens NX CAM User function to run Post Hub:
https://cam.dm-labs.com/downloads/Post_Hub_User_Function.7z
Siemens NX CAM Post Hub Introduction video:
Disclaimer
The Siemens NX CAM Post Hub is in beta state and meant for evaluation purposes only. There are restrictions applying when using this online service which I outlined in the linked slide deck. We will try and keep the service running 24/7 but we cannot guarantee its availability nor its available capacity. Also the generated NC code from Post Hub is not "machine-ready" and should not be used to drive an actual machine tool – this would be on your own risk and it is only meant to give the user an example of what G-code the available machine kit can produce.
This article first appeared on the Siemens Digital Industries Software blog at https://blogs.sw.siemens.com/nx-manufacturing/try-out-our-new-post-processor-online-service-nx-cam-post-hub-beta-version/