Siemens shines at EMO Milano 2015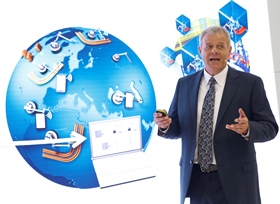 Siemens AG had a stand out presence at EMO Milano 2015, the world exhibition dedicated to the industry manufacturing machine tools, robots and automation systems, among the record-breaking 155,362 visitors from 120 countries.
Siemens PLM was well represented with eight stations in the exhibit which highlighted popular newer products such as Intosite, NX CAM Robotics Programming, and the theme Digitalization in Machine Tool Manufacturing. Check out these featured podcasts from the show floor to hear about what you missed. You can also visit our EMO Milano 2015 events page.
We've published several podcasts featuring Siemens experts who attended the conference.
View, "Optimized Machining with Robots using NX CAM Robotics Programming"
Siemens' Michael Strahlberger and Matthias Leinberger describe how to optimize machining with robots using Siemens' solutions. Siemens' sees a clear trend to up-value handling robots on machine tools with machining tasks. NX CAM Robotics Programming supports the manufacturing engineer and enables the manufacturer to program a robot for applications such as cutting and trimming, using the known NX CAM CNC programming methods. With its intuitive and widely-recognized NX 3D environment this software combines the simplicity of CNC programming with the ability to develop validate and simulate high precision complex robotic machining processes for the SINUMERIK CNC controller. With the combination of robot and machine tool for both handling and machining tasks we can significantly increase the productivity of the entire manufacturing cell. Read more about NX CAM Robotics Programming.
View, "Perfect Machining and Automation – Handtmann relies on SINUMERIK, NX and Kuka"
In this podcast, customer Johannes Pfluger, Handtmann A-Punkt Automation GmbH, experts in 5-axis profile machining centers and automation, shows how Handtmann raises the automation of machine tools to a new level. In their show booth they presented a new facet of automation for their machining centers. With the state-of-the-art horizontal machining center, Handtmann A-Punkt Automation GmbH relies on an integrated automation solution: In cooperation with KUKA, Siemens has developed the smart Run MyRobot /Machining interface. This allows Handtmann to program, operate and monitor both machine tool and robot via the CNC SINUMERIK 840D sl.
The solution also uses the new NX CAM Robotics Programming software in a CAD/CAM/CNC chain to enable 5-Axis Robotic Machining. This innovation combines CNC machining, material handling and robotic machining all in one cell and with that significantly increases the efficiency of the entire operation.
View, "Digitalization in production"
In this podcast, Siemens' Joachim Zoll explains how Siemens is a pioneer when it comes to digitalization of product development or manufacturing processes. We offer solutions for mid-sized businesses and for high volume machine manufacturers. Joachim describes which solutions are offered by Siemens for digital manufacturing including, the 3D web-based application Tecnomatix Intosite, ncTOUCH and SINUMERIK Integrate for Production. Read more about Intosite.
(Siemens' Matthias Leinberger at EMO 2015, Milan, Italy)
This article first appeared on the Siemens Digital Industries Software blog at https://blogs.sw.siemens.com/nx-manufacturing/siemens-shines-at-emo-milano-2015/