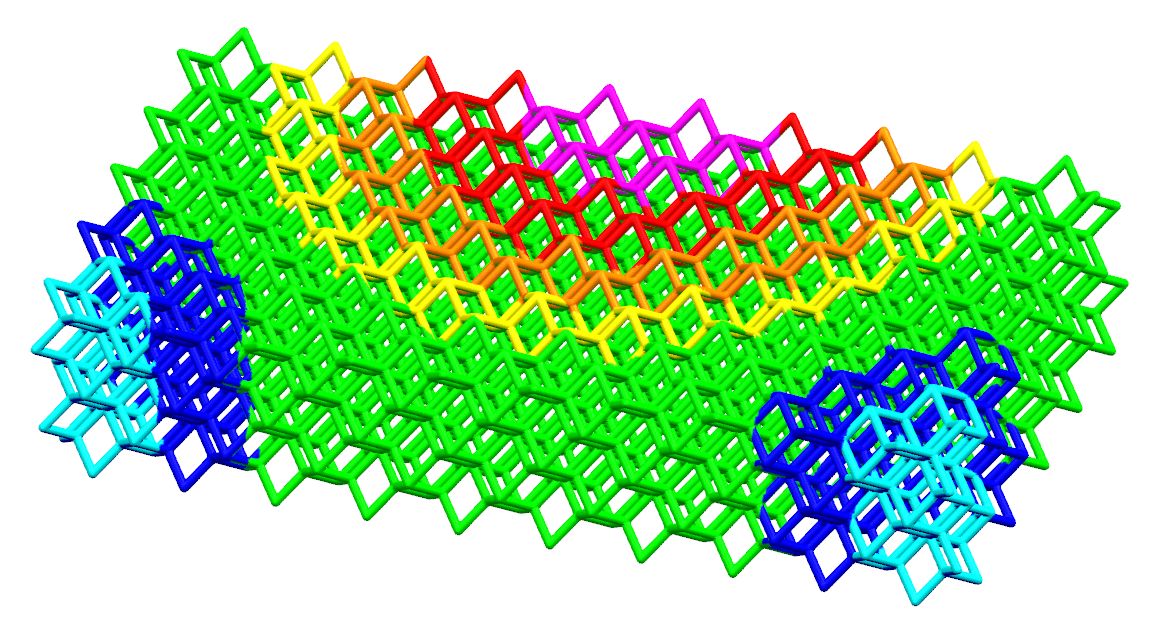 You may not know this, but Siemens has been doing research on additive manufacturing since the late 80's. The first Stereolithography machine was patented in 1986 and Siemens began research into the technology in 1989, so Siemens has been at the forefront of 3D printing since almost the inception of the technology. In that time, the technology has evolved in ways that could not have been predicted in the 1980's. New materials have been introduced along with new deposition methods, and as the technology has evolved, so has the research that Siemens has done. Just as back in 1989, Siemens has internal groups today that are performing cutting-edge research on additive manufacturing. Therefore, I would like to open the curtain a bit and show you some of what we've been up to.
The laser age
Analysis of granular material melting during depositionNewer technologies for additive manufacturing have involved materials like metals and deposition techniques using technologies, such as lasers. One problem with these newer methods of material deposition is that the process is less understood at a material level. Processes like metal bending and forming have been around for decades and computer software has gotten very good at predicting the behavior of these materials as they are put through those manufacturing processes. In general, additive manufacturing is a procedure that does not have decades of data from which to anticipate results. However, Siemens has groups that are working towards simulating the behavior of different materials as they are heated and cooled repeatedly during the deposition process. This rapid heating and cooling can cause deformation of the deposited layer as well as undesirable effects on the underlying layers of the print. By simulating the heat build-up layer by layer on a part and its constituent material, we can anticipate areas where, for example, the heat might buildup in an excessive manner. The end goal is to give our customers feedback about the final construction of a part so that they can adjust the material deposition properties to address areas of concern in a print before they actually become problems.
Structures of the future
It's not just new materials and processes that additive manufacturing enables, but also the ability to design new structures that could not be manufactured using any other method. Lattice structures for example, consist of geometry that cannot possibly be machined or injection molded. However, with these expanded possibilities it is often times unclear what structure will enable what characteristics. Will a certain lattice structure return energy or dampen it? Is the strength of a particular structure uniform in all directions or is it stronger in the X-Y plane than in the Z direction? To answer these types of questions, one would normally have to perform multiple simulation runs on various structures until you found the structure that performs in the desired way. However, one research project at Siemens is attempting to pre-analyze multiple lattice
Pre-analysis of a lattice structurestructure types with varying structures and inputs. This pre-analysis will generate a large data set that will allow for classification of various structure types. The end goal being that in the future a user might select from a set of desired characteristics and have the system suggest lattice types, orientations, and inputs that would satisfy the given requirements. This would effectively remove the burden of answering, "Which lattice structure do I use when?" from the user.
While Neil Armstrong once said, ""Research creates new knowledge," scientists know that that new discoveries almost always create new questions, and new manufacturing methods are much the same. Additive manufacturing has brought about more possibilities for part design and manufacturing, but it has also introduced a completely new set of questions that must be answered to realize the promise of 3D printing. Giving our customers more insight into the deposition of material, assisting them with selecting the proper lightweight structures, and helping them predict the results of their additive manufacturing process is part of Siemens' commitment to realizing the potential of additive manufacturing. At Siemens, we believe that additive manufacturing reshapes everything, and while the research mentioned here may or may not make it into our products, it is Siemens' goal through such research to make reshaping the future as easy as possible for our customers.
I'll be back in my next post to talk about some exciting news, so keep your eyes on this space!
This article first appeared on the Siemens Digital Industries Software blog at https://blogs.sw.siemens.com/nx-manufacturing/research-makes-perfect/